Purified steam maintains product integrity while filter cleaning and sterilization significantly prolongs equipment service life
Approximately 48 million people in the U.S. (1 in 6) get sick, 128,000 are hospitalized, and 3,000 die each year from foodborne diseases, according to the Centers for Disease Control and Prevention. Consequently, the FDA Food Safety Modernization Act (FSMA) is transforming the nation's food safety system by shifting the focus from responding to foodborne illness to preventing it.

As part of the focus on preventing foodborne illness, the 3-A Sanitary Standards, Inc,
which maintains a large inventory of design criteria for equipment and processing systems developed to promote acceptance by USDA, FDA and state regulatory authorities, has recently updated its standards. Today, it does not accept "3-A compliant" as a legitimate claim.
To achieve certification and be authorized to display the 3-A symbol for food and beverage steam filtration now requires additional equipment refinement such as electropolished rather than bead-blasted surfaces and sanitary clamps instead of threaded pipe joints. Attending to such details in equipment producing culinary grade steam will help to ensure food and beverage safety along with regulatory compliance.
Essential, Compliant Steam Filtration
In the food and beverage industry, steam boilers are used for a vast array of processes. This includes cooking, curing, and drying, distilling certain types of beverages, sterilizing and disinfecting tools and utensils, and reducing microbiological threats. Many processing facilities also utilize boiler generated steam to power machines that are used to prepare various foods and beverages.
When steam is used to transfer energy, it is typically generated at a central location and the energy distributed to various points-of-use throughout a facility. Depending on the application, and whether or not contact is made with the final product itself, steam will require filtration to prevent process contamination.
To comply with rigorous food and beverage processing safety regulation as well as enhance equipment reliability and longevity, industry professionals are utilizing a culinary grade steam filter. In the United States., steam used in food processing is expected to meet 3-A Sanitary Standards and 3-A Accepted Practices for Dairy and Food Processing applications. Equipment that meets the highest food and beverage quality standard in this regard achieves certification.
As an example, with a 3-A Culinary Steam Filter from R.P. Adams, a Buffalo, NY based manufacturer of steam filtration products for food and beverage and other industries, the steam can make direct contact with the final product.
The purified steam is essential to maintain product integrity, and can be used in culinary and food applications such as cooking, sterilization and packaging. The improved quality of steam used for filter sterilization also ensures a longer service life for filter and process equipment, since it screens out harmful particulates and impurities to a greater degree than standard processes.
In such applications, properly sizing a steam filter system depends on a number of variables including element micron rating, flow rate, pressure, temperature, and acceptable pressure drop across filtration system.
For culinary steam applications, a process filtration element from R.P. Adams, for example, exceeds the 3-A requirement of 5-micron at 95% efficiency. At 2-micron retention efficiency at 95% efficiency, it provides superior purified steam to maintain food and beverage integrity, while a number of different rated micron sizes are also available.
The micron rating selection for applications will depend on the challenge rate, size of particles to be filtered, and the purity requirements of the downstream process using the filtered steam. If the challenge is high in terms of particle count and/or size, use of a stainless steel prefilter is advised. Both the stainless steel and sintered stainless-steel elements can be regenerated, and a combination of both as prefilter and after-filter will assure the most reliable and economic installation.
A stainless-steel filter element contains no binders, adhesives, additives or surfactants, so will not shed such contaminants, and is approved for food contact according to U.S. FDA, CFR Title 21 and 1935 / 2004 / EC.
Filter media made of sintered 316 L stainless steel, in turn, meets U.S. FDA, CFR Title 21 and 1935 / 2004 / EC requirements for food and beverage. It also provides additional corrosion resistance to expected contact with product as well as cleaning, sanitizing, or sterilization compounds or solutions.
For culinary grade steam filtration, filter media require additional hygienic safeguards,
while filter cleaning and sterilization can significantly prolong equipment service life.
In compliance with the latest requirements, equipment like the 3-A Culinary Steam Filter
have no threads on any product contact surfaces, which helps to prevent potential dirt or bacterial accumulation. Instead, sanitary clamps are utilized at pipe joints. Additionally, there is a smooth, electropolished finish on all contact surfaces so there are no nooks and crannies for bacteria to grow.
To enhance food and beverage industry reliability and operational uptime, such filter media are designed to withstand 75 lbs. PSID, which allows longer use before cleaning is necessary. The elements are also 100% reusable up to six times with regenerative ultrasonic cleaning and sterilization, which makes their operation more cost effective.
With growing attention on food safety in the marketplace, the use of filters achieving 3-A sanitary certification will help to assure regulators and consumers that products produced or prepared with industrial equipment meet the most rigorous standards. The superior filtration will also substantially improve equipment reliability and lengthen service life.
For more information contact R.P. Adams, P.O. Box 963, Buffalo, NY 14240-0963; Phone: (716) 877-2608, toll-free: (800) 896-8869; Fax: (716) 877-9385; E-mail: info@rpadams.com; Visit the web site: www.rpadams.com.
Featured Product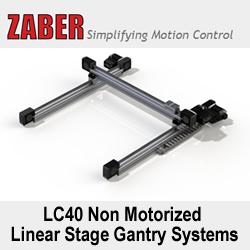 Zaber's X-LRQ-DE Series of linear stages have high stiffness, load, and lifetime capabilities in a compact size. The integrated linear encoder combined with stage calibration provides high accuracy positioning over the full travel of the device. At 36 mm high, these stages are excellent for applications where a low profile is required. The X-LRQ-DE's innovative design allows speeds up to 205 mm/s and loads up to 100 kg. Like all Zaber products, the X-LRQ-DE Series is designed for easy set-up and operation.