Free 4-day virtual event that introduces you to the Factory of the Future
Join Bosch Rexroth, July 13-16th as we host a free 4-day virtual event that explores the Factory of the Future.

Bosch Rexroth has gathered experts from across the global Bosch organization to present topics that take you on an exploration of the Factory of the Future.
This free 4-day virtual event welcomes you to the new world of versatile, customer-orientated manufacturing. It's a world of promise and ambition - a world of greater intelligence, flexibility and cost-effectiveness. Because the Factory of the Future begins Now. Develops Next. And goes Beyond.
Once registered, participants can join as many sessions as they want that fit into their schedule. Here is what you can expect to learn from this 4-day event:
• Connecting your Factory to the Future
• Digitize your Value Stream
• Optimizing your Value Stream
• Add Value with Digital Business Models
• Maximize your Flexibility
Day 1: Monday, July 13, 2020
• Starting smart and thinking big with NEXEED software solutions for manufacturing efficiency and transparency of product, process and logistics data
• An overview of the Rexroth i4.0 solutions and knowledge offerings
• Go on a technology journey that brings us to the Factory of the Future and Beyond
Day 2: Tuesday, July 14, 2020 - includes technical sessions
• Learn how to automate your Factory of the Future from an app and create a scalable connectivity platform with ctrlX AUTOMATION
• Find out how NEXEED software helps you optimize manufacturing
• Plug & produce with Smart MechatroniX
• Resolve the challenge of localizing mobile robots with our Laser Localization Software
Day 3, Wednesday, July 15, 2020 - includes technical sessions
• Optimizing your value stream by maximizing production efficiency with intelligent tightening solutions, project management and intralogistics
• Continue exploring ctrlX AUTOMATION to increase productivity with AI and machine learning
• Find out how NEXEED increases efficiency of shop floor operations
Day 4, Thursday, July 16, 2020 - includes technical sessions
• How Rexroth's ActiveMover increases cycle-time and saves floor space
• Enable contact-free collaboration in tight spaces with our production assistant, APAS the Bosch Rexroth collaborative robot
• Meet ActiveShuttle, our autonomous transport system that adds versatility to your factory
• If you didn't hear about our award-winning Smart Function Kit on day 3, you can join on day 4!
For more information and to register for our free 4-day event go to www.boschrexroth-us.com/exploreFotF.
We hope to see you online.
About Bosch Rexroth:
As one of the world's leading suppliers of drive and control technologies, Bosch Rexroth ensures efficient, powerful and safe movement in machines and systems of any size. The company bundles global application experience in the market segments of Mobile Applications, Machinery Applications and Engineering, and Factory Automation. With its intelligent components, customized system solutions and services, Bosch Rexroth is creating the necessary environment for fully connected applications. Bosch Rexroth offers its customers hydraulics, electric drive and control technology, gear technology and linear motion and assembly technology, including software and interfaces to the Internet of Things. With locations in over 80 countries, roughly 31,000 associates generated sales revenue of roughly 6.2 billion euros ($7.3 billion) in 2019.
To learn more, please visit www.boschrexroth-us.com.
About Bosch:
The Bosch Group is a leading global supplier of technology and services. It employs roughly 400,000 associates worldwide (as of December 31, 2019). The company generated sales of 77.7 billion euros ($84 billion) in 2019. Its operations are divided into four business sectors: Mobility Solutions, Industrial Technology, Consumer Goods, and Energy and Building Technology. As a leading IoT provider, Bosch offers innovative solutions for smart homes, Industry 4.0, and connected mobility. Bosch is pursuing a vision of mobility that is sustainable, safe, and exciting. It uses its expertise in sensor technology, software, and services, as well as its own IoT cloud, to offer its customers connected, cross-domain solutions from a single source. The Bosch Group's strategic objective is to facilitate connected living with products and solutions that either contain artificial intelligence (AI) or have been developed or manufactured with its help. Bosch improves quality of life worldwide with products and services that are innovative and spark enthusiasm. In short, Bosch creates technology that is "Invented for life." The Bosch Group comprises Robert Bosch GmbH and its roughly 440 subsidiary and regional companies in 60 countries. Including sales and service partners, Bosch's global manufacturing, engineering, and sales network covers nearly every country in the world. The basis for the company's future growth is its innovative strength. Bosch employs some 72,600 associates in research and development at 126 locations across the globe, as well as roughly 30,000 software engineers.
Featured Product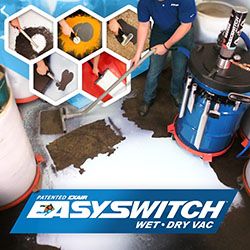 EXAIR's engineered Air Nozzles reduce noise levels and air costs. Read more in our case study how one company reduced noise and saved money with return on investment of only 9 days. Air savings, compared to open copper tubes or pipes, can be as high as 80%. Less compressed air means less noise. Typical noise level reduction is 10 dBA. https://exair.co/184-ancs