Standards-based testbed enables factories to develop new business models, win partners
The Industrial Internet Consortium® (IIC™) today announced the publication of the Industrial Internet of Things (IIoT) Usage of Standards in the Smart Factory Web Testbed White Paper. The white paper provides guidance in the deployment of three main standards that are essential for the core functionality of the Smart Factory Web (SFW).

The SWF testbed is a network of smart factories that combine their manufacturing capabilities in flexible supply chains. This enables the factories to respond to orders as efficiently as possible. Standards central to the SFW testbed include:
OPC UA, a multipart standard that defines online data exchange between automation systems;
AutomationML, which addresses data exchange in the engineering process of production systems, such as between software tools or to configure software systems; and
SensorThings API, an Open Geospatial Consortium standard that provides an open and unified framework to interconnect IoT sensing devices, data and applications over the Internet.
"Open, international standards for data exchange between and within factories enable the Smart Factory Web's order-driven production to be economically sustainable on a large scale," said IIC SFW testbed lead Kym Watson, Principal Scientist, Dept. Information Management and Production Control, Fraunhofer Institute of Optronics. "This standards-based testbed allows factories to develop new business models and win business partners in a platform economy."
"The new white paper describes the application of standards, outcomes and challenges faced by a smart factory at a detailed level that is instructive to practitioners solving real-world problems," said Howard Kradjel, IIC VP, Industry Programs and Testbed Working Group Chair. "IIC testbeds, such as the SFW, that apply and assess the utility of standards to specific use cases and solutions provide key learnings and improve the industry."
The white paper, Industrial Internet of Things Usage of Standards in the Smart Factory Web Testbed, including a full list of members who contributed to it, can be found on the IIC website here.
About Industrial Internet Consortium
The Industrial Internet Consortium is the world's leading organization transforming business and society by accelerating the Industrial Internet of Things (IIoT). The IIC delivers a trustworthy IIoT in which the world's systems and devices are securely connected and controlled to deliver transformational outcomes. The Industrial Internet Consortium is a program of the Object Management Group (OMG). For more information visit http://www.iiconsortium.org.
Note to editors: Industrial Internet Consortium is a registered trademark of OMG. For a listing of all OMG trademarks, visit https://www.omg.org/legal/tm_list.htm. All other trademarks are the property of their respective owners.
Featured Product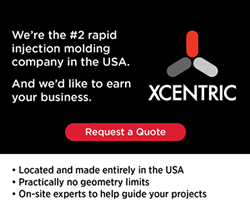 Xcentric plastic injection molding services focus on rapid delivery of prototype and low-volume production components. Our production processes are streamlined such that we typically deliver first articles in less than 15 business days, and for simple expedited projects in as little as five days. At the other end of the spectrum, we frequently produce components for customers needing a few hundred thousand components as a bridge to higher productivity molds. Over time, we have earned a reputation for being able to handle highly complex projects, overmolding, custom insert molding, and other complicated projects much faster than with traditional tooling, often helping our clients get to market weeks, if not months earlier. At Xcentric, every mold is designed and fabricated and all production is run in one of our two Michigan-based facilities.