The new 4 Slide-NC® machine incorporates additive manufacturing to enhance rapid prototyping capability.
Bihler 4 Slide-NC, Inc. - the machine-building division of Bihler of America, Inc. that specializes in servo-controlled four-slide machines - will showcase its advanced Rapid Prototyping capabilities to the metal forming industry at Booth #221 at the SMI Metal Engineering Expo in Pittsburgh, Pennsylvania on October 1-3, 2019.

As an innovator in four-slide manufacturing equipment, Bihler 4 Slide-NC combines the latest technology in additive manufacturing with complete motion control of servo-driven slides for enhanced manufacturing outcomes. The servos in Bihler 4 Slide-NC® machine enables precise tooling positioning and adjustment, as well as improved set-up times. Along with advanced engineering capabilities, the Bihler 4 Slide-NC® machine supports 3D-printed tools that boost production efficiency, and that enhance the prototyping process and tool precision.
In addition, the exhibition of the latest version of the Bihler 4 Slide-NC® machine will feature the following improvements, which were developed based on studies and customer feedback:
Enhanced ergonomic features
Advanced design support
Video Training Library
Set-up times of as little as 5 to 30 minutes
For many decades, tooling development in the slide forming industry has been based on 2D/3D design, and on CNC machining of tool components. Precisely designing and building the perfect tool using these dated methods could easily take several months. Now with the implementation of 3D-printed tools using Bihler 4 Slide-NC® technology, tooling development is only a week-long process. Depending on material strength, these tools can even be used for early-stage prototypes and for proof of concept, which reduces the development period for hard tooling.
"Imagine having the ability to try out early-stage concepts on a live machine," says Max Linder, Director of Sales and Marketing at Bihler of America. "That capability is changing how we train our new employees, and how we transfer our know-how to the next generation of tool designers. Instead of feeding abstract FEMA models, we now can prove strategies on a live production machine within hours."
By combining the latest features of the Bihler 4 Slide-NC® machine with the power of additive manufacturing, Bihler 4 Slide-NC redefines the terms of rapid prototyping in the metal forming industry.
Bihler 4 Slide-NC will conduct a demo of the latest version of the Bihler 4 Slide-NC® machine at SMI and will showcase the latest 3D-printed tooling on a live machine set-up.
About Bihler 4 Slide-NC
Bihler 4 Slide-NC, Inc. is a joint venture of Bihler of America, Inc. and Otto Bihler Maschinenfabrik, Germany, providers of custom automation, contract manufacturing, and machine solutions that feature Bihler advanced servo-controlled systems. Bihler 4 Slide-NC is a leading producer of multi-piece assemblies, with decades of expertise in stamping, tapping and welding. By now integrating IoT and Instant Setup, Bihler 4 Slide-NC has brought about a vast improvement in the four-slide manufacturing sector. In addition to servo automation integration, Bihler 4 Slide-NC® technology is compatible with mechanical four-slides, thereby bridging what would otherwise be a 30-year gap in the market. Bihler 4 Slide-NC® technology is also compliant with IATF16949 and ISO 9001 quality standards.
Featured Product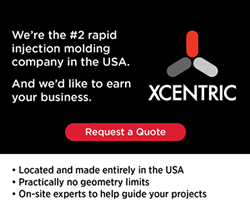 Xcentric plastic injection molding services focus on rapid delivery of prototype and low-volume production components. Our production processes are streamlined such that we typically deliver first articles in less than 15 business days, and for simple expedited projects in as little as five days. At the other end of the spectrum, we frequently produce components for customers needing a few hundred thousand components as a bridge to higher productivity molds. Over time, we have earned a reputation for being able to handle highly complex projects, overmolding, custom insert molding, and other complicated projects much faster than with traditional tooling, often helping our clients get to market weeks, if not months earlier. At Xcentric, every mold is designed and fabricated and all production is run in one of our two Michigan-based facilities.