SERG to represent Cementex in the Southeast U.S.
Burlington, NJ - Cementex, the safety tool specialists, announces that the company has a new Sales Representative for states in the Southeast U.S., including Louisiana, southern Mississippi, southern Alabama, and the panhandle of Florida. With this new partnership, Cementex looks forward to continued growth in the Southeast region.

The Southeast Electrical Representative Group, known as SERG, Inc., partners with top manufacturers in the industrial, commercial and residential electrical industry. The company began representing Cementex in May of 2019. SERG, Inc. prides itself on its reputation for hardworking, honest, loyal customer service, and provides not just sales but also customer service, order entry, expediting, and marketing programs.
Customers can contact SERG, Inc.'s offices in Covington, Louisiana at (985) 892-4343, or can find more information at http://theserginc.com/manufacturers.htm.
All Cementex products are made in the U.S.A. to the highest standards of quality. For more information about Cementex's industry-leading products, visit our online catalog.
###
About Cementex
Cementex is the innovative, industry-leading supplier of safety hand tools. As the only double-insulated hand tool supplier that controls the entire manufacturing process from insulation through testing, Cementex has an unparalleled commitment to quality and user safety. With constant innovation in response to customer needs, Cementex is on the cutting-edge of both custom and turn-key engineered insulated tools. The design-driven company is continually innovating while remaining committed to producing only the highest quality safety-based products. For all of your safety equipment needs, including tools, personal protective equipment, and more, turn to the experts at Cementex. Visit www.cementexusa.com or call 1-800-654-1292 for additional information.
Featured Product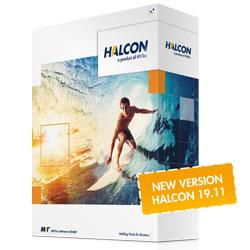 MVTec HALCON is the comprehensive standard software for machine vision with an integrated development environment that is used worldwide in all kind of industries. It enables cost savings and improved time to market. HALCON's flexible architecture facilitates rapid development of any kind of machine vision application. The software provides outstanding performance and a comprehensive support of multi-core platforms, special instruction sets like AVX2 and NEON, as well as GPU acceleration. The latest version HALCON 19.11 offers a wide range of new and improved machine vision functions. Particular emphasis was placed on the integration of further deep learning features. Now users benefit from massive simplifications for their applications, like faster inspection with anomaly detection, more transparency with the Grad-CAM heatmap and the support of ONNX format.