Now Scheduling Appointments/Interviews to be held during the Event
FluidForm, a start-up that is defining the future of additive manufacturing, will attend RAPID + TCT 2019, at the Cobo Center in Detroit, May 20-23. FluidForm will exhibit with ARMI | BioFabUSA in the Medical Manufacturing Innovation Collaboration Center, located at Hall B.

With its commitment to expanding the capability of 3D printing, FluidForm is revolutionizing the field of additive manufacturing by radically expanding the types and combinations of materials that can be 3D printed. A live demo and videos that demonstrate the company's capabilities and innovations will be presented at the event.
Additionally, FluidForm will show a 3D printed brain as part of the Medical Manufacturing display showcase, illustrating the latest medical applications of additive manufacturing/3D printing. The FRESH printed human brain was developed using MR imaging, and demonstrates the ability to guide personalized manufacturing of tissue scaffolds for future applications in repair and regeneration.
For decades, 3D printing has been limited to a select number of metals, ceramics and plastics that solidify through transient heating or photo-crosslinking. Soft materials, such as silicones and epoxies, and those that take longer to solidify or flow under the effect of gravity, are more challenging and cannot be effectively 3D printed.
FluidForm is overcoming these challenges with its patented Freeform Reversible Embedding of Suspended Hydrogels (FRESH™). This innovative 3D printing technology provides access to new materials, new design strategies and new applications.
FluidForm's patented approach of printing within a support gel, rather than in air, eliminates the effects of gravity and thus expands the materials than can be used. Printed materials are supported in 3D, allowing the design and fabrication of unlimited geometries and multiple materials embedded within one another in a single print. Once printed and cured, the printed construct is gently removed from the gel. FluidForm's FRESH multi-material technology enables printing of silicones, urethanes, epoxies, liquid metals, biologic materials and much more, serving as the manufacturing platform to revolutionize diverse fields, from aerospace to wearable sensors to regenerative medicine.
To learn more about FluidForm, visit www.fluidform3D.com or email info@fluidform3D.com.
Featured Product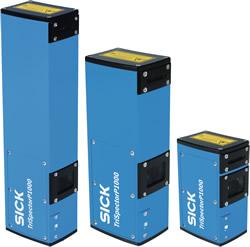 Take your quality inspections to the next level with tailor-made 3D solutions from SICK, Inc. The TriSpector1000 is a stand-alone, configurable 3D vision sensor that reliably inspects objects regardless of variations in color, height, shape, or position. It is suited for solving quality control issues and can be used for volume & thickness measurement and inspection of box integrity. Check out SICK's quality inspection solutions at Pack Expo 2019 in Booth #LS-6419.