Special Registration Rate for Full Trade Show Experience and Conference Online through May 8
CHICAGO - Hannover Fairs USA and Deutsche Messe, the organizers of the world's largest manufacturing show HANNOVER MESSE and its North American edition, HANNOVER MESSE USA, announced today that Digital Industry USA 2019 has partnered with leading industry associations to provide educational content for conference sessions and expert panels during the inaugural event from Sept. 11-12 in Louisville, Ky. Leading industry association partners include, CSIA (Control System Integrators Association), ISA (International Society of Automation) and MESA (Manufacturing Enterprise Solutions Association) International. During the trade show's on-floor conference program, industry visionaries will showcase field experiences and case studies that feature real IIoT (Industrial Internet of Things) integration across their organizations.

"We have partnered with CSIA, ISA, MESA International and other key industry associations to create customized, dynamic and immersive educational programming for all attendees, whether they are new to Industry 4.0, early adopters or advanced innovators of digitalization in their facilities," said Adrienne Zepeda, show manager of North American industrial technology events at Hannover Fairs USA (HFUSA), the organizer of Digital Industry USA. "We encourage attendees to register now to take advantage of our special launch rate for the full trade show experience and on-floor, fee-based conference program."
"CSIA views the digital transformation as an exciting opportunity for system integrators to increase the value they provide to their industry clients," said Jose M. Rivera, CEO of CSIA. "The Digital Industry USA 2019 conference program provides a great opportunity for leading manufacturers to meet with peers to share experiences. By teaming up with vendors and system integrators, manufacturers can convert their 'plant of the future' visions into reality," he added.
ISA will provide high-quality technical content to highlight the global industrial cybersecurity standard IEC 62443. "During our sessions and panel discussions, ISA will illustrate proven standards and methodologies in cybersecurity and will present ideas and solutions to empower manufacturing professionals to reach their digital transformation goals for a fully connected facility," said William Furlow, director of business development for ISA. "ISA's presentations will focus on cybersecurity in the automation field and are appropriate for attendees who are either early adopters or IIoT innovators," he added.
ISA will cover topics such as Evolution of ICS Attacks; Gaining Buy-in and Resources to Manage Cyber Security Risk; Practical Solutions to Supply Chain Attacks; Implementing Cyber Security in a Legacy OT Environment; Combining IT and OT Security Monitoring to Manage the Impact of Cyber Attacks; and Developing a Cyber Workforce.
"ISA is eager to partner with Digital Industry USA as it is the latest addition to the HANNOVER MESSE global industrial technology trade show portfolio," said Furlow. "Our educational sessions will offer the best of both sides, vendor neutral, non-commercial content that ISA is known for in conjunction with this high-level business-to-business IIoT technology integration event."
MESA International's conference sessions will educate attendees on both the "how" and the "why" to utilize Industry 4.0 to digitize their operations and will provide training and actionable plans for deploying smart factory solutions.
"MESA is a great resource for the smart manufacturing community, and we are bringing our subject matter experts to Digital Industry USA 2019 to share their insights and best-in-class digitalization experiences," said Brandy Richardson, executive director of MESA International. MESA supports the HANNOVER MESSE, and we are excited to be a part of this new digital industry event in North America," she added.
Online registration for the trade show and conference programming opens Wednesday, April 24. A special rate for attending the trade show, opening reception, on-floor conference, networking events and distillery tours with IIoT integration is available through May 8. To register to attend, go to https://digitalindustryusa.com/registration/.
For more information, contact Adrienne Zepeda at azepeda@hfusa.com.
About Digital Industry USA
Digital Industry USA will be at the forefront of showcasing innovations in the factory of the future: AI, cobots, Industrial Internet of Things (IIoT), Industry 4.0 and related applications such as predictive maintenance, more efficient use of raw materials, faster time to market and other trends in industrial manufacturing. As a complement to HANNOVER MESSE USA in the odd-years, the new Digital Industry USA trade show and digital transformation executive conference will take place from September 10-12, 2019 at the Kentucky International Convention Center in Louisville, Ky.
About Hannover Fairs USA
Hannover Fairs USA, Inc. (HFUSA) is the U.S. subsidiary of Hannover, Germany's Deutsche Messe - one of the world's largest and most active organizers of industrial technology events. Chicago-based HFUSA helps U.S. companies expand domestically and internationally through exhibit and sponsorship opportunities at Deutsche Messe's worldwide portfolio of events. Participation in these events offers U.S. companies an unparalleled opportunity for business development through trade shows and conferences held in Hannover, Germany and North America, as well as in key markets such as China, India, Mexico and Turkey. HFUSA creates qualified new business leads, helps U.S. companies enter new markets and aids them in forming lasting partnerships.
Featured Product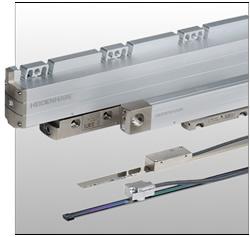 Nothing beats the positioning accuracy of linear encoders from HEIDENHAIN. Available in absolute and incremental versions and ideal for a variety of applications-including machine tools, semiconductor machines and medical machines-these measuring solutions combat a variety of issues that erode precision.