While a human freehand toolpath has great potential, especially for art and sculpting, in manufacturing a great amount of accuracy is needed at every stage of production. Here, Graham Mackrell, managing director of precision gear specialist Harmonic Drive, explains how machine manufacturers can overcome the challenges of developing compact and cost-effective machines and systems without compromising performance.
The skills possessed by artists, such as Claude Monet and Michelangelo, are just some of the more impressive examples of how talented a human's freehand movements can be. With a machine tool, however, toolpaths have the skill to execute an action repeatedly, at great speed and with ease. More importantly, they can cover even the most unsteady of areas, precisely and effectively, without compromising quality.

Contrary to widespread perceptions, manufacturing in the UK is thriving and currently contributes £6.7 trillion to the global economy. The current challenge in the industry, particularly for machine manufacturers, is developing smaller and more compact machines so that manufacturers can increase production and reduce costs.
To create the next generation of machines, gear manufacturers are also under significant pressure. This is because drive and control technology typically make up a considerable proportion of construction costs for newer machines. Furthermore, these core components are crucial to the machine's overall performance.
For example, the fourth and fifth axes of milling heads that are commonly featured on machine tools require robust drives with a large hollow shaft, high protection ratings and a precise gear system.
At Harmonic Drive, creating a series of servo actuators that had a large hollow shaft as the core feature was essential when designing the CanisDrive® 50 and CanisDrive® 58 Series. This is because by having a larger hollow shaft, manufacturers are able to plunge into new design opportunities that would have previously been impractical.
The market requirement for a large hollow shaft has been addressed by Harmonic Drive UK as a result of developing more advanced gear and motor concepts. To explain, for this particular servo actuator, we have created it with a servo motor as the core of the component, which is based on a single tooth winding technology with a segmented stator.
We have designed the motor to have an optimised lamination with insulation system, in addition to a high copper slot fill factor because of the motors orthocyclic winding. Together this increases the power density of the motor, giving a significant increase in performance.
While there is undoubtedly a growing pressure in the global market for machine manufacturers to develop more compact systems, there no longer needs to be concern over this pressure reducing quality and accuracy as a result. Drive systems like those offered by Harmonic Drive UK can not only simplify machine design considerably, but also prove cost effective to many manufacturers.
Featured Product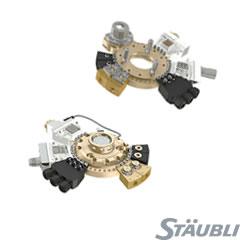 TX2 robots: redefining performance by offering collaborative safety and high performance in a single machine. These pioneering robots can be used in all areas, including sensitive and restrictive environments, thanks to their unique features. Safety functions are easy and inexpensive to implement. They allow a higher level of interactions between robots and human operators, while still guaranteeing protection of your people, production and investment.