Balluff's family of high-temperature proximity sensors are designed and tested to provide reliable non-contact object detection in ambient temperatures up to 230 °C/446 °F. This level of protection is required for hot metal stamping, glass manufacturing, steel and aluminum manufacturing, steel forging, steam curing, and other high-temp processes.
Two main features allow these sensors to withstand extreme temperatures: First, the face of each sensor is composed of a heat-resistant LCP (liquid crystal polymer) material; Second, the head of the sensor contains only the passive, non-electronic, components of the device that are less susceptible to heat. The electronic amplifier portion of the sensor is located at the far end of the 5 meter/16 foot connector cable, allowing you to place it outside the high-temperature zone. The cable jacket and insulation, made from heat-resistant PTFE, is specified to withstand the same temperature as the sensor head.

Sensors that have electronics built into the sensor head are usually rated to not exceed 70 °C/158 °F. If your kitchen is hotter, high-temperature rated sensors are better equipped to combat the malfunctioning, failure, and machine downtime that often occur when sensor electronics exceed their rated limits.
This group is available in M8, M18, M30 tubular housings with an integrated 5 meter amplifier connector cable, and in a block style with a detachable 10 meter/33 feet amplifier connector cable (ordered separately).
Key Features:
Ideal for high ambient temperatures up to 230 °C/446 °F
Sensor face composed of high-temperature LCP
Extended 5m/16ft. amplifier-connector cable keeps electronic components at a safe distance from hot process areas
Cables composed of heat-resistant PTFE
M8, M18, M30 and multiple block-style housings available
Standardized M12 connection for simple installation and replacement
About Balluff Inc.:
Balluff Inc. is the U.S. subsidiary of Balluff GmbH, Neuhausen, Germany. Balluff is a leading supplier of networked IO-Link control system architectures that unlock the potential of the IIoT and Industry 4.0. Balluff offers a wide range of intelligent IO-Link and industrial Ethernet sensors in a variety of technologies including inductive, photoelectric, capacitive, and magnetic as well as magnetostrictive linear position sensors, magnetic tape linear encoders, industrial RFID systems, and industrial vision systems. Balluff provides cost-saving, process-enhancing solutions to machine builders and manufacturers to control, regulate, automate, assemble, position, and monitor manufacturing, assembly, and packaging sequences. Industries served include: automotive, packaging, food processing, beverages, tire, primary metals, conventional and alternative energy, semiconductor, plastics, and fluid power.
Featured Product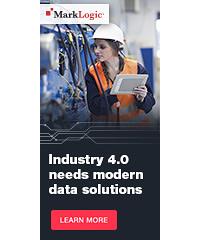 Use Data to Deliver Efficiency, Reduce Risk, and Create Better Products. Disruptive technologies and market changes are transforming the manufacturing industry, requiring a new focus on optimizing use of data and information. It all adds up to a new industrial revolution called Industry 4.0. Organizations who want to realize the potential of this revolution need to "Industrialize their data," making it a core asset to deliver better products and customer service, navigate complex business environments, and transform for the future. MarkLogic customers are delivering on this vision for data with a proven architectural pattern called the Operational Data Hub that simplifies the integration of data along the digital thread to power operational and analytic use cases across the enterprise.