These compact designs allow the use of aluminum housings, which yield considerable weight savings of up to 50% over traditional cast iron housings.
Solon, OH -Gearing Solutions® presents their unique roller gear technology featuring Nu Lobe™ gears for more torque in less space in their new, intuitive and user-friendly website at www.GearingSolutions.com . These compact designs allow the use of aluminum housings, which yield considerable weight savings of up to 50% over traditional cast iron housings. Increased torque and reduced weight provide more power in less space and weight, yielding industry-leading power densities. Standard GHP planetary gearheads fit standard NEMA motor frames from ¼ HP to 30 HP with IEC adaptors and custom gearing also available. Ratios up to 1000:1 or more available. With nearly unlimited configurations available, and thousands of successful installations worldwide, there are Gearing Solutions products to suit virtually motion control application. Proven in diverse installations including automated window openers, crane, conveyor and material handling systems, mixers and other food processing equipment, pulleys, pumps, wind turbines, and more.

Our proprietary Digital Transmission Automated Program (DTAP) guides users through a series of questions to derive the optimal solution for their particular motion control problem. This Engineered to Order program overcomes lengthy lead times, costly prototyping, and expensive short-run manufacturing typically required in product development
Gearing Solutions®, the creator of MaxaMin™ Roller Gears, manufactures third-generation Planetary and Cycloidal Roller Gears used in a wide variety of gearheads, speed reducers, and speed increasers producing maximum torque in minimum space. The 3rd generation roller gear matrix ranges from under an inch in diameter to over 48 inches; inputs range from as little as four inch-pounds to 10,500 inch-pounds and up. These gears can be combined to create more than 2,500 ratios. Rounding out the Gearing Solutions® capabilities are an automated drive train engineering program we call DTAP™, efficient prototyping skills and short run capabilities at competitive prices. Gearing Solutions® products are used in a wide variety of industries and applications including auger drives, industrial mixers, welding robots, portable honing machines, ergonomic valve actuators, drives with counter-rotating double outputs, speed increasers, and more. For additional information visit www.gearingsolutions.com, e-mail info@gearingsolutions.com, call (440) 498-9538, or write Gearing Solutions, 5905A Harper Road, Solon, OH 44139.
Featured Product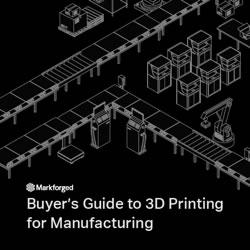 3D printing has become a powerful force in today's manufacturing industry from prototyping to tooling and fixtures to custom, end-use parts. Many businesses struggle to find the right solutions to fit their needs and provide ROI. Selecting the right platform to prevent manufacturing roadblocks is vital to optimizing your manufacturing line productivity. Download the all new buyer's guide to help you evaluate the benefits of 3D printing and dispel misconceptions, understand the pros/cons of various 3D printing processes and materials, and assess the key considerations in selecting a 3D printer.