Additive Manufacturing-produced watch straps feature in luxury watchmakers' latest collection
(London - 18th October 2018) - Betatype has collaborated with luxury watchmaker, Uniform Wares to design and develop a unique woven T5 titanium alloy watch strap using metal additive manufacturing method, laser Powder Bed Fusion (PBF). The strap complements Uniform Wares' new PreciDrive M-Line watch collection, which launches today.

The strap echoes the popular fabric-like NATO design and includes a unique clasp that is as strong as a metal bracelet, but light enough to feel like fabric on the wearer's wrist. It is made of more than 4,000 links that interlock with each other to form a strong, lightweight structure. Unlike traditional mesh straps, each link is asymmetric, which means each side of the strap has a differing bend radius. This allows the strap to be easily fitted over the hand, but to remain flexible enough to be secure on the wrist.
Betatype applied its unique multi-scale approach to exert greater geometric control over the laser PBF process and to achieve the right look, feel and strength for the watch strap's design. By controlling the laser's scanpath, exposure settings and material microstructure - down to the micron - of each link in the strap, Betatype was able to achieve the best possible fit and mechanical performance of the watch strap
The strap also features a new type of directional clasp design featuring microscopic 'teeth' that have been integrated into the inside of the clasp, which interlocks with the weave of the strap itself. This design element could only be achieved with this unique additive manufacturing production approach, rather than using more traditional methods of welding separate pieces together. The clasp allows for very fine adjustments and a secure hold, but can still easily slide off to the side to remove the watch.
Betatype's optimised laser powder fusion process also uses the least amount of material possible, producing little to no waste in the manufacturing of the T5 titanium strap.
The finishing touches were done by hand and the end result is a strap that is extremely strong and much lighter than a traditionally-made Milanese mesh bracelet, weighing in at only 10.5 grams (0.37 ounces).
The fabrication and finishing of the T5 titanium strap is done at Betatype's design and manufacturing facility in East London, keeping the design, development and manufacture of the watchstrap all local to London.
The strap will be available in a natural matt finish with selected references from Uniform Wares' PreciDrive collection and will be sold via the Uniform Wares website and select retailers, including Mr. Porter and Nordstrom.
About Betatype
Betatype makes Additive Manufacturing (AM) perform. Founded in 2012, the team collaborates with its customers across a variety of sectors including consumer, industrial, aerospace, medical and motor sport - working together to deliver functional components through AM.
Additive Manufacturing provides control over shape, structure and material in a single process. To maximise these capabilities, Betatype built Engine, a new data processing platform for managing and controlling multi-scale design. By combining Engine with the team's strong foundation in material science, engineering and industrial design, Betatype can achieve greater fidelity at every scale of AM part design - from part form and architectured materials to AM process physics. This multi-scale approach delivers on the promise of AM, designing complex parts that can't be easily built using traditional processes.
About Uniform Wares
Uniform Wares creates watches that embody character and distinction through intelligent design, not branding. Established in 2009, the company set out with a view to building a brand whose entire creative output was designed and developed exclusively in house. The result was a highly considered, new breed of premium contemporary timepieces that have made their indelible mark on the watch industry. Every Uniform Wares watch is designed and developed in its London studio, its parts manufactured by select international partners who share the company's devotion to detail, and finally, assembled with care in Switzerland.
Featured Product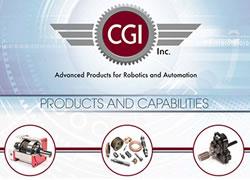 From Prototype to Production CGI Motion enables design excellence across a wide range of industrial applications. We thrive on customer driven innovation in precision gearbox, precision machined components and electro-mechanical assembly solutions ranging from aerospace systems to semiconductor applications. We are your design and manufacturing partner helping to differentiate your product, machine or innovation. Our team of problem solving engineers and product managers can bring your application to market on time and under budget. Whether it's an improvement on a current design or groundbreaking new designs, CGI has the know-how and team to enable design excellence. Connect with us today to explore what CGI Motion can do for you.