Presentation focuses on digital transformation in manufacturing
Ultra Consultants, Inc., an independent research and enterprise solutions consulting firm serving the manufacturing and distribution industries, today announced that Founder and CEO Jeff Carr will deliver a presentation titled Real World Scenarios in Digital Transformation at FABTECH 2018 in Atlanta, Georgia. The session is scheduled for the first day of the event, Tuesday, November 6.

Offered as part of FABTECH's Smart Manufacturing session, Carr's presentation will explain how digital transformation in manufacturing is a critical element in realigning technology and business processes. Attendees will learn about common business drivers and hear real-world scenarios that describe the journey to digital transformation for manufacturers and distributors.
Technological advancements like the Industrial Internet of Things (IIoT) have disrupted the manufacturing sector and demand new levels of data integration. Transforming businesses to leverage the benefits of IIoT will ultimately prove to be a competitive differentiator for manufacturers ready to adopt them vs. slow adopting competitors.
Register today to join the more than 35,000 FABTECH attendees. FABTECH is the largest metal forming, fabricating, welding and finishing event in North America and features many of the industry's leading thought leaders.
"Digital transformation presents a tremendous business opportunity for manufacturers when properly approached in a strategic manner," stated Ultra Consultants CEO and Founder Jeff Carr. "Smart manufacturing is unachievable without transforming the business through digital technology platforms and tight integration with enterprise applications like ERP."
About Ultra Consultants
Ultra Consultants is an independent research and enterprise solutions consulting firm serving the manufacturing and distribution industries throughout North America, as well as companies with global operations. Since 1994, Ultra has delivered enterprise technology expertise and process management to drive business performance improvement for our clients. More information on the company's services, leadership, industry verticals served, and software vendor relationships can be found at http://www.ultraconsultants.com.
Featured Product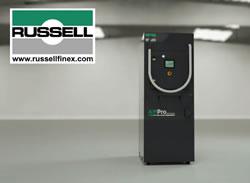 The Russell AMPro Sieve Station™ guarantees the quality of your additive manufacturing (AM) powder, and has been designed to provide optimum sieving efficiency, ensuring your powder is ready for use or reuse as and when you require it. With a simple one-button operation and mobile design, this automated check screener ensures your powder at every stage of the process is qualified for use quickly and safely. The flexibility of the Russell AMPro Sieve Station™ means you can use the system for numerous powder handling tasks - being a modular design ensures the machine can be configured to meet your exact requirements.