Cementex, the safety tool specialists, announces the availability of torque wrenches and torque screwdrivers with the company's industry-leading double-insulation technology.
Cementex Announces Insulated Torque Wrenches and Torque Screwdrivers

Heavy-duty, double insulated tools offer precise calibration and ease of use
Burlington, NJ - Cementex, the safety tool specialists, announces the availability of torque wrenches and torque screwdrivers with the company's industry-leading double-insulation technology. These calibrated torque tools are designed for installation applications where a tightening torque is indicated as a numeric value on the equipment or in the installation instructions provided by equipment manufacturers.
With Cementex's torque wrenches, an audible "click" or a few degrees of rotation provide a simple, fast indication of micrometer-accurate torque settings. The wrenches feature a low-friction torque control mechanism to produce accurate readings in either direction. Unlike in most conventional torque wrenches with a single calibration adjustment, two calibration adjustments permit easy and precise torque settings.
The wrenches' spring-loaded or twist-locking collar keeps the scale on the desired reading and remains in a locked position, making accidental unlocking impossible. Dual-scale wrench models offer readings in inch-pounds and Newton meters or foot-pounds and Newton meters. Additionally, reversible ratchet models feature a quick-shift lever to allow easy, single-handed shifting.
Cementex's torque screwdrivers feature a precision micrometer scale calibrated in inch-pounds, with one inch-pound increments. The screwdrivers feature easy-release bit holders, which securely retain bits during operation while permitting easy removal. With an anti-backlash design, the screwdrivers ensure repeatability.
All Cementex products are made in the U.S.A. to the highest standards of quality. For more information about Cementex's industry-leading double-insulated torque wrenches and screwdrivers, visit our online catalog.
###
About Cementex
Cementex is the innovative, industry-leading supplier of safety hand tools. As the only double-insulated hand tool supplier that controls the entire manufacturing process from insulation through testing, Cementex has an unparalleled commitment to quality and user safety. With constant innovation in response to customer needs, Cementex is on the cutting-edge of both custom and turn-key engineered insulated tools. The design-driven company is continually innovating while remaining committed to producing only the highest quality safety-based products. For all of your safety equipment needs, including tools, personal protective equipment, and more, turn to the experts at Cementex. Visit www.cementexusa.com or call 1-800-654-1292 for additional information.
Featured Product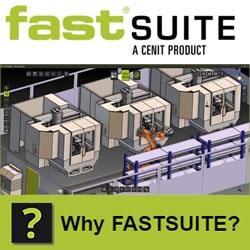 With two product lines, FASTSUITE for V5, which is seamlessly integrated with CATIA/DELMIA V5, and FASTSUITE Edition 2, a standalone platform, the areas of OLP (offline programming), manufacturing simulation and virtual commissioning are the core of our business activities. Our applications and solutions are not only focused on real customer needs, but they are also designed to improve efficiency and quality of our customers' manufacturing processes. No matter if the process is just about offline programming of a single robot at a small job-shop company or about the validation of a complete production line at an Automotive or Aerospace OEM. We strive to ensure a constant quality of our services and to provide the best possible support to our worldwide customers. Therefore we have established three digital manufacturing hubs around the world. All our teams have a proven expertise on manufacturing process integration and profound IT implementation skills.