- Material profiles for DSM Novamid®: properties similar to injection molding enabled by 10% carbon fiber - Material profiles for Owens Corning XSTRAND™filaments: strong mechanical and thermal properties enabled by glass-fiber reinforcement - New Ultimaker print core CC Red 0.6: reliable 3D printing with composite materials on Ultimaker S5
The global material alliance, initiated by the leading 3D printer manufacturer Ultimaker, results in fully optimized industrial material profiles for professional FFF 3D printing. Both DSM, a global science-based company in Nutrition, Health and Sustainable Living, and Owens Corning (NYSE :OC ), global developer and producer of insulation, roofing, and fiberglass composites, today reveal their optimized materials for the Ultimaker S5. Ultimaker also introduces a new print core CC Red 0.6 at the TCT Show in Birmingham that allows reliable 3D printing on the Ultimaker S5 with composite materials.

In response to customer demand, leading material manufacturers have joined Ultimaker's material alliance program to bring a wider variety of FFF 3D printing materials to the market for professionals, more rapidly.
DSM: Novamid® ID1030 CF10: similar properties as injection molding
DSM Novamid® ID1030 CF10, a new carbon fiber filled grade PA6/66 filament, brings the properties of 3D printed parts close to what is usually achievable only by injection molding. With 10% carbon fiber reinforcement, it produces stronger, tougher, and stiffer 3D printed parts for functional prototyping and end-use applications, at the same speeds as unreinforced plastics. Hugo da Silva, Vice President of Additive Manufacturing at DSM: "Together with Ultimaker, we can contribute to offer a simple hassle-free solution, as their software and the Ultimaker S5 are fully aligned with our materials to create unlimited high-demanding parts."
Owens Corning XSTRAND™ filament: strong mechanical and thermal properties
Owens Corning has created its own high-end 3D printing material XSTRAND™. This specific material is designed for functional prototyping and industrial applications and has strong mechanical and thermal properties enabled by glass-fiber reinforcement. The material is very durable, with stiff mechanical properties, a very low thermal expansion coefficient, and a high working temperature. "We decided to partner with Ultimaker due to the high performance and reliability of Ultimaker 3D printers," said Dr. Chris Skinner, Vice-President, Composites Strategic Marketing at Owens Corning. "Teaming up with their material experts resulted in the perfect settings for our materials in Ultimaker Cura. Prototyping and the creation of production tools becomes much easier, more accurate, affordable and accessible at the same time."
Jos Burger, CEO at Ultimaker: "I am extremely proud to see that our global material alliance with leading material companies such as DSM and Owens Corning so quickly opened up the possibility to use very sophisticated engineering plastics on the Ultimaker S5. We were recently listed as an IDC Innovator for creating important breakthroughs that address and solve some of the challenges that end users in a number of industries have identified with. This alliance will continue to give more professionals access to high-end materials for all kinds of use cases and industries and will give each Ultimaker S5 in the field an extra upgrade."
Ultimaker print core CC Red 0.6 and availability
To enable hassle-free printing of composite materials, Ultimaker also introduces the new print core CC Red 0.6. The print core features a 0.6 mm diameter nozzle with a specially customized geometry and a wear-resistant ruby cone to ensure reliable 3D printing with composite materials.
The new print core CC Red 0.6 will be available in November 2018. Industrial material profiles will become available in Ultimaker Cura in November 2018.
For more information, please visit www.ultimaker.com or read our blog.
About DSM
Royal DSM is a purpose-led global science-based company in Nutrition, Health and Sustainable Living. DSM is driving economic prosperity, environmental progress and social advances to create sustainable value for all stakeholders. DSM delivers innovative business solutions for human nutrition, animal nutrition, personal care and aroma, medical devices, green products and applications, and new mobility and connectivity. DSM and its associated companies deliver annual net sales of about €10 billion with approximately 23,000 employees. The company is listed on Euronext Amsterdam. More information can be found at www.dsm.com.
About Owens Corning
Owens Corning (NYSE :OC ) develops, manufactures and markets insulation, roofing, and fiberglass composites. Global in scope and human in scale, the company's market-leading businesses use their deep expertise in materials, manufacturing and building science to develop products and systems that save energy and improve comfort in commercial and residential buildings. Through its glass reinforcements business, the company makes thousands of products lighter, stronger and more durable. Ultimately, Owens Corning people and products make the world a better place. Based in Toledo, Ohio, Owens Corning posted 2017 sales of $6.4 billion and employs 19,000 people in 37 countries. It has been a Fortune 500® company for 64 consecutive years. For more information, please visit www.owenscorning.com.
About Ultimaker
Ultimaker has been in operation since 2011, and over the years has grown to become a market leader; creating powerful, professional, and accessible desktop 3D printers with offices in the Netherlands, New York, Boston, and Singapore, plus production facilities in Europe and the US. Ultimaker's team of over 350 employees continually strives to offer the highest-quality 3D printers, software, and materials on the market to accelerate the world's transition to local digital manufacturing.
www.ultimaker.com
Featured Product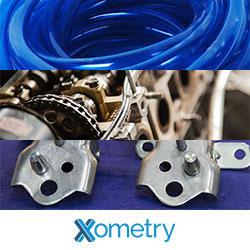 Xometry is your source for custom parts. Now, in addition to getting instant quotes on 3D Printing, CNC Machining, Sheet Metal, and Injection Molding, customers can create and send RFQs for die casting, stamping, and extrusion work to our nationwide network of pre-vetted manufacturers with just a 2D drawing. You will receive and be able to review responses from qualified shops within 7 days on an advanced web-based RFQ management platform. To learn more go directly to our site to issue and RFQ today. Stop wasting time managing RFQs through email and by phone, and start issuing RFQs at scale and in the cloud.