The competition was based on the passion and the craft of tool making to celebrate our highly skilled tool grinding community.
October 2018: CONTOUR360 has been announced as the first ever ANCA Tool of the Year award winner at IMTS with their creative and eye-catching tool. Charles R. Day, Vice President & General Manager said: "It is with heartfelt pride that we accept ANCAs prestigious Tool of The Year award. While indeed this recognition speaks to the craftsmanship of our toolmakers - it also makes a tremendous statement to the craftsmanship of the machine maker and the support provided!"

"CONTOUR360 utilizes many different types of ANCA machines, including the recent addition of three new state-of-the-art FX7 Linear wheel exchangers, laser measurement and Fanuc RoboMate. But our business requires more than just state-of-the-art equipment! It demands machines that are reliable day in and day out. It demands support, when needed, in the "lights out" environment in which we work today," Charles concluded.
To find the Tool of the Year ANCA held a competition for customers to submit their favourite tool with the winners judged and announced live at IMTS. The prize is a trip for two to ANCAs headquarters in Melbourne, Australia to see firsthand how the technology is created and meet the team who are dedicated to finding even better solutions for our customers. All other finalists receive an ANCA software package of their choice.
Pat Boland, Joint Co-Founder at ANCA comments: "All the entrants were a very high standard and demonstrated a deep understanding for tool geometry as well as taking full use of ANCAs software.
It was very close and difficult to decide, and I congratulate all the finalists including CONTOUR360, Daily Grind Industrial Tool, Acu Twist, Miltera, SAN Engineering and Kazimieruk."
"After measuring the surface finish and geometry on Alicona and Zoller machines respectively, the votes were tallied and CONTOUR360 won for their complex tool that was brilliantly executed. Grinding a complex tool like that requires sharp wheels, accurate qualification of wheels and a perfect setup," Pat concluded.
Alfred Lyon, Cutting Tool Supervisor at AB Tools said: " A great cutter grinder has the eye of an artist and the heart of a craftsman. We can use any tools available to create the desired cutter complete with the perfect geometry, profile, and finish."
"ANCA CNC grinders have allowed us to push the envelope of perfection and we are truly only limited by our imagination. The entrants in ANCAs Tool of the Year contest are wonderful evidence of what we can come up with," Alfred concluded.
Michael Kroodsma, Marketing Specialist at ZOLLER Inc said: "Its been an honour to be selected by ANCA as a judge in the Tool of the Year competition on behalf of ZOLLER Inc. It was great to use our technology to measure which finalists tool was closest to the nominal tolerance stated on the drawing in terms of diameter and profile. In the commercial world the level of accuracy on a finished tool is what sets tool manufacturers apart from their competition."
Alicona President, Stefan Scherer said: "For more and more tool manufacturers, surface finish and roughness measurement on tools are getting increasingly important. We clearly see a trend towards the manufacturing of highly polished surfaces as they significantly increase machining results. By including surface finish values as a criterion in their tool competition, ANCA shows that they meet the needs of their customers who in the end can produce state-of-start tools with outstanding life-time and machining quality."
Finalists
• SAN Engineering and Supply
• Acu Twist
• Zakłady Mechaniczne Kazimieruk
• Miltera Machining Research Corp.
• Daily Grind Industrial Tool
• Contour360
Judging panel
• Pat Boland, Joint Co-Founder and Managing Director at ANCA
• Pat McCluskey, Joint Co-Founder and Managing Director at ANCA
• Alicona - measurement of surface finish
• Zoller - measure profile and diameter
• Alfred Lyon, Cutting Tool Supervisor, AB Tools
At IMTS the top five tools were judged on the following criteria:
• Best surface finish in Ra (roughness average) value on the flute or gash surface
• The tool the that is closest to the nominal tolerance as stated on the drawing in terms of diameter and profile (i.e. if the tolerance on diameter is +/- 0.010mm and the tool is measured to 0.005 then this will rank favourably)
• Tool that has been ground to the tightest tolerance as per the drawing (i.e. the tool with the lowest tolerance will rank favourably)
• Level of complexity (i.e. in terms of the number of steps, profiles will rank favourably)
Featured Product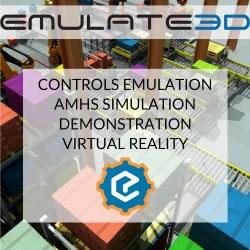 Emulate3D software helps you model and test your AMHS solutions rapidly. Use Demo3D to create running models quickly, then generate videos, stills, or view the models in virtual reality at the click of a button. Sim3D enables you to carry out experimental test runs to select optimal solutions and the most robust operating strategy, and Emulate3D Controls Testing is the best way to debug your PLCs offline, and off the project's critical path. Connect to major PLCs, import CAD, and plug into HTC Vive and Oculus Rift to produce awesome models!