Phoenix Contact expands the Radioline product family
Middletown, Pa. - Phoenix Contact has added a new 900 MHz spread-spectrum transceiver to its award-winning Radioline product family. The RAD-900-DAIO6 (Outdoor Radioline) makes retrofit and expansion projects much simpler and faster by eliminating or supplementing signal wiring for conventional I/O signals.

This device can monitor digital on/off status, actuate relay outputs, and transmit or receive 4-20 mA signals over distances up to 20 miles. The I/O signals can be mirrored at other stations in the wireless network or mapped to Modbus RTU for easy integration into a Modbus host system.
A single network can support up to 250 radios with any combination of repeaters and slaves, and the RAD-900-DAIO6 is completely interoperable with the existing Radioline products. Basic configuration requires no software. Simply set the Radio ID using a thumbwheel on the front of the transceiver. The user can access advanced configuration and diagnostics with the free PSI-CONF software.
The RAD-900-DAIO6 can be powered with 10.8-30 V DC or 100-240 V AC, making it a perfect solution for remote monitoring applications with any available power source. The unique NEMA 4X packaging, coupled with the wide operating temperature range (-40 to +70 C) and Class I, Division 2 approval, is designed for use in harsh industrial environments and can be installed in minutes with standard hardware.
The technology behind Trusted Wireless 2.0 provides robustness and dependability. Frequency-hopping spread spectrum (FHSS) offers redundancy and fail-over in time, frequency, and space, ensuring very high reliability even in the most challenging radio environments. Trusted Wireless also provides the intelligence required for roaming and self-healing network structures, while 128-bit AES encryption protects data. The result is a secure and reliable wireless network that installs easily with no specialized expertise, automatically adapts to changing environments, and can be expanded as needed.
Featured Product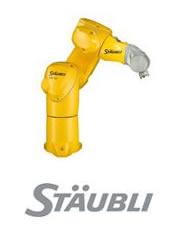 TX2 robots: redefining performance by offering collaborative safety and high performance in a single machine. These pioneering robots can be used in all areas, including sensitive and restrictive environments, thanks to their unique features. Safety functions are easy and inexpensive to implement. They allow a higher level of interactions between robots and human operators, while still guaranteeing protection of your people, production and investment.