he Aria is an industrial-quality 3D printer now available online for $5,999
The EnvisionTEC Aria represents a new generation of affordable desktop 3D printers that delivers reliable, premium performance for professional users — and is available for direct purchase online.

Launched in November and now priced at $5,999 for North American customers, the Aria is a Digital Light Processing (DLP) printer that uses an HD projector to deliver best-in-class surface finish and accuracy. The Aria is ideal for jewelry makers, professional designers and engineers.
Built on EnvisionTECs long-trusted Micro platform for professional 3D printer users, Aria features high-quality components and patented firmware and software that consistently delivers exceptional results.
The Aria is available for purchase online at www.EnvisionTEC.com/aria, with an estimated delivery date of 4-6 weeks from purchase. Shipping is currently limited to customers in North America and Europe.
"EnvisionTEC has been known for its unwavering commitment to delivering professional-grade 3D printers for more than 15 years, which is why we consistently remain a 3D printing leader," said CEO Al Siblani. "The Aria remains faithful to our mission of delivering a premium product, but at a more accessible price that gives users a taste of EnvisionTECs outstanding quality and reliability."
Aria features an industrial-grade UV LED light engine, a dual-axis Z slide and a material tray built with optical glass instead of plastic. Z layer resolution can be set at 25, 35 or 50 microns, depending on material. Whats more, Aria comes equipped with EnvisionTECs #15YearsBetter firmware and software, which offers patented grayscaling and exposure strategy techniques for superior performance.
Aria is offered with a choice of four of EnvisionTECs most popular materials:
EC500 ― The highest resolution and crispest lost wax casting material available without sacrificing speed. Ideal for heavier jewelry pieces.
PIC100 ― Produces castable parts with exceptional detail, including thin walls and intricate features. Three times harder than carving wax and ideal for delicate jewelry.
QView ― For quick design verification, QView is one of the fastest printing materials offered by EnvisionTEC.
RC90 ― A high heat-resistant material containing ceramic for building tough, stiff parts in a resolution many regard as the best in 3D printing today. Ideal for building parts to create rubber mold masters, RC90, is used by some of the worlds leading technology, entertainment and jewelry manufacturers.
Aria is also an open materials system, but materials must be certified for use by EnvisionTEC.
About EnvisionTEC
EnvisionTEC is a leading global provider of professional-grade 3D printing solutions. Founded in 2002 with its pioneering commercial DLP printing technology, EnvisionTEC now sells a variety of printer configurations based on six distinct technologies that build objects from digital design files. The companys premium 3D printers serve a variety of medical, professional and industrial markets, and are valued for precision, surface quality, functionality and speed. EnvisionTECs intellectual property includes more than 140 pending and granted patents. Learn more at EnvisionTEC.com.
Featured Product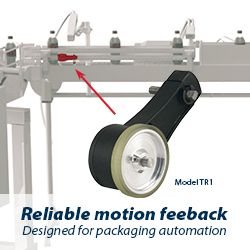 The Model 30MT is a compact magnetic encoder module designed for the most extreme environments. It offers sealing up to IP69K, an operating temperature range of -40° to 120° C, and a shock and vibration rating that conforms to Mil-STD-202G. With a large air gap and tolerance to misalignment, up to 1024 CPR (4096 PPR with Quadrature Counting), and easy alignment and installation, the Model 30M or is an excellent solution where you need motion feedback in your robotics application.