PROTOS achieves rotary machine speeds in smaller footprint and linear design. See PROTOS at EXPO PACK in Mexico City, June 5-8, Booth 1436.
ELUM Inc. announces PROTOS, the industrys first 100 percent servo-driven, roll-fed, wrap-around labeling machine. PROTOS is a new series of linear labelers that provides rotary machine speeds—up to 42,000 containers per hour—at lower cost and a 50 percent smaller footprint. Multiple revolutionary ELUM patents provide PROTOS users with quicker set-up and changeover, reduced maintenance time, fewer wear parts, and higher performance than typical linear and rotary roll-fed labelers on the market today.

ELUM will exhibit PROTOS for the first time at EXPO PACK in Mexico City June 5-8, Booth 1436.
PROTOS features include an innovative adhesive extrusion system that applies glue in tightly controlled quantities and position tolerances, without waste. There is no excess glue to re-circulate, nor any messy accumulation of glue on the machine. The adhesive extrusion system also prevents emission of noxious hot melt glue fumes, thereby improving work environments and avoiding costly ventilation expenses.
PROTOS has eliminated many wear parts found on other labelers, including analog mechanical linkages, sprockets and chains, which greatly reduces maintenance costs and downtime. PROTOS uses digitally synchronized multi-axis, servo-drives that have a mean time between failure (MTBF) of 100,000 hours. Another unique feature is a solid metal, one-piece vacuum drum that requires no rubber padding. No more stopping production to replace worn drum pads.
Pre-programmed recipes automatically adjust the machine, which accelerates the set-up and changeover processes. PROTOS cutter mechanism, applicator drum and adhesive extrusion system can be designed to work with multiple container formats, further reducing downtime. The servo-controlled label tensioning, cutting and transfer systems are accurate to 0.000086 degrees, which ensures precise, repeatable label placement and reduction of scrap. Other change parts are designed for rapid, tool-less replacement.
"PROTOS is a game-changer for wrap-around labeling," says Lyn Bright, ELUM, INC. President. "From ease-of-use to total cost of ownership and Overall Equipment Effectiveness (OEE), PROTOS delivers value on all fronts. Its an ideal solution any packager who wants to improve performance and eliminate typical maintenance and waste issues attached to common linear and rotary wrap-around, roll-fed labelers. Were looking forward to introducing PROTOS and the markets response."
See PROTOS in person at EXPO PACK—Mexico City, Booth 1436. Learn more today about PROTOS innovative features and how they can eliminate bottlenecks, increase productivity and save money at ELUMinc.com.
About ELUM Inc.
ELUM Inc. is a mechatronic research and development company specializing in label applicator technology for the global consumer products packaging industry. ELUM was formed in 2013 by packaging machinery executives and engineers seeking to systematically eliminate persistent problems associated with traditional labeling technology. ELUM manufactures PROTOS at its main facility in Modesto, California and maintains an office and technical support in Querétaro, Mexico. For more information visit http://www.ELUMinc.com
Featured Product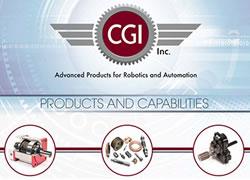 From Prototype to Production CGI Motion enables design excellence across a wide range of industrial applications. We thrive on customer driven innovation in precision gearbox, precision machined components and electro-mechanical assembly solutions ranging from aerospace systems to semiconductor applications. We are your design and manufacturing partner helping to differentiate your product, machine or innovation. Our team of problem solving engineers and product managers can bring your application to market on time and under budget. Whether it's an improvement on a current design or groundbreaking new designs, CGI has the know-how and team to enable design excellence. Connect with us today to explore what CGI Motion can do for you.