Software company implements blockchain for 3D printing workflow integration
March 22, 2018 - New York, NY - LINK3D additive manufacturing (AM) workflow software is announcing the first ever blockchain technology integration for 3D printing workflow.

Blockchain technology is now integrated into LINK3Ds first SaaS product, Digital Factory (launched in 2017), as an additional layer of security. Quickly gaining popularity across multiple industries, blockchain technology provides 3D printing with a trusted middleware to stabilize a growing- but not-yet trusted- distribution network.
"Fundamental in many aspects to 3D printing operations, the blockchain technology alleviates the need for data auditability when the part is printed." according to Vishal K. Singh, CTO of LINK3D. "Validating the file and machine parameter metadata storage settings, LINK3Ds solution implements blockchain for 100% printing repeatability."
The file integrity, file attribution, IP protection and traceability are high priority 3D printing processes. This pioneering technology ultimately delivers a unified digital thread through an distributed digital ledger, fundamental to 3D printing data protection.
Never-before implemented, this technology allows the 3D printing process to yield a seamless data 'strand from start-to-finish. This data strand spans 3D printing stages, from conception, research and development, prototyping, production, delivery and recall.
Throughout project design and production phases, blockchain-based technology allows for a transparent environment and relationship between public and private party information disclosure throughout the 3D printing workflow. Meanwhile, LINK3D technology effectively hides and encrypts (or blocks) sensitive information concerned parties do not wish to disclose.
Blockchain enhances LINK3D Digital Factorys end-to-end 3D printing workflow automation. This encrypted blockchain data protection is crucial for mass AM adoption with Fortune 500 companies across the aerospace and defense, automotive and medical industries.
LINK3Ds blockchain solutions facilitates 3D Printing workflow challenges:
1. File integration and IP integrity: Blockchain technology can be used to track origination of each design file and its evolution.
2. Facility matching and authentication: Blockchain can store service bureau capability, providing proof of capability (explained in our white paper).
3. Supply chain and logistics tracking: Once the part is shipped, tracking ensures the intended party receives and opens the package.
4. Real-time data from machines: 3D printing machine logs can be stored in an immutable way for forensics during recalls and for traceability. LINK3D has already begun partnering with 3D Printing machine manufacturers, enabling the blockchain interface in their machines.
Today, 3D printing is still a new concept to most businesses, while 'blockchain is quite the buzzword. Exploration of blockchain (a distributed ledger) x 3D printing is especially untested. LINK3Ds technology will provide a solution to companies adopting AM to deploy the blockchain ledger, storing data generated in the AM workflow.
"Blockchain technology has the potential to become the backbone to unify the disjointed 3D printing ecosystem and provide an end-to-end data trail," explains LINK3D CTO and Co-founder, Vishal K. Singh. "Our technology is the first of its kind and provides traceability and security to 3D printing processes for all industries."
Global spend on 3D printing will witness a 22.3% five-year compound annual growth rate, with revenues reaching $28.9 billion in 2020 (IDC). LINK3D integrated blockchain technology has the potential to lace the digital thread to simplify management of AM processes, paramount to the survival and growth of global adoption of industrial 3D printing.
ABOUT LINK3D
LINK3D develops Industrial 3D Printing software to empower organizations across the globe adopting Industry 4.0. Digital Factory is trusted by Fortune 500 companies to lead them into the next industrial revolution.
The Digital Factory platform introduces automation into organizations Industrial 3D Printing workflows. LINK3D helps companies connect and optimize the digital thread through a comprehensive and streamlined MES software solution, maximizing the efficiency of your 3D Printing production
LINK3D is based in New York City. For inquiries please contact LINK3D at contact@link3d.co or visit us at www.link3d.co
Featured Product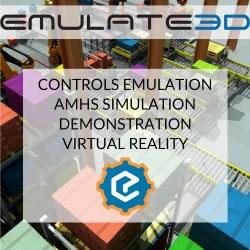 Emulate3D software helps you model and test your AMHS solutions rapidly. Use Demo3D to create running models quickly, then generate videos, stills, or view the models in virtual reality at the click of a button. Sim3D enables you to carry out experimental test runs to select optimal solutions and the most robust operating strategy, and Emulate3D Controls Testing is the best way to debug your PLCs offline, and off the project's critical path. Connect to major PLCs, import CAD, and plug into HTC Vive and Oculus Rift to produce awesome models!