Join Physik Instrumente (PI) on stand D744 at Drives & Controls 2018 at the NEC Birmingham from the 10th to the 12th of April to discover the ACS motion control solutions range.
On display in the UK for the first time, these high performance EtherCAT®-based controllers and multi-axis drives enable the use of various motor types that can be conveniently integrated into a wide variety of high-end and demanding automation applications.

PI will be exhibiting a range of products from the ACS portfolio, including the latest NanoPWM™ amplifiers - offering linear amplifier performance with the power, robustness and cost-effectiveness of a PWM drive - and the LCM laser control module, which allows laser sources operation to be synchronised to motion profiles. Alongside, visitors will be able to see the SPiiPlusES drive node, which enables the addition of more capable motion control to existing EtherCAT automation solutions. Also on the stand will be the innovative motion control solution for laser scribing - a collaborative development between PI, ACS Motion Control and SCANLAB - combining a high speed laser galvanometer scanner with servo-driven stages to offer fast, flexible and precise laser machining, eliminating stitching errors and increasing throughput. The automation platform will be complemented by a small laser demonstrator, as well as a selection of PI's precision micro- and nanopositioning products, and hexapods, and there will be ample opportunities to discuss how the company can apply its systems' capabilities to the demands of specific individual applications.
Visit stand D744 to see how PI can help meet your motion control and precision positioning needs.
Featured Product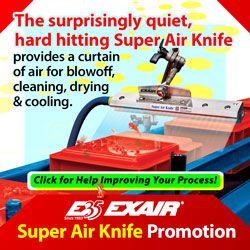 Why is compressed air safety a concern? Compressed air is commonly referred to as the "fourth utility" because it is very common as a resource within manufacturing, mining and processing environments. Are there regulations that govern the use of compressed air? Yes, OSHA has two important standards relevant to compressed air. Standard 29 CFR 1910.242(b) is specific to compressed air use for cleaning and states - "Compressed air shall not be used for cleaning purposes except where reduced to less than 30 p.s.i. and then only with effective chip guarding and personal protective equipment. How do EXAIR's engineered air nozzles work? Air Nozzles use the Coanda effect to amplify compressed airflow up to 25 times or more. The air is always ejected so it can vent safely, well below OSHA dead end pressure requirements, should the nozzle end be blocked. Learn more now.