Inductive Automation announced the program last month at the ARC Industry Forum, and involves B+B SmartWorx embedding Ignition Edge software in various devices.
OTTAWA, Ill., March 16, 2018 /PRNewswire/ -- B+B SmartWorx powered by Advantech is proud to partner with Inductive Automation in its creation of the Ignition Onboard program. Inductive Automation announced the program last month at the ARC Industry Forum, and involves B+B SmartWorx embedding Ignition Edge software in various devices.

Specifically, B+B SmartWorx will soon offer a pocket-size UNO Industrial Computer with Ignition Edge Onboard. This is a Smart Factory Gateway with Ignition Edge MQTT preinstalled making it an ultra-compact solution for data collection at the network edge.
Ignition by Inductive Automation is an industrial application platform with tools for building solutions, such as human-machine interface (HMI), supervisory control and data acquisition (SCADA), and the Industrial Internet of Things (IIoT). Ignition Edge is a line of lightweight, limited, low-cost Ignition software products, which empower solutions designed for edge-of-network use.
The upcoming UNO model, C-UNO2271-W10EDG-1, is fan-less and ruggedized for industrial- and mission-critical applications. When running Ignition Edge MQTT, the UNO is equipped with OPC-UA, Modbus, Siemens and Allen Bradley suite of drivers, supporting up to 500 tags. Data is seamlessly integrated with Ignition by the MQTT Engine by Cirrus Link Solutions, using the Spark Plug MQTT standard. The UNO can be used in combination with B+B SmartWorx sensor nodes to easily add sensor data.
"Here at B+B Smartworx, we know users may be struggling with getting the data they need, when they need it," said Jerry O'Gorman, B+B SmartWorx president and CEO. "To help solve these issues for our customers and offer real value, we continue to partner with innovative vendors, such as Inductive Automation, to make data connectivity easier and more efficient to adopt when utilizing our industrial, intelligent devices."
In addition to embedding Ignition Edge MQTT in the UNO as part of the Ignition Onboard program, there is an expanding universe of B+B SmartWorx products that integrate with Ignition, such as: Wzzard Wireless Mesh Sensing Nodes, WISE Wireless I/O Modules, ADAM Ethernet I/O Modules, SmartFlex & SmartStart LTE & WAN/LAN Gateways, Touch Panel Computers, Ethernet Switches with MQTT and more.
"It's fantastic that B+B SmartWorx can bring their decades-long expertise of interfacing legacy and brownfield devices into the IIoT arena," said Arlen Nipper, co-inventor of MQTT. "With Ignition Edge running on UNO, customers will get a fast-track entry into better SCADA/operational solutions, while also laying the groundwork for future IIoT enablement. The UNO—in combination with MQTT technology on B+B SmartWorx lines of Wzzard, WISE, ADAM, SmartFlex and Industrial Ethernet Switches—produces a superior operational technology (OT) solution, while also providing the on-ramp to a superior IIoT infrastructure."
www.advantech-bb.com orders@advantech-bb.com info@advantech-bb.com
International Office: 707 Dayton Road PO Box 1040 Ottawa, IL 61350 USA 815-433-5100 Fax 433-5104
European Office: Westlink Commercial Park Oranmore Co. Galway Ireland +353 91 792444 Fax +353 91 792445
Featured Product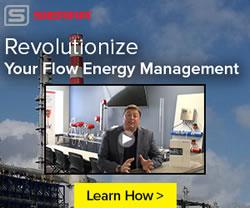 Sierra Instruments announces the launch of its new flow energy solution for managing and optimizing flow measurement for industrial facilities of all sizes. It features Sierra's QuadraTherm 640i/780i thermal flow meters, their InnovaMass 240i/241i vortex flow meters, and their new InnovaSonic 207i ultrasonic flow meter. Designed, built, and calibrated in the USA by Sierra, the Big-3TM share the same revolutionary Raptor firmware and many of the same software apps. They are a complete flow energy solution for flows like compressed air, natural gas, steam, and hot and chilled water. Together, they set a new standard in ease-of-purchase, performance, accuracy, reliability, and ease of use.