-The new Vida cDLM allows dental professionals to 3D print night guards and orthodontic models in less than 30 minutes — at one-third the price of competing models -The high-speed 3D printer also features a patent-pending material tray that allows best-in-class accuracy across the entire build tray, ensuring a tight fit and precise bite registrations -EnvisionTEC's family of Continuous Digital Light Manufacturing (cDLM) printers now includes four sizes to meet the needs of the dental, jewelry and general manufacturing markets
DEARBORN, Mich.--(BUSINESS WIRE)--EnvisionTEC, the global leader in high-accuracy dental 3D printers and materials, will this week reveal its largest printer ever based on its patented continuous 3D printing technology.

The new Vida cDLM will be on display at LMT Lab Day Chicago 2018, where dental lab owners, managers, technicians and clinicians from more than 40 countries will gather to look at the latest technology for dental manufacturing.
With a print speed of about 20-50 mm per hour, depending on material, the Vida cDLM prints models in about half the time as the company's best-selling Vida desktop 3D printer.
The high-speed Vida cDLM features an impressive build area of 145 x 81.5 x 100 mm (5.7 x 3.2 x 3.94 inches) and XY resolution of 76 microns. When paired with EnvisionTEC's premium E-Model Light material, the Vida cDLM can 3D print:
10-12 vertical orthodontic models in 100 micron layers in about 90 minutes
3-4 horizontal orthodontic models in 100 micron layers in about 15-30 minutes
3-4 full crown and bridge arches in 50 micron layers in about an hour
What's more, the Vida cDLM is capable of 3D printing night guards and bite splints in about 15-20 minutes using EnvisionTEC's FDA-approved E-Guard material. When processing the company's FDA-approved E-Denture material, the Vida cDLM can print six denture bases in 80 minutes, at a speed of 47 mm per hour.
Continuous 3D Printing Breakthrough
Continuous 3D printing technology is the next evolution of Digital Light Processing, or DLP, a process that EnvisionTEC commercialized in 2002 that uses a high-definition projector to cure photosensitive resin.
In 2006, EnvisionTEC filed for a patent on continuous 3D printing that for allows nonstop motion of the build platform in the Z axis, resulting in high-speed 3D printing with fewer supports, among other benefits. The patent was granted in 2011.
However, EnvisionTEC recognized that continuous 3D printing had challenges in delivering accurate parts consistently across larger build areas. Using oxygen to create a dead zone on which to print continuously can cause the material tray to tent slightly from the pressure of the oxygen. This can cause grave inaccuracies in the Z axis that can compromise dental products.
EnvisionTEC's patent-pending domeless material tray remains flat and parallel during continuous printing — ensuring consistent accuracy across the entire build area. Learn more about this important product update in "The Ultimate Guide to High-Speed 3D Printing With Continuous Technology," available at envisiontec.com/expert.
A Growing Family of Benefits
The Vida cDLM joins EnvisionTEC's growing family of continuous 3D printers, which serves a variety of industries. The lineup now includes:
Vida cDLM, with XY resolution of 76 microns and a build area of 145 x 81.5 x 100 mm (5.7 x 3.2 x 3.94 in.)
Vida HD cDLM, with XY resolution of 50 microns and a build area of 90 x 50 x 100 mm (3.54 x 1.97 x 3.94 in.)
Vida UHD cDLM, with XY resolution of 33 microns and a build area of 63.3 x 35.6 x 100 mm (2.5 x 1.4 x 3.94 in.)
Micro cDLM, with XY resolution of 39.8 microns and a build area of 45 x 28 x 75 mm (1.8 x 1.1 x 2.95 in.)
Aside from high speeds, continuous 3D printing also offers other benefits. In the jewelry sector, for example, cDLM technology enables 3D printing of materials with an extremely high wax content, which is desirable for investment casting patterns. The cDLM can also process dual-cure engineering-grade materials with a short pot life - materials that can deliver properties similar to injection molded plastics.
The Vida cDLM, along with EnvisionTEC's industry-leading portfolio of dental printers and materials, will be on display in booths A-43 and B-42 at LMT Lab Day Chicago 2018. EnvisionTEC will also be hosting educational sessions in the Hyatt Regency Chicago's Roosevelt Room on Friday, Feb. 23 from 10 a.m. to 3 p.m.
About EnvisionTEC
EnvisionTEC is a leading global provider of professional-grade 3D printing solutions. Founded in 2002 with its pioneering commercial DLP printing technology, EnvisionTEC now sells more than 40 printer configurations based on six distinct technologies that build objects from digital design files. The company's premium 3D printers serve a variety of medical, professional and industrial markets, and are valued for precision, surface quality, functionality and speed. EnvisionTEC's intellectual property includes more than 140 pending and granted patents. Learn more at EnvisionTEC.com.
Featured Product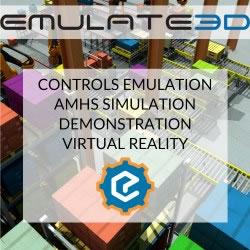 Emulate3D software helps you model and test your AMHS solutions rapidly. Use Demo3D to create running models quickly, then generate videos, stills, or view the models in virtual reality at the click of a button. Sim3D enables you to carry out experimental test runs to select optimal solutions and the most robust operating strategy, and Emulate3D Controls Testing is the best way to debug your PLCs offline, and off the project's critical path. Connect to major PLCs, import CAD, and plug into HTC Vive and Oculus Rift to produce awesome models!