Now offering models with power up to 1000 watts available in same form factor and features
MONROVIA, CA - AMADA MIYACHI AMERICA Inc., a leading manufacturer of resistance welding, laser welding, marking, cutting, and micro machining equipment and systems, announces the release of four new higher power models to the LF Series family of fiber laser welders. The addition of the new models will address thicker materials or increase processing speed for a given application. AMADA MIYACHI AMERICA now offers an LF Series fiber laser in power levels ranging from 250 watts to 1000 watts in the same form factor and with the same features.

With the precise control needed for small component welding and fine precision cutting of metals, the LF Series fiber lasers are ideal for micro spot welding, seam welding and precision cutting. They are a good choice for medical spring attachment and medical component assembly, as well as battery tab welding.
The LF Series offers continuous wave and modulated fiber laser technology with both single mode and multimode options. Featuring a large touchscreen pendant that enables clear visibility of process schedule parameters, the LF Series has an intuitive interface that offers users quick and easy programming. All models in the series enable spot sizes down to 10 microns for thin metal welding, with welding penetration depth beyond 0.16-inch (4 millimeters) in metals. Excellent power stability provides extremely reliable results.
The new models incorporate all the most recent enhancements to the LF Series, including a new chiller updated to accommodate laser engines with up to 1 kilowatt of average power. This additional capacity improves the LF Series performance in hot environments. Several other chiller design changes make routine maintenance easier. In addition, the new models feature improved industrial design, adding safety and serviceability features. The back panel has been modified for improved air flow to extract heat from the chiller and the front door and frame have been updated for improved appearance and functionality.
For more information, visit the AMADA MIYACHI AMERICA website at http://www.amadamiyachi.com/.
###
About AMADA MIYACHI AMERICA
Since 1948, AMADA MIYACHI AMERICA, Inc. has worked to achieve one goal: to solve customers manufacturing challenges. Knowing there is no one solution that fits all, the company strives to provide customers with innovative and reliable manufacturing technology solutions in an effort to be their single source provider. AMADA MIYACHI AMERICA manufactures equipment and systems for resistance welding, laser welding, laser marking, laser cutting, hermetic sealing and hot bar reflow soldering and bonding. The company serves a wide range of markets including medical devices, battery, aerospace, automotive and electronic components. AMADA MIYACHI AMERICA is an ISO9001 certified company. Contact AMADA MIYACHI AMERICA at info@amadamiyachi.com. Learn more about the companys products and services at www.amadamiyachi.com.
Featured Product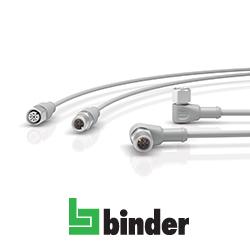 binder USA, LP, has expanded the M12 product family with the addition of the M12 A-Coded Connector, which is now certified for both Ecolab and FDA Code of Federal Regulations (CFR) Title 21 standards. The M12 A-Coded connectors are extraordinarily durable and IP69K-rated, ideal for harsh-duty and washdown applications in the food and beverage, pharmaceutical, and chemical industries. Available in 3, 4, 5, 8, and 12 contacts, the high quality stainless steel locking rings (V4A) and gold contact plating can also withstand UV exposure and shock and vibration.