Castalite directly produces a 3D printed mold for metal investment casting.
Tethon Corporation ("Tethon3D") announces a new resin material for 3D printing. The material, Castalite®, is a photo-curing ceramic polymer resin for use in SLA or DLP printers. Following kiln firing, objects printed with Castalite are suitable for use as a ceramic shell mold in metal casting processes.

Castalite has very high heat and thermal shock tolerances that make it ideal for use in casting many metals such as bronze, gold, silver, and aluminum.
"Castalite adds another premium material to our product catalogue that compliments the growth seen in SLA and DLP hardware," says Karen Linder, President and CEO of Tethon 3D. "Recent improvements in 3D printer technology provide higher resolution details in the casted metal part and faster print times. Most printers can print at 25 micron print layers and Castalite demonstrates excellent resolution at that level."
Molds with a sprue and gate are 3D printed directly in Castalite, followed by high temperature furnace firing. This produces a ceramic shell model ready to accept liquid metals. An advantage of using Castalite to directly print a mold is the elimination of a wax model or other pre-mold steps, as in traditional casting techniques. The Castalite process increases the speed of production and decreases the quantity of material used, resulting in a cost reduction.
Industries with applications for Castalite include traditional and advanced manufacturing, engineering, jewelry and others.
About Tethon 3D
Tethon 3D is the world leader in ceramic materials for additive manufacturing. The company manufactures all its products in the United States and distributes to over 40 countries globally. Tethon 3D manufactures resins and powders for SLA, DLP and powder/jet binder 3D printing.
Additionally, the company provides service in 3D modeling, scanning and ceramic 3D printing, as well as 3D printing educational workshops and a residency program.
Tethon 3D holds several patents and other intellectual property related to ceramic 3D printing materials, 3D printing processes and 3D printer hardware. For more information on Tethon 3D, visit http://www.tethon3d.com.
Except for statements of historical fact, all statements in this press release, including, but not limited to, statements regarding future plans, objectives and payments are forward-looking statements that involve various risks and uncertainties.
Featured Product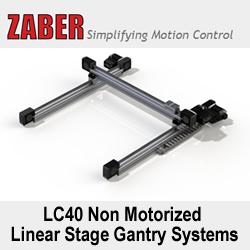 Zaber's X-LRQ-DE Series of linear stages have high stiffness, load, and lifetime capabilities in a compact size. The integrated linear encoder combined with stage calibration provides high accuracy positioning over the full travel of the device. At 36 mm high, these stages are excellent for applications where a low profile is required. The X-LRQ-DE's innovative design allows speeds up to 205 mm/s and loads up to 100 kg. Like all Zaber products, the X-LRQ-DE Series is designed for easy set-up and operation.