Tackling Cross Border, Tax & Customs in Asia
Cross-border delivery isn't new but remains to date, an important part of eCommerce. With worldwide cross-border eCommerce set to reach US$424 billion by 2021, it is pertinent that brands and eMarketplaces up their cross-border game.

However, to date, some are still plagued with cross-border delivery challenges. They are caught up in time-consuming paperwork they are not familiar with; constantly changing policies and laws; and worst of all, orders and parcels get delayed due to unforeseen tax and customs restrictions.
Do you have a comprehensive cross-border solution that can take care of all cross-border matters? Are you an expert in helping brands and eMarketplaces break down these barriers to entry? Showcase your expertise at LMFAsia 2018. Connect with retailers and eMarketplaces who are desperately looking for a partner who can take care of all cross-border related matters.
Featured Product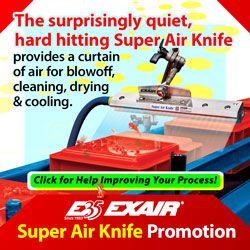 Reversible Drum Vac & High Lift Reversible Drum Vac - Pump 55 gallons in 90 seconds! Two-way pumping action! EXAIR's compressed air operated Reversible Drum Vac and High Lift Reversible Drum Vac attached quickly to any closed head 30, 55, or 110 gallon drum and can fill a 55 gallon drum in less than two minutes. With the simple turn of a knob, the same stainless steel pump quickly empties the drum. High Lift Drum Vac lifts up to 15 feet. Chip Trapper & High Lift Chip Trapper - Vacuums in liquid with solids and pumps out only liquid! Machine tools commonly discharge some chips and shavings into the coolant sump. The Chip Trapper and the High Lift Chip Trapper vacuums coolant or liquid that is filled with debris and traps all the solids in a reusable filter bag, leaving your coolant clean. High Lift Chip Trapper cleans with up to 15 feet of lift. See our current Promotion and all of the other Industrial Vacuums available.