Tackling Cross Border, Tax & Customs in Asia
Cross-border delivery isn't new but remains to date, an important part of eCommerce. With worldwide cross-border eCommerce set to reach US$424 billion by 2021, it is pertinent that brands and eMarketplaces up their cross-border game.

However, to date, some are still plagued with cross-border delivery challenges. They are caught up in time-consuming paperwork they are not familiar with; constantly changing policies and laws; and worst of all, orders and parcels get delayed due to unforeseen tax and customs restrictions.
Do you have a comprehensive cross-border solution that can take care of all cross-border matters? Are you an expert in helping brands and eMarketplaces break down these barriers to entry? Showcase your expertise at LMFAsia 2018. Connect with retailers and eMarketplaces who are desperately looking for a partner who can take care of all cross-border related matters.
Featured Product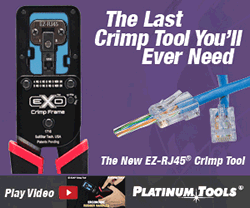 Platinum Tools is proud to present the newly patented EXO Crimp Frame® and EZ-RJ45® Die as our new EZ-RJ45 Crimp Tool! Built to terminate the original EZ-RJ45 connectors, which have been a staple in the industry for almost two decades, this crimp tool improves the trim and crimping processes of EZ-RJ45 connectors by using a single cycle crimp and flush trim.