13+ Manufacturing Partners on the Paperless Parts Platform Help Product Developers Get to Market Faster
BOSTON, MA, (November 20, 2017) — Paperless Parts, a leading manufacturing intelligence technology company, today announced the full-scale launch of their custom part marketplace to product developers across the US. The Paperless platform gives product developers the ability to view instant quotes across multiple processes and material types for both additive and subtractive manufacturing. Instant quoting is a critical component that enables product development teams to iterate faster so they can be first to market.

Paperless is partnering with well-known B2B custom part manufacturers across the US who understand the value of high quality custom parts manufactured and shipped in days, not weeks. Unlike other custom part marketplaces or manufacturing network companies, Paperless gives full transparency of its manufacturing partners at the quoting stage. The transparency of its supplier network is coupled with supplier-specific costing algorithms. This enables manufacturers to customize their pricing, lead time, processes and more, based on their unique shop circumstances at any given time including capacity. This customizability is how Paperless ensures all quotes on the platform are actionable.
"We are very excited to share the platform with product developers and engineers around the country. Over the course of our beta launch the past few months, we evolved the platform to better integrate with our manufacturing partners, as well as customizing the buyer interface to offer a frictionless experience," said Jason Ray, CEO at Paperless Parts. "We see the platform as an investment in American manufacturing and product development. Supporting the ability for our partners to provide instant quotes to their customers is a paradigm shift in how manufacturers quote today, taking days and even weeks out of the product development cycle."
Paperless Parts leverages machine learning and a proprietary customizable pricing engine that empowers its manufacturing partners to offer instant and accurate quotation across multiple processes. Today, the processes offered on the platform include: Stereolithography (SLA), Selective Laser Sintering (SLS), Fused Deposition Modeling (FDM), Material Jetting, Multi-Jet Fusion (MJF), metal Powder Bed Fusion (PBF), and laser cut and waterjet cut metal parts. From start to finish, custom part buyers can get firm quotes and place an order for parts within minutes.
Featured Product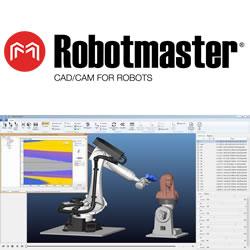 Since Robotmaster V7 uses integrated CAD/CAM functionality, for the first time, the power of Robotmaster can be used by welding, cutting and other process experts without buying or learning complex CAD/CAM software. As in past versions, Robotmaster V7 imports paths, but now makes it even easier for end users to leverage any CAD/CAM tool choice. It is an intuitive tool that anyone could use, with or without robotics expertise. It bridges the gap between robots and manufacturing by providing easy programming solutions for part manufacturing.