With XJets Carmel 1400 AM system, Oerlikon is the first company worldwide to premier a new transformational inkjet-based technology for additive production of ceramic parts.
Barleben/Germany & Rehovot/Israel - November 7, 2017 - XJet Ltd., the additive manufacturing company pioneering NanoParticle JettingTM (NPJ) technology, announced today the first global installation of its XJet Carmel 1400 additive manufacturing (AM) system at citim. citim is a part of the Oerlikon Group and a leading international service provider of additively manufactured parts. With XJets Carmel 1400 AM system, Oerlikon is the first company worldwide to premier a new transformational inkjet-based technology for additive production of ceramic parts.

The XJet Carmel 1400, featuring the companys patented NPJ technology, is poised to transform the metal and ceramic AM industries by its ability to print separate nanoparticle "inks" or fluids for the build and support material. This enables ceramic or metal parts to be produced with the ease and versatility that one associates with inkjet printing. The XJet Carmel 1400 AM prints very fine layers, as fine as only a few microns thick. As a result, this technology allows complex geometries with superfine details from as little as 0.1 mm to be created in a simple and very safe process. As its name suggest, the XJet Carmel 1400 features a 1,400 square cm build tray, which is one of the industrys largest and able to handle high-capacity production. The XJet Carmel 1400 is highly suitable for a wide range of AM applications in diverse industries, from healthcare to manufacturing.
Oerlikons AM part production site in Barleben, Germany, will now commence with field testing using the XJet. Initially, the AM system is configured to manufacture ceramic parts (ceramic zirconia). At a later stage, the system can also be used to manufacture metal components that require fine details.
"The cooperation with XJet is an exciting opportunity for us to expand our AM offering beyond metals and into ceramics," said Andreas Berkau, Head of AM Service Europe, Oerlikon Business Unit (BU) AM. "With over 20 years in the industry, citim has established itself as a leading international supplier of AM parts that meets evolving industry needs and remains at the forefront of AM technology. This collaboration enables us to stay ahead of technology developments and maintain our technology leadership."
"We are proud to team up with Oerlikon, a global technology Group and one of the worlds leading AM service providers," said Hanan Gothait, CEO and Founder of XJet. "Working together, Oerlikon and XJet are taking a lead in the AM revolution, empowered by our game-changing NPJ technology for metal and ceramic AM."
"This collaboration with XJet is a natural extension of Oerlikons AM vision and further strengthens our technology offering and leadership position in the field of AM," said Florian Mauerer, Head of Oerlikon BU AM. "We are pleased to be partnering with the XJet team, which is comprised of top veterans in the global AM industry. We look forward to a meaningful partnership in order to provide the best possible AM solutions along the entire value chain to customers in diverse manufacturing industries."
Oerlikon and XJet are exhibiting at formnext 2017, a leading trade fair for additive manufacturing, which will take place in Frankfurt Germany from November 14 to 17, 2017. Oerlikon will showcase XJet-printed parts and its end-to-end services at booth E30 in Hall 3.1. XJet will host formnext visitors directly next to Oerlikon at booth E20 in Hall 3.1. Dror Danai, XJets Chief Business Officer, will also be presenting their NPJ technology for metal and ceramic AM on Tuesday, November 14 at 1:30 pm at the TCT Introducing Stand.
To find out more about both companies, visit: www.oerlikon.com/am and www.xjet3d.com
About Oerlikon
Oerlikon (SIX: OERL) is a leading global technology Group, with a clear strategy to become a global powerhouse in surface solutions, advanced materials and materials processing. Backed by the key ability to intelligently engineer and process surface solutions and advanced materials, the Group is committed to invest in value-bringing technologies that provide customers with lighter, more durable, more efficient and environmentally sustainable products. A Swiss company with over 100 years of tradition, Oerlikon has a global footprint of over 13 500 employees at more than 180 locations in 37 countries and sales of CHF 2.3 billion in 2016. The company invested CHF 94 million in R&D in 2016 and has over 1 000 specialists developing innovative and customer-oriented products and services.
About XJet
XJet is a provider of ground-breaking metal and ceramic additive manufacturing technologies and products. Founded in 2005, XJet has developed and introduced the revolutionary NanoParticle Jetting™ technology. With a decade of research behind it, NPJ technology enables the production of metal or ceramic parts with the same ease and versatility of inkjet printing without compromising throughput or quality. XJets world-class team of skilled industry veterans and dynamic R&D specialists holds over 60 registered and pending patents. Leveraging its proprietary technology and proven expertise, XJet is redefining the metal and ceramic AM industries.
Featured Product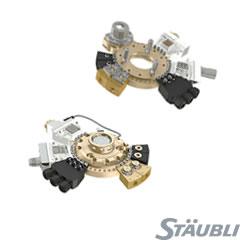 Stäubli is a pioneer in the construction and development of robotic tool changing systems. Our customers benefit from our many years of expertise in all industry sectors, as well as our modular product concept, which offers three efficient solution paths: MPS COMPLETE offers preconfigured robotic tool changers for immediate use. MPS MODULAR allows the user to determine the configuration, while MPS CUSTOMIZED allows the construction of special, application-specific systems.