It includes new customizable hardware and software with open APIs, custom print modes, and the internet's largest community of 3D printing experts
BROOKLYN, N.Y.--(BUSINESS WIRE)--MakerBot is proud to announce the arrival of MakerBot Labs, an experimental platform for engineers and developers to create, build, customize, and collaborate on MakerBot 3D printing solutions. It was born out of the feedback from MakerBot's advanced users looking to tap their innovative spirit and expand their 3D printing experience.

MakerBot Labs offers the freedom to experiment with advanced 3D printing features and materials. This gives designers and engineers a powerful sandbox to push the limits of 3D printing, while still retaining the option to fall back on extensively tested MakerBot solutions. Tested reliability when you need it, and the freedom to experiment and innovate.
"This release marks another stage of MakerBot's growth and 3D printing leadership," explains MakerBot CEO Nadav Goshen. "MakerBot built some of the industry's first desktop 3D printers, then the first fully connected 3D printers, and most recently launched solutions for Educators and Professionals that go much wider than our hardware offering. Focusing on these customers' needs, we learned that the main barrier to wider 3D printing adoption was the lack of a reliable and easy to use solution."
He continues, "now, after setting high industry standards for what makes a quality and reliable 3D printing experience, we're introducing this new, more open platform as a direct response to our advanced users calling for greater freedom with materials and software. This comes as an added option to our advanced users who are looking to experiment, but still need the industry's best reliability out of the box. MakerBot is especially proud to offer the flexibility and experimentation that MakerBot Labs adds to our existing solutions."
Here are the first products to be released under the new MakerBot Labs, available now on MakerBot.com:
New Experimental Extruder
The MakerBot Labs Experimental Extruder is a customizable extruder with a modifiable design and four interchangeable nozzles, designed for the advanced user looking to push the limits of what's possible with MakerBot 3D printers. The easily swappable extruder gives users the freedom to quickly switch from reliable production to sandbox experimentation. Large diameter draft nozzles enable "draft" printing at higher speeds, while a harder stainless steel nozzle enables printing in abrasive materials like metal composites.
New Custom Print Modes in MakerBot Print
MakerBot Print now features the ability to import and export different custom print setting configurations, perfect for different materials and varied printing objectives. Users can define and improve on their own modes, or test modes available from the new MakerBot Labs Community. Once you've found the perfect setting for your chosen material or print mode, save a custom Print Mode and share it with the community.
New MakerBot Labs Community on Thingiverse
Browse, collaborate, discuss, and download. The new MakerBot Labs Community on Thingiverse is the single resource hub for user submissions and collaborations like custom Material Print Modes, custom hardware mods, new apps and software APIs, and discussion of advanced techniques and applications.
New MakerBot Labs API
Developers can now access software and hardware APIs to interface with and expand the capabilities of MakerBot 3D printers.
The freedom to experiment. The flexibility to innovate.
Explore everything in the new MakerBot Labs.
makerbot.com/labs
About MakerBot:
MakerBot, a subsidiary of Stratasys Ltd. (Nasdaq: SSYS), is a global leader in the 3D printing industry, offers reliable and easy-to-use 3D printing, and runs Thingiverse, the world's largest 3D printing file library and community. We believe there's an innovator in everyone, so we make the 3D printing tools that make your ideas matter. Discover innovation with MakerBot 3D printing.
To learn more about MakerBot, visit makerbot.com.
Featured Product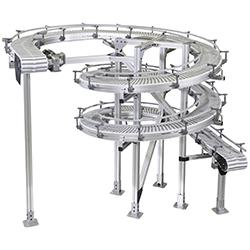 Dorner's 2200 Series SmartFlex Helix Conveyor's compact, flexible design and small footprint maximizes valuable floor space while providing customers with flexibility in layout. The custom infeed and outfeed lengths allow the conveyor to extend beyond the spiral, reducing the number of conveyors required. The Helix Conveyor is ideal for applications including accumulation, buffering, cooling between processes or machines, and more!