Using infrared inspection as part of a quality control program allows for inspecting all package seals in the production line. Companies can ensure package seal integrity, promote product quality, and elevate customer satisfaction by implementing package line inspection.
Using Infrared to Ensure Package Seal Integrity
David Bursell | MoviTHERM
Package seal integrity is critical for today's manufacturers. For example, in the food and beverage space, faulty packaging limits the shelf life of a product. This increases waste, especially for perishable items where package leaks accelerate the decomposition process. For the pharma and health industries, package sterility ensures product efficacy and safeguards end users.
As part of a quality control program, companies randomly sample packages and conduct leak tests on package seals. A typical test method involves placing the package in a vacuum chamber and submerging in water. As internal pressure builds in the package, leaks become visibly detectable by the presence of escaping air as bubbles. While effective at detecting leaks on a single test sample, this approach is laborious and only addresses some packages produced.
Over the past twenty years, infrared (IR) camera technology developments have made IR cameras more rugged, smaller in size, and less expensive. New applications for infrared cameras and non-contact temperature measurement are continually developing as the technology becomes more assessable.
Automating infrared inspection for package seal integrity testing is one application that continues gaining traction. Using infrared inspection as part of a quality control program allows for inspecting all package seals in the production line. Companies can ensure package seal integrity, promote product quality, and elevate customer satisfaction by implementing complete package line inspection.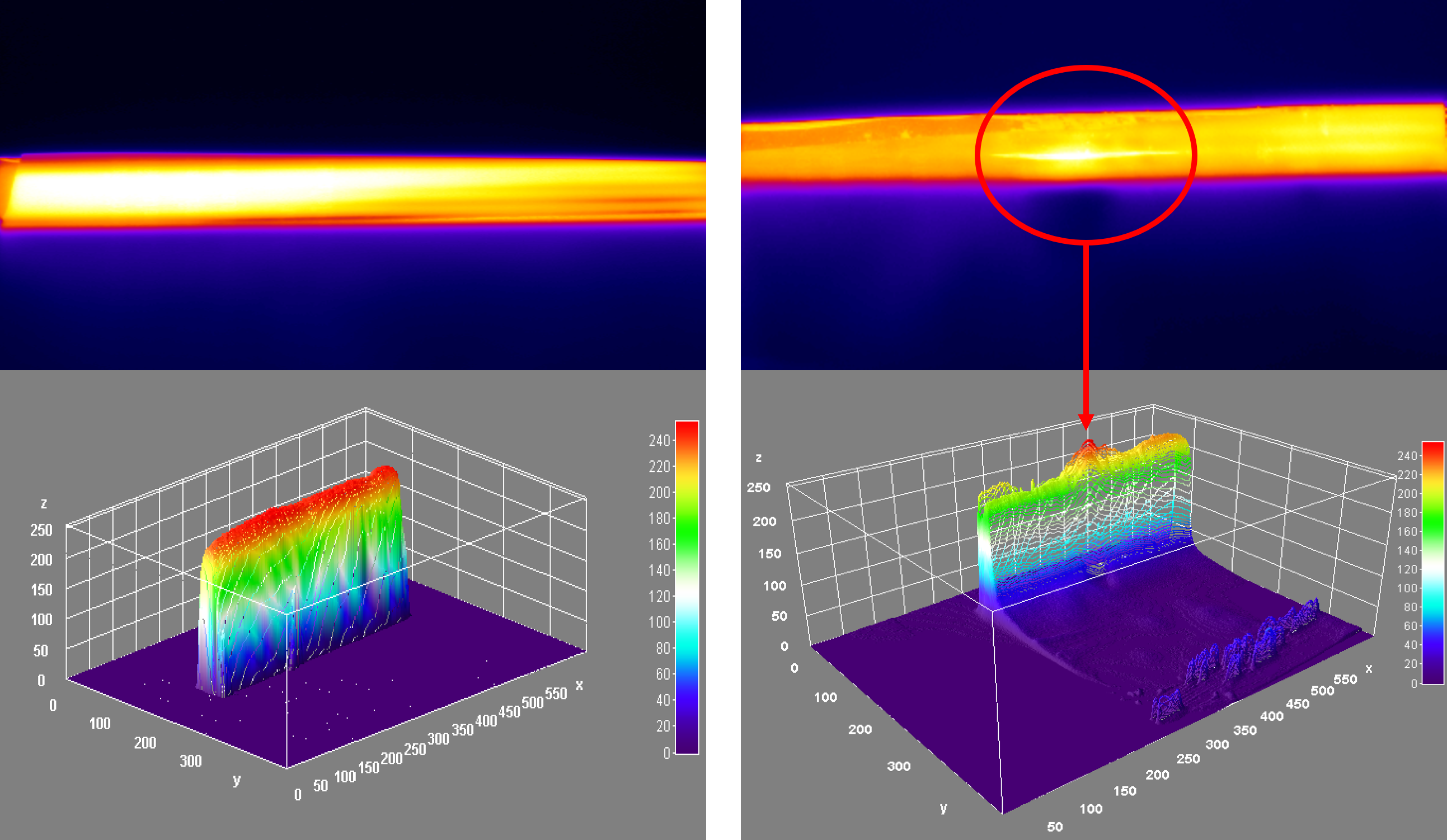 MoviTHERM TSI for Package Seal Integrity Inspection
MoviTHERM TSI is a package seal integrity inspection system that leverages infrared imaging to assess the quality of heat-based package seals. Infrared cameras "see" the residual heat from joining, gluing, and sealing processes. The automated inspection system compares unknown package seals to known good seal profiles and reliably detects good and bad seals. MoviTHERM TSI has an integrated recipe manager that allows the system to store hundreds of inspection scenarios. The system also allows for system adaptation to various packaging seal inspection applications.
Core features of MoviTHERM TSI include:
Infrared Cameras that view and measure thermal variations of good and bad seals without contact.
Hardware and software that easily integrates with existing production equipment
Advanced and reliable inspection logic pre-programmed for multiple packaging scenarios.
Image and data logging for traceability of performance.
Optional cloud-based connectivity that keeps key production personnel always in the know.
And most importantly, peace of mind, knowing that your products and being appropriately packaged and customers are happy.
Infrared Inspection is Key
The critical component of the TSI solution is infrared imaging which allows the system to see the heat from the package sealing process. Some important points regarding infrared light/infrared radiation:
All objects above absolute zero emit infrared light/radiation (that's -273 degrees C or -460 degrees F).
The only difference between visible light (the light we see) and infrared light is the wavelength size. (shown in the chart below)
As such, infrared light behaves similarly to visible light in that it can be reflected, absorbed, and transmitted through an object.
The human eye is tuned to see a tiny sliver of all the light forms in the universe.

Infrared (IR) cameras operate on the heat transfer principle of radiation. The IR camera has a focal plane array of detector elements that sense infrared light from object surfaces. The radiation captured by the IR camera detector is digitized, converted to data, and displayed as a viewable image.
Calibrated IR cameras can report temperature measurements from specific spots, lines, and areas on live or recorded images. IR cameras are available in different wavebands, pixel resolutions, lens configurations, and communication protocols to meet various installation requirements.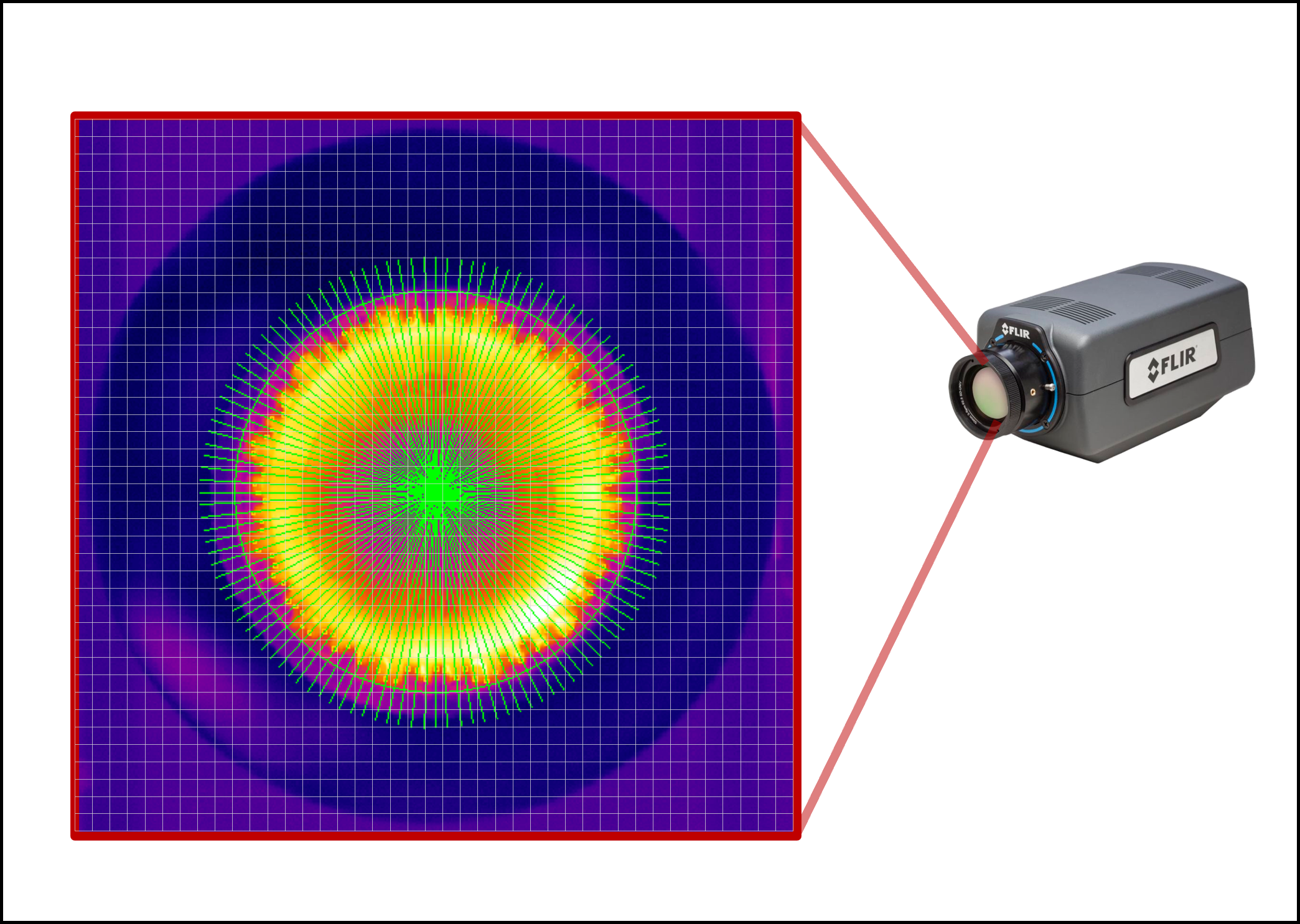 MoviTHERM TSI Inspection Software
The following is a sample view of the TSI user interface. All buttons and features are touch screen accessible. In this example, we are inspecting bottle caps. The bright yellow ring in the thermal image indicates a good seal, as indicated by the green "PASS" in the indication window.

Package Seal Integrity Applications
TSI is an effective inspection solution for inspecting bags sealed with heat. Bags leaving the heated press or sealed with hot glue retain a residual heat that can be detected and inspected with TSI.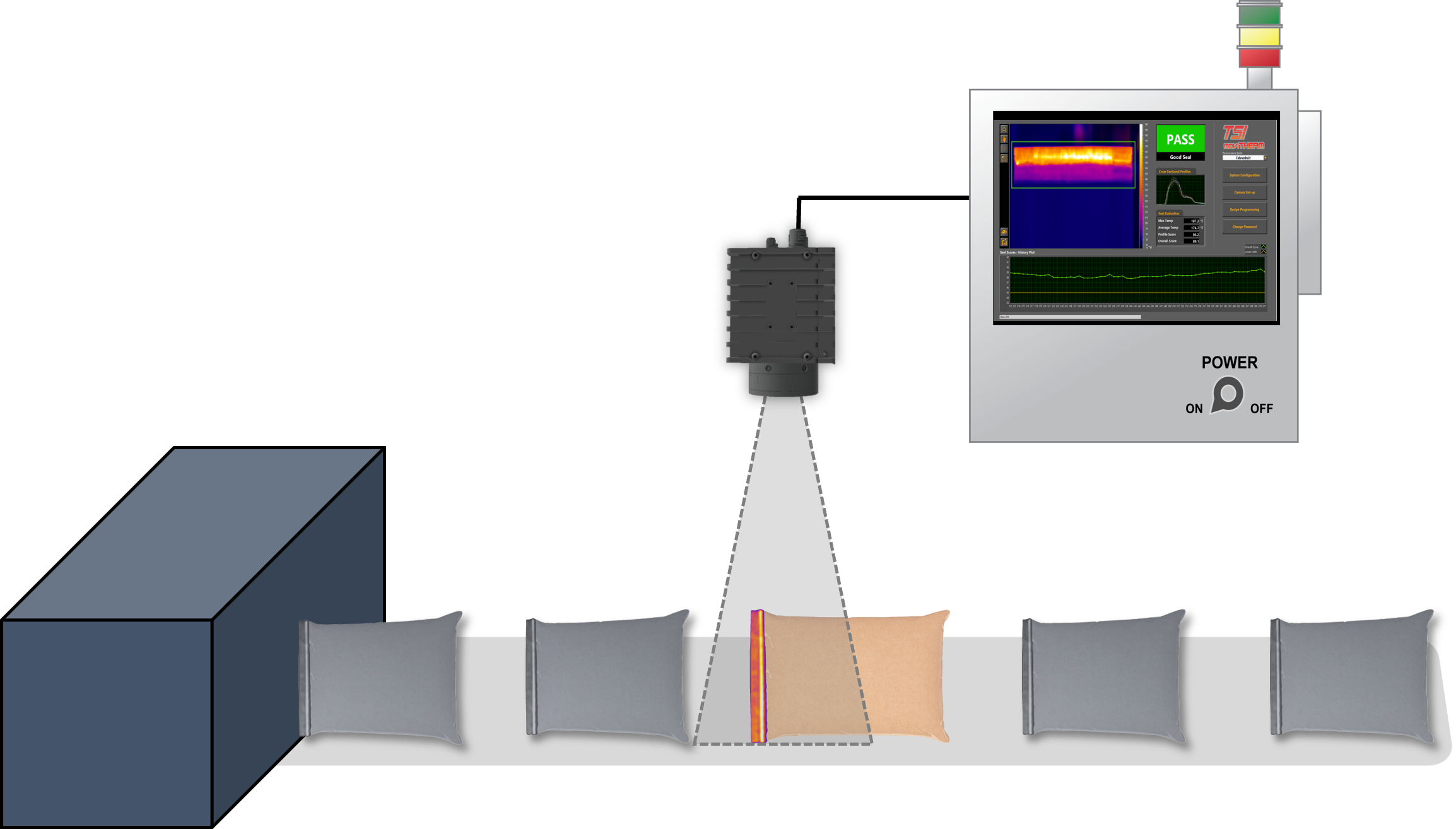 Already discussed is TSI for Bottle Cap inspection. In this example, an induction sealer creates heat in the foil section of the sealing packet. The residual heat from the heating process can be evaluated for seal condition and fault type if one is present.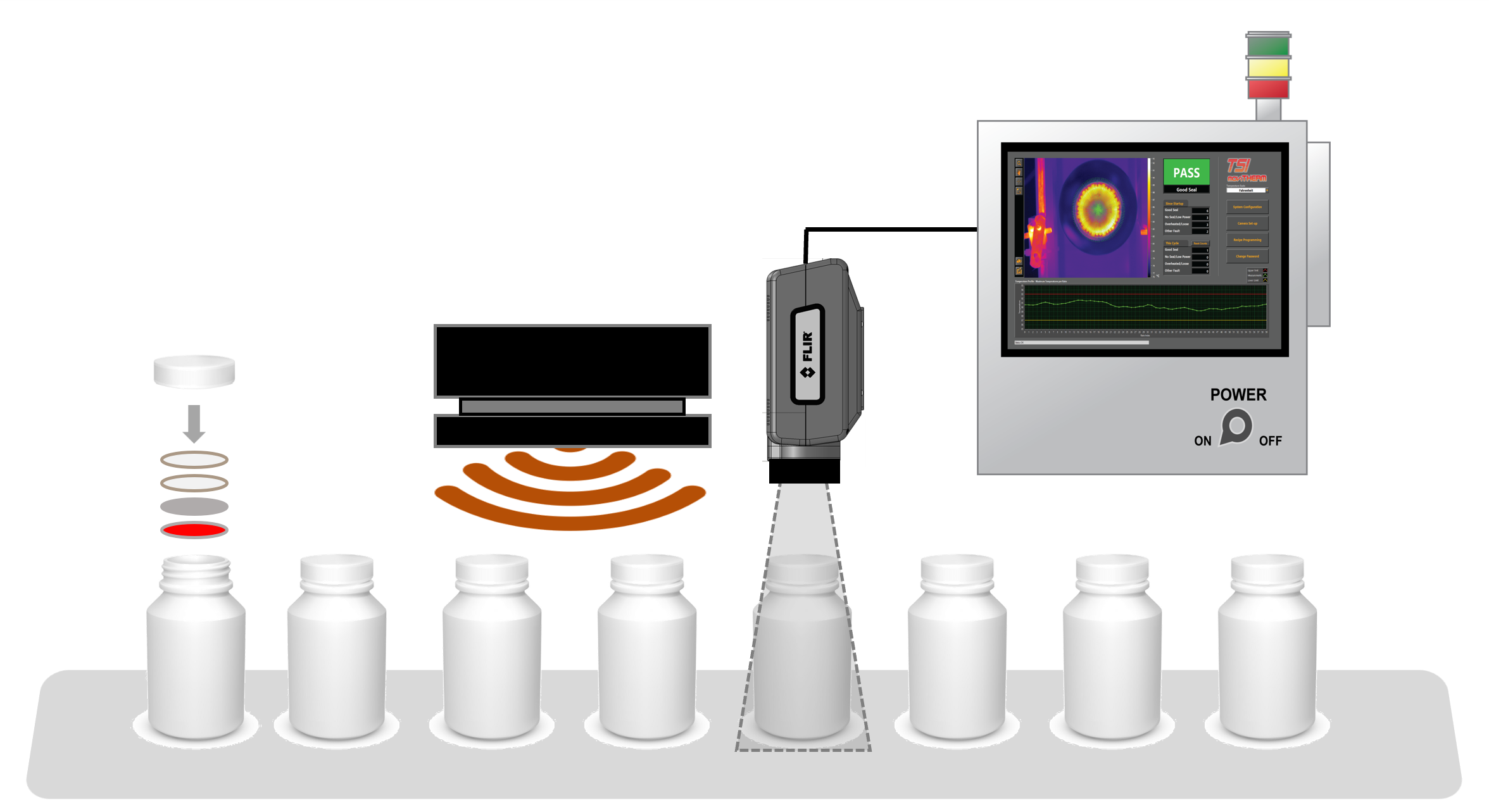 TSI can be used to evaluate the seams formed by heat and pressure in pouch-forming processes. TSI detects leaks in pouches by comparing the thermal profiles of test samples to the seam profiles of known non-leakers.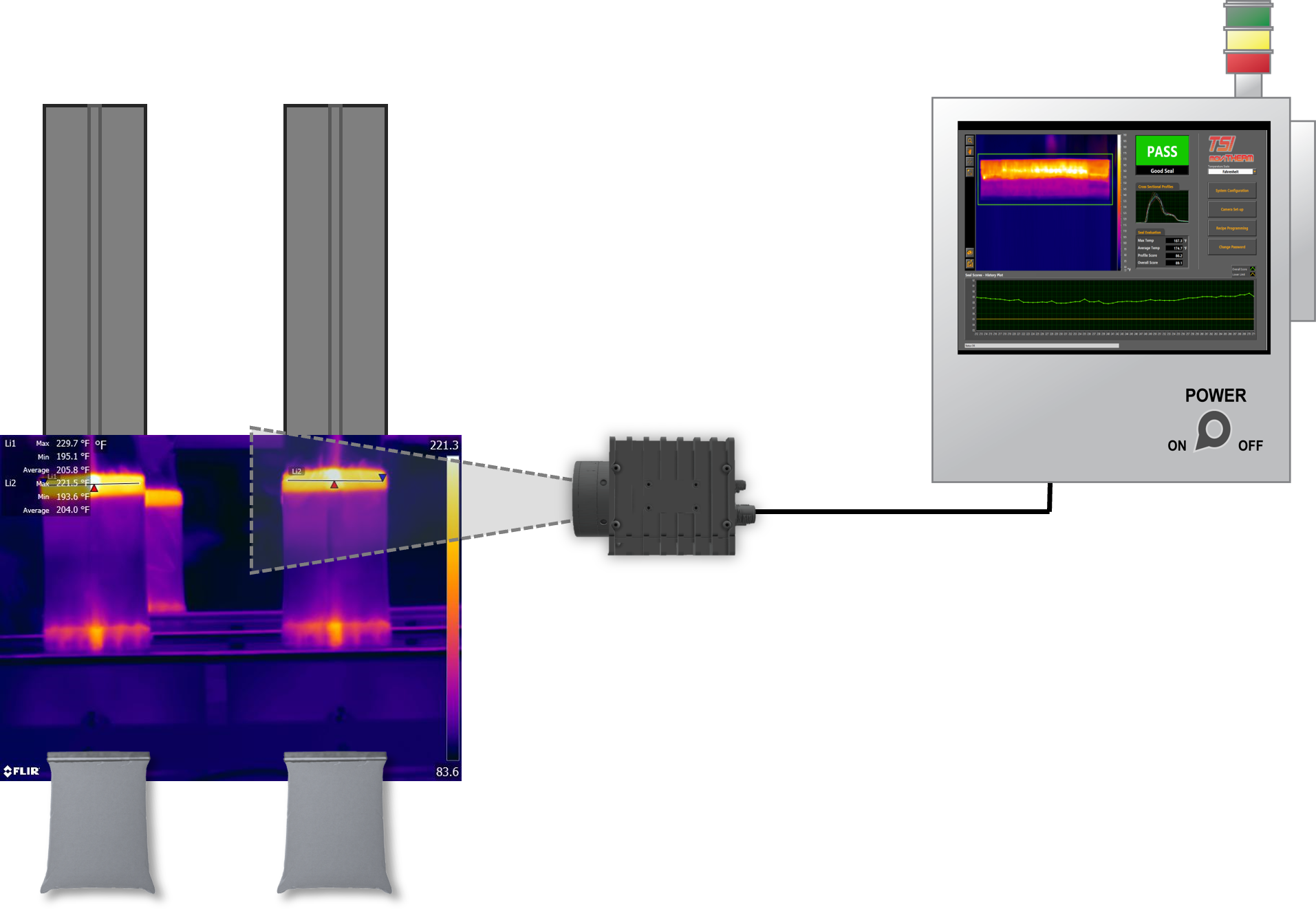 Thin film plastic covered packages are commonplace in the food industry. TSI quickly and reliably identifies the seal area to detect seal integrity, ensuring that food products are safe for consumers.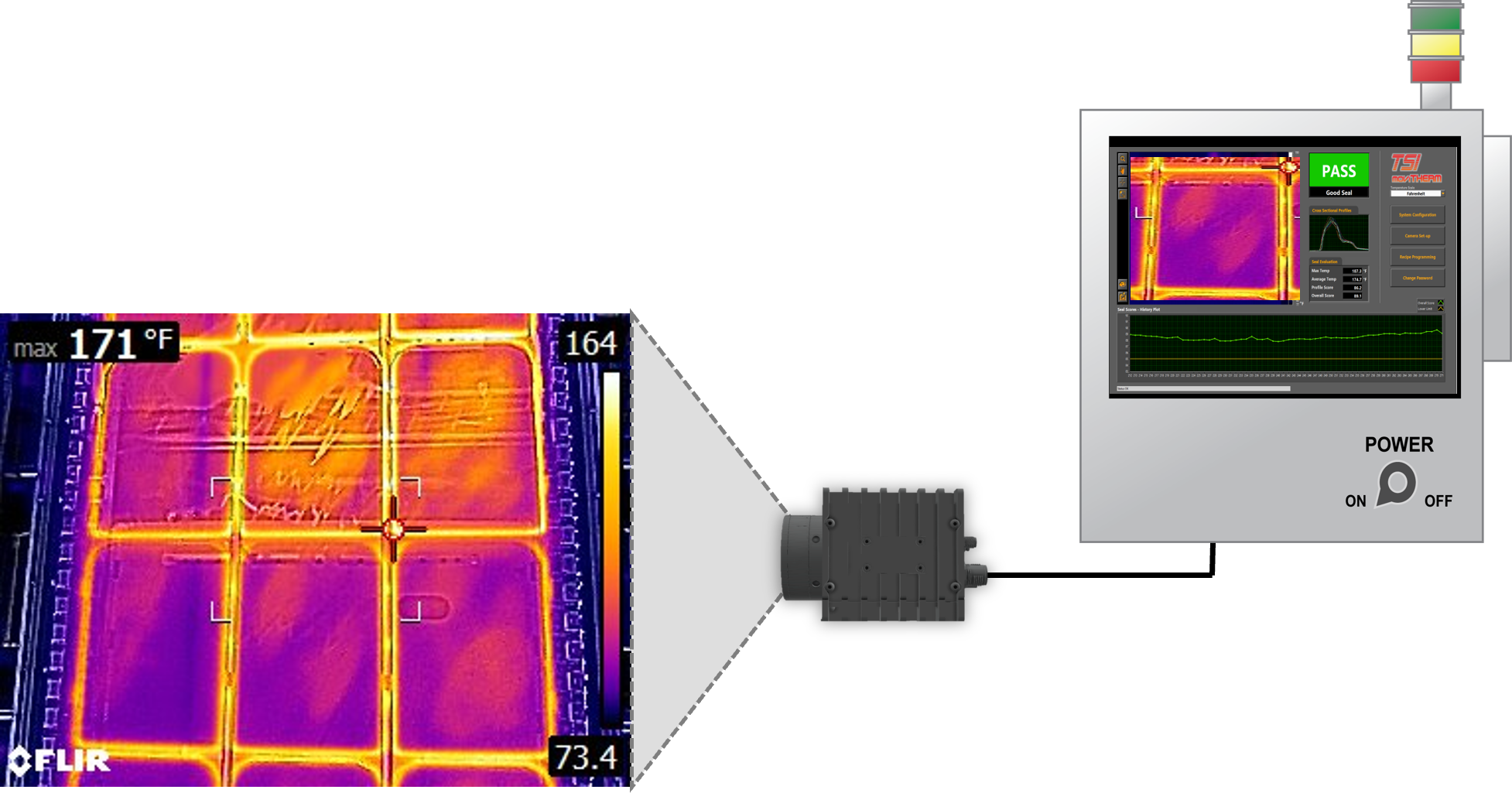 What's Included with MoviTHERM TSI for Package Seal Integrity Inspection?
MoviTHERM TSI solution for automated seal integrity inspection provides 100% in-line, high-speed integrity inspection for heat-related production lines. Each product and packaging is inspected using infrared imaging and advanced machine vision analysis. The system includes:
High performance infrared camera
Standard powder-coated Industrial Electrical Enclosure (Optional Stainless-Steel enclosure for food & beverage or pharmaceutical environments)
Touch-Screen PC and application specific software GUI interface
Interactive inspection Recipe Programmer to accommodate multiple products – or to try different "what-if" scenarios
Robust bi-directional PLC interface to transfer status messages and PASS/FAIL results to a plant PLC (Ethernet/IP or Modbus)
Image FTP to transfer fault images to a remote server for off-line review
The content & opinions in this article are the author's and do not necessarily represent the views of ManufacturingTomorrow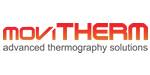 MoviTHERM
MoviTHERM - Advanced Thermography Solutions is a FLIR Systems, Inc. distributor for FLIR thermal cameras and application specific thermal imaging solutions. The company offers infrared thermal imaging systems for remote monitoring, automated thermal imaging and non-destructive testing.
Other Articles
Thermal imaging technology enhances battery quality during manufacturing by identifying material discrepancies and thickness variations in battery electrodes. This ensures that only high-quality electrodes are used, improving battery performance and safety.
The main difference between an induction seal and a heat seal is the way in which the seal is created. Induction sealing uses electromagnetic induction to generate heat and create a tamper-evident seal, while heat sealing uses heat to bond two materials together.
---
Comments (0)
This post does not have any comments. Be the first to leave a comment below.
---
Post A Comment
You must be logged in before you can post a comment. Login now.
Featured Product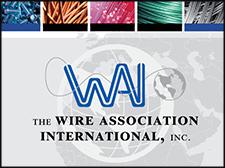 The Wire Association International (WAI), Inc., founded in 1930, is a worldwide technical society for wire and cable industry professionals. Based in Madison, Connecticut, USA, WAI collects and shares technical, manufacturing, and general business information to the ferrous, nonferrous, electrical, fiber optic, and fastener segments of the wire and cable industry. WAI hosts trade expositions, technical conferences, and educational programs.