While pallet racking systems are commonly installed in warehouses and distribution centers, portable racks are often the right solution for material handling, providing a protective storage and delivery medium with incredible flexibility.
For Storage Flexibility and Vertical Space Optimization, Portable Racks Fit the Bill
Article from | Steel King
While pallet racking systems are commonly installed in warehouses and distribution centers, portable racks are often the right solution for material handling, providing a protective storage and delivery medium with incredible flexibility.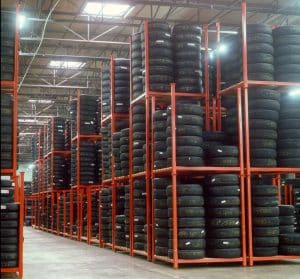 Portable tire racks
"Portable racks are ideal for storing and delivering certain types of materials and products," says Craig Heil of Steel King Industries. "For some products, portable racks like our Stac-King models are preferred over pallet racking systems. For example, portable racks are the most widely used way to store tires. However, their use in warehouses and manufacturing plants is very diverse. Anything that is boxed or situated on a pallet can be stored and shipped on a portable rack; but it doesn't even need to be on a pallet, because the rack can serve as the pallet."
Coiled and rolled materials also are best-stored on portable coil racks, which can be manufactured with cradles to securely hold the round shape of the items. High-capacity coil racks can be stacked four units high.
Another unique application of portable racks is for stampings and other flat materials that can be placed amid pins inserted in perforations of a sheet metal deck. These pin racks can be stored 10 high.
Flexibility Is a Key Benefit
While portable racks lend themselves to certain types of products, flexibility is the key benefit.
"Really, the main reason people buy portable racks is to be able to stack multiple units and to optimize floor space," Heil notes. "They offer much better utilization of vertical space in a warehouse."
Portable racks basically consist of a framed steel base on short legs, with removable posts for all four corners. With complementary features, the legs of each rack easily nest into the posts of the unit below it – keeping the top rack securely in place. Stac-King units generally can be stacked six high.
When not in use, the posts can be removed and the bases can be stacked for space-saving storage. When it's time to use them again, set-up is easy, with no costly installation and no need to anchor them to the floor. The ability to remove the posts also allows them to be efficiently and more cost-effectively transported. It's also a benefit for applications with fluctuating inventory levels, because the racks can be stored in a fraction of their in-use space, freeing floor space for other uses.
Easy to Take With You When Switching Facilities
The mobility of portable racks also is a benefit to operations that don't anticipate long-term occupancy of a facility. "If you have a short-term lease and there is a possibility of having to move to a new facility in the near future, those moves can be easier if you have portable racks," Heil says. "You won't have the costs of re-racking a new warehouse and tearing down the old racking."
Building codes that apply to pallet racking systems are generally not applied to portable racks, Heil noted. "Some municipalities will want to inspect portable racks, but for the most part, building inspectors do not view portable racks the way they view traditional pallet racking systems," he observes.
Portable racks can sometimes be used in facilities without thick concrete floors – a situation not possible with traditional pallet rack systems. Heil noted how Stac-King racks are used in a food processor's warehouse that has wooden floors.
"We are able to add some floor runners that allow the weight of the stored items and the racks to be distributed, making use of the portable racks feasible at that location," Heil said. "Because of that wooden floor, use of a traditional racking system would not have worked."
Portable Racks Available in Standard and Custom Sizes
Steel King offers portable racks in four standard dimensions, and with posts either 36", 48" or 60" tall. But custom sizes can be manufactured for just about any need, Heil says.
The standard sizes of portable racks, including pin racks, are available via Steel King's Quick Ship program, with quick delivery from stock on hand.
Standard load capacity is 2,000 pounds, and 4,000 pounds for heavy-duty units – considering that the loads are evenly distributed. Items should only be placed on a rack at floor level, and racks should be transported only one at a time.
The rack decks can be open or topped with plywood, wood boards, coil cradles, sheet metal or expanded metal.
The rack bases are designed to be lifted by a forklift, with forklift stirrups available on two or all four sides to ensure stability when the racks are moved.
The content & opinions in this article are the author's and do not necessarily represent the views of ManufacturingTomorrow
---
Comments (0)
This post does not have any comments. Be the first to leave a comment below.
---
Post A Comment
You must be logged in before you can post a comment. Login now.
Featured Product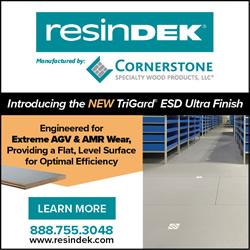 To maximize the productivity of an autonomous mobile robot (AMR) or automatic guided vehicle (AGV) deployment, it's critical to create the optimal environment that allows the vehicles to perform at their peak. For that reason, Cornerstone Specialty Wood Products, LLC® (www.resindek.com) created the TriGard® ESD Ultra finish for its ResinDek® engineered flooring panels. The TriGard ESD Ultra finish is ideal for high-traffic robotic applications characterized by highly repetitive movement patterns and defined travel paths.