What's the best way to ensure product quality and production uptime in industrial automation? Make sure that only trained and authorized people can access the programmable controllers.
Reduce Automation Controller Risks and Liabilities with Secure RFID Authentication
Sean Houchin, Product Manager | ELATEC
A typical manufacturing plant has various machinery, robots, and flexible manufacturing systems that fabricate and assemble various products. These machines are often driven by programmable automation controllers (PLCs, Industrial PCs, robots) and use a human-machine interface (HMI) for configuration, notifications and routine control. The automation controllers have software programs that perform specific tasks in a logical order to drive the machine or process. With automated systems growing in number and increasingly interconnected, programmable automation controllers and HMI software access control are crucial.
Automation controllers are usually connected through plant-wide Ethernet networks to IT servers that include databases for collecting and storing information to manage employee identity and authorization to run and support plant manufacturing processes. Identified plant personnel authorized to change or update automation controller and HMI software is stored on IT servers. Authorization data determine if the employee has the proper skill set and is currently trained and certified to access the manufacturing system hardware and software. Equally important is if an employee is authorized to enter a hazardous area to perform maintenance or other activities.
Plant IT servers typically store copies of the machine automation controller (PLCs and PCs, robots) and HMI software for backup, change control, and disaster recovery purposes. To prevent unauthorized software updates, a user authentication system should be installed on or near the operator station, requiring the physical presence of the person authorized to update or make changes to the software. This added authentication and authorization requirement further protects the manufacturing system, engineers, machine operators and maintenance personnel.
Access to Automation Controller Software and Change Control Is a Challenging Problem for the Plant Control Engineer
Working with the IT department, plant control engineers are usually responsible for authorization to access plant automation controller and HMI software. Authorized personnel typically include plant engineers, maintenance electricians and IT personnel who can access software running specific processes. The level of access varies according to the individual's function in the plant. Engineers usually have full access to upload, download and change controller and HMI software. IT personnel usually have only upload or download authorization for backup and disaster recovery purposes. Plant maintenance electricians typically have limited access to change software and only for process troubleshooting. The specific authorization may vary from plant to plant, but identification of who accessed the software, who made changes and at what time is logged in a database to track changes for review when necessary.
There are many reasons control engineers design systems that log and track software changes to automation controllers and HMIs. One primary reason is that the impact of unauthorized changes is often severe and may include one or more of the following effects:
Loss of production

Undesirable changes to product quality

Lengthy process startup time or downtime

Engineers, operators, and maintenance personnel on different shifts unaware of changes, who made them, or when

Software changes not backed up to IT servers

Creation of unsafe operating conditions
RFID Solution for Implementing Access Control to Industrial Automation Controller and HMI Software
Authentication and authorization systems for software access control in industrial automation applications in factories today require that they be easy to use, flexible, durable, secure, and stand up well to environmental elements. RFID card systems address these application requirements better than magnetic stripe cards, smart (chip) cards and PIN pads. RFID cards are the most widely used form of authentication and access control today.
The diagram below shows industrial automation software's authentication and access control solution using an RFID reader combined with a network interface module.
Benefits of RFID Card Systems
One of the essential benefits of RFID authentication and access control is that it is easy and convenient for users. RFID cards are touchless, and the user only has to wave the card within a few inches of the reader to be read.
RFID readers are used throughout the organizational ecosystem for multipurpose authentication using existing employee building-entry ID cards. Functionality such as time-based access control, access to manufacturing processes, access to automation controller and HMI software and hazardous areas can be added. RFID readers can often read and write to more than one card type. Should plant requirements change, cards can be updated without issuing a new card.
With network access, readers can communicate using various communication protocols, including gigabit Ethernet, with information technology systems and industrial automation applications like industrial programmable controllers, HMIs, and robots.
Since they are touchless, both cards and the readers experience less wear and tear than in systems requiring the card to contact the reader, such as magnetic stripe cards and smart (chip) card systems. Over time, this can minimize the replacement cost of both cards and readers.
RFID card systems are more secure than other card-based identification technologies. Data transfer between cards and readers and message traffic between card readers and plant networks can be encrypted.
RFID readers and cards can also execute a kill command if the card is lost or stolen. Since the kill command deactivates the card, it prevents unauthorized access to sensitive data, hardware and software that controls industrial manufacturing processes and hazardous areas in the plant.
Importantly, given industrial settings, RFID cards and readers are more durable in harsh plant floor environments against dust, heat, dirt and general wear and tear than other authentication and access control technologies.
RFID is a secure, flexible, reliable, and easy-to-use solution for authentication and access control of hardware and software in industrial automation processes and holds up well in harsh plant floor environments. Multiple RFID reader technologies are on the market, but they are not all created equal. Choosing a comprehensive authentication and access control platform that offers a wide range of options can help your organization implement a solution to control access to industrial automation software that will continue to meet your needs now and as they change over time.
To learn more about choosing an RFID reader, download our whitepaper RFID User Authentication and Access Control in Industrial Automation.
About Sean Houchin
Sean Houchin​ is the product manager for ELATEC Inc in Palm City, Florida, and part of the global ELATEC GmbH product management team. He has more than 20 years of experience in product development, management and applications engineering. Sean is an expert in RFID technology, optoelectronic and fiber optic video, audio, and data transmission equipment for military and commercial applications and is a veteran of the United States Navy.
The content & opinions in this article are the author's and do not necessarily represent the views of ManufacturingTomorrow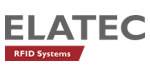 ELATEC Inc.
ELATEC designs and manufactures RFID badge, card, and smartphone readers for user authentication and access control to manufacturing equipment. Our readers enable tracking of who performed what operation on what piece of equipment and when for quality control and operator safety. We have been in business for over 30 years. RFID is what we do-it is all we do. And our RFID technology is the most advanced available today. This is why we are a market leader in Europe and experiencing tremendous growth in the US. But as our customers will tell you, it is also due to our exceptional design expertise and technical support. We are easy to work with. And being easy to work with is critical to getting design engineers and product managers to move beyond their limited, traditional supplier base, who we have found is often not delivering the total value the customer needs today or will likely require tomorrow. We have a deep and comprehensive understanding of how to work with manufacturing equipment OEMs. At the core, ELATEC RFID readers are innovative due to their unique, flexible architecture and open API. This ensures smooth and easy integration with hardware systems and back-end software. OEMs and Integrators: you have a choice-a proven choice. We encourage you to discover ELATEC RFID if you have not already and learn what we can do together!
Other Articles
A sound sustainability strategy consists of continuous change, improvement and further development. It requires the continuous commitment of everyone, from management to trainees. And it is made up of many small things.
Modern authentication and access control systems can help by preventing unauthorized use of machines and ensuring that the correct parts and consumables are used.
For consumable authentication, the RFID reader can be embedded directly in the device the consumable is used in, providing an integrated and automated solution with little need for user intervention.
---
Comments (0)
This post does not have any comments. Be the first to leave a comment below.
---
Post A Comment
You must be logged in before you can post a comment. Login now.
Featured Product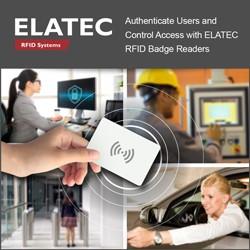 With a tap of the badge, RFID readers from ELATEC provide secure, reliable and easy-to-use user authentication, access control and usage tracking of hardware and software in industrial automation processes. Reader durability in harsh plant floor environments is another essential feature. Choose the right authentication and access control solution and extend RFID card-based capability for the access control of PLC, robot and HMI automation controller software and devices requiring special operator training.