You don't need to be in a leadership position to lead. We all wield influence – whether it's within our family unit, community, business, or team. Take a look at Nadja's top tips to prepare yourself and your team for success in uncertain times.
5 Powerful Lessons on Leading Through Uncertainty with Nadja West
The SafetyCulture Team | SafetyCulture
Uncertain times call for extraordinary leadership and Lieutenant General Nadja West is a testament to just that.
A trailblazer in her field, Nadja West is the 44th Army Surgeon General and the former Commanding General of US Army Medical Command.
She's the first African American woman 3-star General in U.S. Army history with over 20 years of experience in executive leadership, crisis management, and disaster response — including leading over 130,000 Army healthcare professionals in the DOD response to the Ebola crisis.
Nadja will share her experiences and philosophy on Leading Through Uncertainty at the SafetyCulture Summit 2021: Made Extraordinary, a free 2-day event set to inspire working teams around the world.
As uncertainty colors day-to-day operations, the challenges of today demand leadership that rises to the occasion.
One thing remains clear: You don't need to be in a leadership position to lead. We all wield influence – whether it's within our family unit, community, business, or team. Take a look at Nadja's top tips to prepare yourself and your team for success in uncertain times, no matter your sphere of influence.
Tip 1: Stay connected to your purpose
When navigating uncharted waters, you need a GPS. In the workplace, that compass is your sense of purpose. This will give you clarity even when the path isn't clear. It's knowing the why behind your work and where you want to get to that will help you to stay on course.
With a military career spanning several decades, it was a purpose-led perspective that kept Nadja going from strength to strength. "Understand how you fit into the big picture early on," she suggests. Don't simply fixate on what's immediately ahead of you — find and hold on to a larger purpose.
Throughout her career, Nadja exemplified this by focusing on two things: who and what you need to become for your organization. Once you know this, it's only then you can be an effective leader or team player and show up for those around you. Priorities and expectations become clear, and this will keep your team on track despite any turbulence.
Tip 2: Find a role model who can show you what's ahead of you
When you have someone that models what's possible, this will help you envisage how to carve your path to reach your goals. Visualize and it will materialize. "Seek out mentors and be obnoxious about it, " Nadja says. As a member of the third graduating class at West Point that included women, she found invaluable mentors in the graduating classes that preceded her.
Mentorship can come from unexpected places as well. A leadership figure Nadja initially wrote off as a person she wouldn't get along with ended up being one of her best mentors. We are all drawn to those similar to ourselves, but seek out a diverse group of mentors. Even better, be one yourself. Mentorship is integral to leadership.
Tip 3: Respect your people
We all need to give respect to gain it. And to gain the respect of your team, it's crucial to understand them at a deeper level. A large part of Nadja's success in leadership comes from her making it a priority to get to know her team personally.
Follow Nadja's approach by working closely with every individual on your team, and really getting to know them. Learn what makes them tick and feel motivated. It's only then that you can make an impact on an individual level and lead them in a way that is most effective. Start with respect, and you'll have a team that's encouraged and equipped to face the unknown.
Tip 4: To influence, strong communication is key
In the military, you are always looking for ways of balancing effectiveness and efficiency. This inevitably leads to re-prioritization and difficult decisions. As these tough calls were made, Nadja was faced with a dilemma. How do you communicate these decisions to your team so they still feel valued?
The key is transparency. Give those who look up to you your full openness and honesty to build trust and loyalty. If you communicate information and ideas clearly and frequently, you'll foster an environment of trust between leaders and employees. No matter what your job title is, we should all feel comfortable sharing honest opinions respectfully. Without strong lines of communication, a mission is likely to stall or fall short.
Tip 5: Lead with empathy
Don't neglect the human dimensions of leadership. We often dissect theoretical and operational definitions of what it means to be a leader — but we need to engage the heart as well. Nadja believes the single most important trait a leader can have is empathy. "When your people know you care about them, they will do their absolute best for you," she shares.
As a leader, you're really in service to those who you lead. Take actions that may not benefit you personally, but are for the greater good of your team. Treat your team with dignity, loyalty, and integrity. When empathy is a value that's lived instead of mere lip service, it becomes the engine for greater teamwork and success.
With this in mind, we have the chance to turn uncertainty into a resilience-building experience; to face the challenges of today fortified by the knowledge that we are in this together as one team.
Want to hear Nadja's incredible story and propel your team and business forward? Made Extraordinary is your launchpad to level up. Reserve your FREE seat today.
The content & opinions in this article are the author's and do not necessarily represent the views of ManufacturingTomorrow
---
Comments (0)
This post does not have any comments. Be the first to leave a comment below.
---
Post A Comment
You must be logged in before you can post a comment. Login now.
Featured Product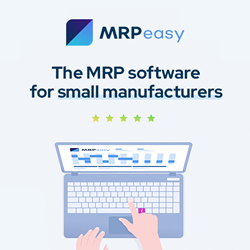 Always know what you have in stock and what you'll need to fulfill orders. Never forget to order parts on time or fail to notice a late delivery from your vendor. Easily create manufacturing orders and schedule them automatically according to resource availability or delivery deadline. Generate accurate cost and lead time estimates and provide customers with quick quotes. Receive notifications when orders are late or inventory levels reach a critical point. Ensure seamless communication between sales, production, warehousing, procurement, administration, and finance. Integrate with popular accounting, CRM, and e-commerce apps. MRPeasy is an ERP software for small manufacturers that gives you all that and more. Our users report a 54% average improvement in the overall performance of their business and a 42% increase in on-time deliveries. Try for free, no credit card needed.