Integrating VFDs into your applications enables you to implement robust, precise control that cuts your energy requirements; built-in communication-based control reduces your wiring and IO modules costs.
VFDs—How Smart Selection Saves on Costs
Article from | Unitronics
High-performance Variable Frequency Drive (VFDs) optimize machine performance, save energy, and lower machine lifecycle costs across a range of applications, including packaging, conveyance and material handling, machining, pump or blower applications, and more.
Integrating VFDs into your applications enables you to implement robust, precise control that cuts your energy requirements; built-in communication-based control reduces your wiring and IO modules costs. Ensure that your system provides robust operation and minimizes EMI effects on the control system.
To save your energy—as well as the energy demands of your system—select VFDs that seamlessly integrate with your PLC controllers. Simplify your workflow by purchasing your VFDs, PLCs, and HMIs from a single supplier, and ensure that you receive support from the same team throughout your project.
Unitronics offers a solution that matches these recommendations. In addition to hardware components, Unitronics innovative All-in-One approach enables users to rapidly set up, configure, and commission multiple VFDs in a single software environment, that includes the ability to monitor and debug the VFD operation—either via the software or traditional oscilloscope view.
Features
VFD is an industry crossing solution, ideal for both machine and process control; Unitronics VFDs are available in a broad power range, both single and three phase VFDs from 0.5 up to 150 horsepower. Their main features include:
| | |
| --- | --- |
| | Modbus RTU fieldbus, Built-In |
| Broad range of Operating Temperatures | Sensorless control: Vector, Torque, volts per Hz |
| | |
| Heavy-Duty overload capacity | Mounting options: Wall, Flange, Rail |
| Coated PCBs: minimize dust penetration damages | |
Ensure that your VFDs are approved according to the industry standards, such as UL, TUV-SUD Safety and CE Certified.
Configuration and Operation
Using a VFDs with compatible controllers from the same manufacturer can benefit you with a solution that is faster and easier than trying to mix and match components from different manufacturers.
When using the same manufacture for all products you benefit from an automatic, immediate, and transparent communication. Look for innovative, user-friendly software that reduces integration time and complexity by enabling you to perform all programming, configuration, and setup tasks, PLC control application, HMI design, and of course VFD control—in the same environment.
UniLogic® software by Unitronic offers these features and more. OEM end-users can operate VFDs directly from the system's HMI application, allowing them to take advantage of the full color touchscreen. Unitronics provides additional benefits—including of course Remote Access, a must-have in these days and age; your users can monitor or debug the VFD via the software, web server, or even a VNC connection.
Advantages for OEMs
Select a VFD solution that allows OEMs to simplify and centralize all control needs, rely on fewer components from fewer vendors; and that saves time, budget, and effort with an all-in-one approach. In addition, solutions should enable OEMs to easily maintain and update application control logic as needed, and support future product development.

Unitronics is a leader in Industrial Automation with a proven track record of over three decades. With multiple product awards, Unitronics is recognized by Frost & Sullivan as a company committed to progress and industry innovation.
The content & opinions in this article are the author's and do not necessarily represent the views of ManufacturingTomorrow
---
Comments (0)
This post does not have any comments. Be the first to leave a comment below.
---
Post A Comment
You must be logged in before you can post a comment. Login now.
Featured Product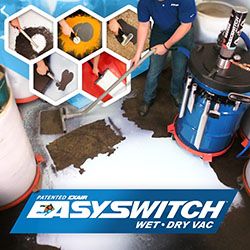 Be sure to attend the latest of EXAIR's webinars. Get educated on pneumatic industrial vacuums so you can break the cycle of replacing electric shop vacuums. Industrial environments often present a continual battle to keep them clean and safe. Unavoidable by-products of manufacturing processes include liquid and solids which often present hazards to personnel, products and processes. Solids may be trim, dusts, or chips from a manufacturing line; liquids may be coolant spills, coating overspray, or even burst packages. Cleaning up these materials often falls on the operators of the equipment who need reliable, adaptable, safe and effective tools for cleanup. Supplying them with tools which fail frequently or do not meet the requirements of the safety team is a recipe for disaster. Attend this webinar to gain an understanding of how pneumatic vacuums can reduce the maintenance, increase reliability, and improve flexibility for your facility. Attend live on May 24th at 2 p.m.