There is a demand signal to produce a machine capable of Metal printing on the front lines. Phillips has developed a Hybrid technology that adds a Wire fed Direct Energy Deposition head to a Haas machine.
Evolution of the Need for Expeditionary Manufacturing
Q&A with John Harrison, Director of Additive Technologies | Phillips Federal
Tell us about yourself and your role at Phillips Federal.
All Phillips partners support the innovators in manufacturing that change the world. For the last few years, I led our Federal division, which is focused on the unique needs of the DOD since WWII. Whether it's a Metals Tech facility on a flight line, a production arsenal, or an expeditionary manufacturing cell on the front lines, our team is there in support of the warfighter.
Recently, I was appointed as the Director of Additive Manufacturing for our global operations.
The Department of Defense (DOD) keeps talking about expeditionary manufacturing. Why?
Point of need manufacturing has the potential to tip the battlefield in our favor. While the will of our warfighter is powerful, they need to rely on the logistics team to maintain their equipment and supplies. Supply lines are always a challenge, and the more independent our warfighter is at the front line, the better. Trying to create a stockpile of all the parts at point of need is daunting. They sometimes refer to this as the" Iron Mountain of parts". Expeditionary Manufacturing allows the operators to create solutions from common materials, thereby reducing inventories and downtimes.
What are examples of how expeditionary manufacturing has helped the DOD?
There are many documented cases of how expeditionary manufacturing has helped the DOD. While our work on the fielded equipment is important, the real innovation is done by the war fighter. American Soldiers in theatre that are equipped with the best manufacturing resources will tip the battlefield in our favour. I have heard of examples of how the soldiers have made components to get equipment back in the fight, improved the design of the equipment to impact readiness, and even invent new solutions to protect the war fighter.
What technologies are being used in the field?
Phillips has supported all branches with the fielding of traditional manufacturing equipment. We have provided Haas mills and lathes on ships, on flight lines, and at intermediary and forward operating bases. In addition to this capability, the services have deployed some additive equipment and reverse engineering tools to meet their needs. There are some interesting tests underway on more robust polymer equipment (like the Markforged units that can print using continuous carbon fiber re-enforcement). Experiments with metal printing in the field are promising.
What are the challenges of manufacturing at point of need?
Our experiences during the Marines expeditionary cell (Shop Equipment Machine Shop SEMS) and the Army's Metal Working Machine Shop set (MWMSS) program have taught us a lot about deploying manufacturing towards the front lines. Available power, utilities, equipment size, survivability, serviceability, training, and tooling all need to be considered. As technologies are moving toward cloud-based software, solutions for secure digital file transfer and machine operations have to be adapted.

What new technologies are being developed to deploy to the front lines?
There is a demand signal to produce a machine capable of Metal printing on the front lines. Phillips has developed a Hybrid technology that adds a Wire fed Direct Energy Deposition head to a Haas machine. We have contracts with the Army and the Navy to bring this to the front lines. There is also a lot of work being done by Markforged to bring a new breed of polymer machines to the front line. This fused filament fabrication machine can re-enforce the part build with continuous carbon fiber strands. Parts made using this process are a lot stronger than traditional FDM parts. Markforged has ruggedized the unit to meet the rigors of deployment. Another area of interest is in cold spray, where companies like VRC Systems have developed a hand - held cold spray unit. This trailered system is being used in a shipyard repair application. Also, SPee3D has developed an expeditionary cold spray unit that uses a robotic arm to make parts from scratch in a self-contained unit.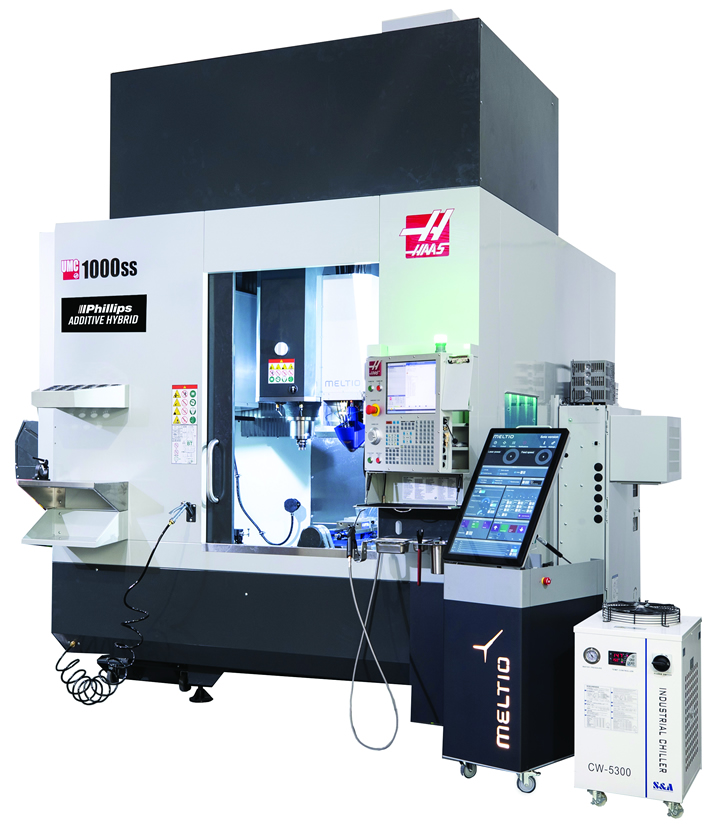 Recent advancements in technology have allowed the DOD to move repair and manufacturing technologies closer to the point of need. Can you tell me about Phillips experience with this?
Partnering with the Marines, the Army, and the Navy on their expeditionary units has taught us a lot about the unique challenges of fielded CNC technology. The equipment needs to be survivable, easy to use, easy to fix, and flexible in it's use. We have learned how to fit our equipment through tight doors and onto ships, and into shipping containers. We have provided guidance on training programs, life cycle support, and even remote support.
Phillips Federal is a Diamond Sponsor of the DSI's upcoming 2021 MILITARY ADDITIVE MANUFACTURING SUMMIT. Tell us about the summit and why Phillips Federal is such a big supporter of the event?
Ultimately, we are in support of our warfighter in everything we do. Our part is to listen for the demand signal from DOD thought leaders and provide solutions. The DSI event is an opportunity for industry to engage with DOD leadership in the additive space.
What can a visitor to the Summit expect to see and learn at the Phillips Federal booth?
Visitors to the booth will be able to engage our team on their challenges as they seek better ways to provide readiness and lethality for our warfighter. We have brought a collection of subject matter experts in powder bed fusion, polymer, cold spray, hybrid, traditional CNC, and finishing technologies. We will have expeditionary additive equipment running, and many examples of real-world parts. What you won't find are 3D printed toys, or trinkets.
The content & opinions in this article are the author's and do not necessarily represent the views of ManufacturingTomorrow
---
Comments (0)
This post does not have any comments. Be the first to leave a comment below.
---
Post A Comment
You must be logged in before you can post a comment. Login now.
Featured Product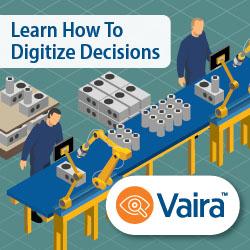 Vaira™ helps manufacturers digitize, automate, and upgrade error-prone manual processes and decisions to boost productivity and increase profits by helping humans make decisions consistent, reliable, and traceable. The camera-based solution is powered by a scalable suite of shop floor-ready apps built on proven machine vision and AI expertise for frontline manufacturing operations, with two-way integration to resource planning tools to help drive continuous analysis, insight, and improvements. Start digitizing immediately, streamlining processes customized to your unique requirements and reduce errors that lead to costs, delays, and quality concerns.