Microfluidics is an extremely dynamic niche today, and will continue for many years to cement the importance of micro molding as a technology used to drive innovation in the medical sector in such applications as drug delivery devices, implants, and diagnostics
Micro Molding & Microfluidics — Overcoming Complexity Issues
Aaron Johnson, VP of Marketing and Customer Strategy | Accumold
When it comes to the art and science of micro molding, there are few applications that are as exacting as the manufacture of microfluidic devices. Not only is there a requirement for ultra-precise and ultra-small features that need to be manufactured repeatably, but the manufacture of microfluidic devices requires a laser-like focus on the area of design for micro molding (DfMM).
Truly, with microfluidics, what a design engineer sees as an equitable efficient design on screen very rarely works when the necessary tooling, injection molding, and assembly phases of product development are considered. It is therefore vital when considering the production of microfluidic devices to engage and partner with a micro molder with the experience and insight required to optimise designs for manufacturability.
Microfluidics is an extremely dynamic niche today, and will continue for many years to cement the importance of micro molding as a technology used to drive innovation in the medical sector in such applications as drug delivery devices, implants, and diagnostics (so-called lab-on-a-chip systems). Microfluidic technology, however, is used to control the behaviour of gases and liquids at the micro scale, and is therefore prevalent in many chemical and engineering applications across a number of industry sectors.
OVERCOMING COMPLEXITY
There are a number of technologies that can be used to manufacture a microfluidic device such as lamination, 3D printing, and high-resolution nanofabrication techniques. However, when it comes to the mass production of highly accurate microfluidics repeatably, the emphasis is still on the use of micro injection molding.
Here it is important to make the point that micro molding does not only mean the production of tiny plastic parts. It also means the manufacture of larger parts with micro features and micro tolerances, which is where microfluidic devices typically reside. When looking at the micron-level of precision inherent in a microfluidic device, it is necessary to understand that the rules of injection molding and the behaviour of plastics change.
One area that also requires detailed attention is flatness. A microfluidic device usually needs to be completely flat, as any curvature will compromise the required sealing of channels through which gases or liquids need to pass. Traditionally, injection molding is characterised by such issues as deflection, warpage, and shrinkage which can all compromise the integrity of the finished device, so your chosen micro molder must have the knowledge and experience to work round such potential problems, and this may require the moving or modification of features.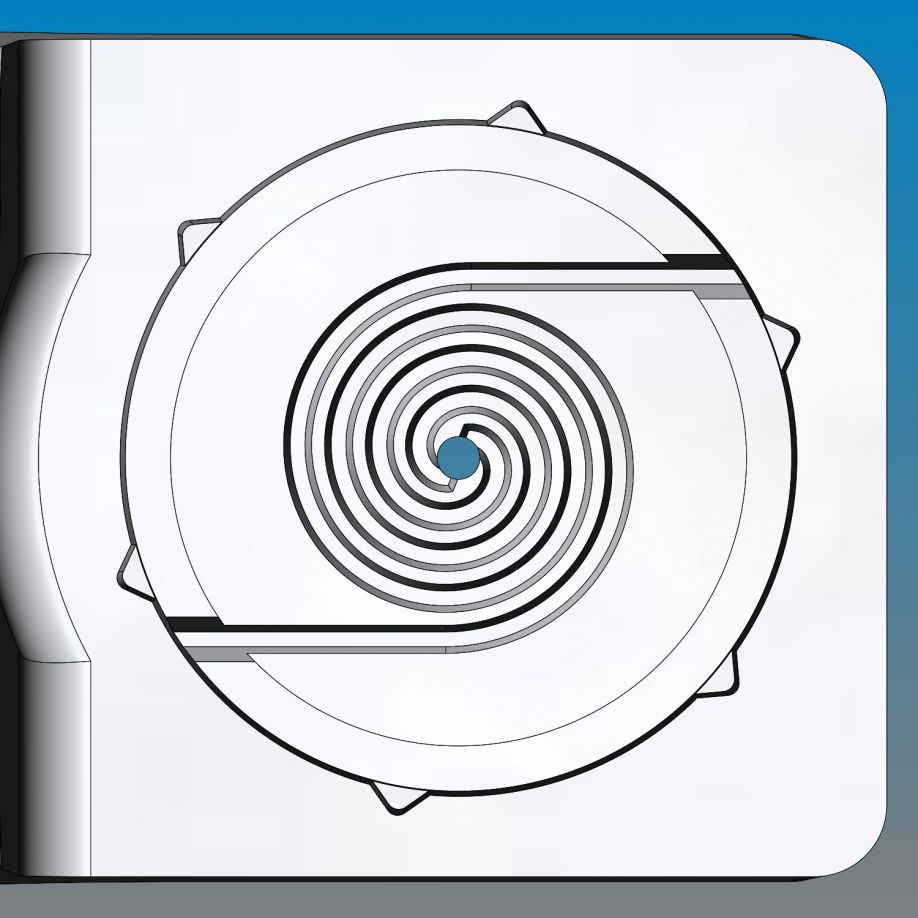 The spiral design microfluidic component shown in the attached renders is a part of a medical diagnostics tool. In its final form it also incorporates an overmolded needle and is part of the disposable end of the device. The microfluidic channels measure 0.06 mm wide at the bottom and 0.08 mm tall with a ± 0.013 mm tolerance on height.
However, when looking at microfluidics, we are not dealing with devices that afford a lot of room for manouevre, and there are often a lot of interconnected features and geometries, movement or redesign of one potentially altering another. With all this in mind, a micro molder will necessarily place a disproportionate focus on up-front design reviews involving representatives from all phases of the product development process.
THE CRITICAL COMPONENT – MICRO TOOLING
Key among these are representatives from the micro-tooling team. It is in the area of tooling for micro molded parts that time and money can be wasted if the micro molder does not have the expertise required. Tooling for micro molding projects does not require an extrapolation of the rules governing tooling in traditional injection molding. Features in micro molded parts often exceed the allowable tolerances in traditional injection molding, and similar issues are confronted in the areas of venting and tooling mismatch.
Other tooling issues specific to micro molding are requirements for an understanding of polishing for micro-mold cavities, and the heating and cooling implications when dealing with extremely thin steel inserts that can be negatively affected by temperatures involved in many molding applications. In addition, as many micro molding applications use high temperature or high performance materials, such as liquid crystal polymers and PEEK, it is necessary to use and understand the nature of tooling materials such as stainless steel rather than traditional tool steels which may not be able to withstand the high temperatures necessary, and can corrode.
It goes without saying that it is always better to work with a vertically-integrated micro molder where the fabrication of micro tools is undertaken in-house, and when looking at microfluidics, this is especially important, as the tool design will often be the key to mass production success or failure.
It is vital to consider the likely stresses and strains that a specific microfluidic device design may impart on the necessary micro tool to make it. Very often microfluidic devices are characterised by extremely small micron-level distances between features, and this implies that the tool will have very thin regions that are prone to wear and tear. Such a tool if not designed correctly may well be appropriate for only low quantity production, but would be troublesome when looking at high volume mass production, and then the cost and time implications of mold maintenance become an issue.
Catching such problems before a design is locked down is extremely important, as it means that the time and cost of design re-iterations and revisions can be avoided, as can the worst of all worlds, waiting for weeks and spending thousands of dollars on a tool that is not fit for purpose.
When working with your chosen micro molder, it should all be about reviewing and a total focus on DfMM and design for micro assembly (DfMA) when producing microfluidic devices. Standard mold flow analysis does not always work when looking at micro tools and working at micron tolerances, so it is about the knowledge and experience of the micro molder.
The purpose of this article is not to get too technical, but is instead to emphasise the critical role of micro tool fabrication when looking at microfluidics. We have just touched upon the delicacy of some areas of a typical microfluidic device tool, but consideration also needs to be given to gate location which can help in overcoming common issues related to stagnation of plastic post-injection as it attempts to infiltrate thin-sectioned areas.
Gates for micro tools are also often measured in microns which has a significant effect on the way that plastic behaves, the most obvious one being the effect such small gates have on shear heat, which if not managed correctly can lead to high scrap rates , weight and dimensional variations between cavities or between shots, warpage, and longer then expected cycle times.
Microfluidic devices require tooling that will allow the production of parts that see the correct depth and length of features is replicated sometimes millions of times perfectly and repeatably. When looking at the micro features in such tools, your chosen micro molder needs to have a detailed knowledge of the different material flow, viscosity, and solidification characteristics of the materials being used to ensure that feature integrity is maintained. Quite often such devices are used in safety critical applications, so failure is not an option.
KIT AND EXPERIENCE IS KEY
As so often is the case, the micro molder that will be able to navigate the intricacies of the design and manufacture of highly complex microfluidic devices is one that will combine access to in-house technologies that push the envelope in terms of what it is possible to manufacture (the kit), with the knowledge and understanding of all the different aspects of a product development process from design to mass volume production and assembly (the experience).
We have seen the focus that is necessary on micro tooling when considering the production of microfluidics, and this means that your chosen micro molding partner should be able to access the full array of tool making technologies that facilitate the timely and cost-effective manufacture of such intricate molds. As a mininimum this should include in-house CNC machining, micro milling, and micro wire EDM.
But the emphasis must also, as always, be on the nature of the relationship that is forged between customer and micro molder. The discussion of the huge importance of DfMM and DfMA above in respect of the manufacture of microfluidics involves a true partnership ideally from the point of product conception to achieve optimised goals as quickly and cost-effectively as possible.
The content & opinions in this article are the author's and do not necessarily represent the views of ManufacturingTomorrow
---
Comments (0)
This post does not have any comments. Be the first to leave a comment below.
---
Post A Comment
You must be logged in before you can post a comment. Login now.
Featured Product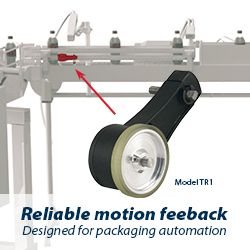 The Model TR1 Tru-Trac® linear measurement solution is a versatile option for tracking velocity, position, or distance over a wide variety of surfaces. An integrated encoder, measuring wheel, and spring-loaded torsion arm in one, compact unit, the Model TR1 is easy to install. The spring-loaded torsion arm offers adjustable torsion load, allowing the Model TR1 to be mounted in almost any orientation - even upside-down. The threaded shaft on the pivot axis is field reversible, providing mounting access from either side. With operating speeds up to 3000 feet per minute, a wide variety of configuration options - including multiple wheel material options - and a housing made from a durable, conductive composite material that minimizes static buildup, the Model TR1 Tru-Trac® is the ideal solution for countless applications.