Reshoring holds great potential for companies to gain increased flexibility and responsiveness when facing supply chain disruption. During COVID-19, we saw companies forced to fly to China to pick up specific parts.
Reshoring America's Manufacturing Through Smart Manufacturing
Q&A with Bill Berutti, CEO | Plex Systems
Tell us about yourself and Plex Systems.
When I joined Plex Systems as CEO, it was a natural next step in my career of working at the intersection of manufacturing and technology. I am passionate about helping companies embrace smart manufacturing.
At Plex, we help make companies realize the promise of smart manufacturing by delivering the first smart manufacturing platform designed to empower innovators to make awesome products. Built in the cloud, the Plex Smart Manufacturing Platform connects people, systems, machines and supply chains; automates processes; tracks shop floor and top floor data; and delivers analytics for unmatched visibility, quality and control.
The pandemic has shined a spotlight on why the U.S. would benefit from reshoring many manufacturing jobs. In your words, why is this so necessary and how does it impact the industry as a whole?
The pandemic illuminated the risk the U.S., like many other countries, assumes by relying on a single-threaded supply chain. One way to minimize this risk is through globalization, which frees manufacturers from dependency on a single country and any disruption occurring there, whether in China or any other nation.
Due to the pandemic, we expect that more companies will want to own completeness of their products – from design through to delivery. This trend will inherently affect where products are made and will likely bring operations geographically closer to customers. Given the potential reshoring has to bring more business to the U.S., we should expect the need for skilled workers to continue to increase as reinvestment in U.S. factories gains momentum.
Reshoring holds great potential for companies to gain increased flexibility and responsiveness when facing supply chain disruption. During COVID-19, we saw companies forced to fly to China to pick up specific parts. Imagine if their supply chain had included local suppliers who could have easily driven the needed parts to their customers.
As certain manufacturing jobs are returning to the U.S., how will they look different from traditional manufacturing roles?
We believe the future of manufacturing will be defined by smart manufacturers. As more manufacturers implement smart manufacturing technology across their business, they'll be able to achieve new levels of quality, visibility and control. But, to realize the promise of this technology, they'll need workers who are skilled in using it to drive the business forward.
Even before the pandemic, we witnessed manufacturing jobs evolve to adapt to Industry 4.0, with skilled workers who are familiar with modern technology playing increasingly essential roles in plants that have fully embraced smart manufacturing.
In addition to emphasizing the importance of implementing advanced technology in manufacturing, the pandemic also put a spotlight on the critical need for businesses to be able to run remotely. Because of this, we expect to see an increase in the adoption of cloud technologies like Plex, which allow businesses to run and operators to work remotely, despite any local disruption. Recent research from financial services company UBS supports this perspective, predicting that companies will increasingly invest in cloud solutions to support large numbers of remote workers, while AI, automation and analytics will be used to minimize workers needed at worksites.
This technology-forward strategy, combined with new social distancing requirements and standards due to COVID-19, will create an increased need for both knowledge workers who are familiar with a manufacturing environment, and skilled workers who are familiar with technology – ranging from MES and ERP to supply chain management, Industrial IoT and analytics – in order to connect their business from shop floor to top floor and lead with precision, efficiency and agility.
Currently do you feel the U.S. has the technical training and skilled workforce to bring some of this manufacturing back?
We have reason to be optimistic that the U.S. will be well-positioned to take on an influx of manufacturing work. But this will only be possible through the combination of a skilled workforce and smart manufacturing technology.
The latest research indicates the skilled workforce gap is expected to leave an estimated 2.4 million positions unfilled between 2018 and 2028. This deficit is a result of retiring workers, new jobs due to industry growth, and the lack of workers with the right skills to fill these open positions.
While aggressive efforts to make necessary technical training more affordable and available are being led by schools, governments, non-profit organizations and businesses, it is unrealistic to expect that gap to be filled near-term.
What is more realistic is that companies, due to workforce health and safety requirements, will be increasingly likely to consider technology that can empower their existing workforce, such as cloud technologies, AI, wearables, cobots and analytics tools.
By combining the right people and technology, manufacturers will more readily be able to scale up to address the increased demand expected from reshoring efforts.
Beyond bringing jobs back into the U.S., what other benefits does reshoring bring?
We expect reshoring to the U.S. will also bring reinvestment in U.S. manufacturing. With the smart manufacturing movement continuing to gain momentum, U.S. manufacturers will likely invest more in modern technology that enables them to become more productive and efficient while driving greater innovation.
As we have seen throughout history, tough times are historically followed by great growth. We expect companies that embrace the promise of Industry 4.0 to accelerate faster than their competitors and become centers of innovation.
As companies weigh the balance of spreading their risks out versus going for a lower cost approach, what must they think about in a post-COVID world? How can companies minimize risk against the next threat?
When looking at ways to reduce risk in a post-COVID world, manufacturers must still carefully consider cost and competitive issues, and address them through means such as optimizing tariffs, tax breaks, shipping costs, etc. Any time a company can have more control over its supply chain to minimize disruptions, it gains an immediate advantage. Supply chain management technology allows companies to balance growth, cost, inventory, and production with real-time plant floor data. This helps companies more effectively forecast—and deliver on—customer demands.
While the decision to reshore needs to be made at the individual company level, we predict a resurgence as a result of a broader supply chain management strategy. Pre-COVID-19, reshoring was already on the rise. Consulting firms such as Kearney showed that domestic U.S. manufacturing in 2019 commanded a significantly greater share of activity versus the 14 Asian low-cost countries (LCCs) tracked, with manufacturing imports from China showing a particularly sharp decline. Manufacturers that have already undergone the transition are already seeing the benefits. One of our customers, high-tech manufacturer Firstronic, led a reshoring effort years ago which resulted in 300% growth. As this example points out, the adoption of smart manufacturing technology generates efficiencies that far outweigh the benefit of low-cost labor. In fact, Plex customers see significant increases in production output, decreases in cost of quality and increased inventory turns that generate bottom line value and materially increase competitive advantage.
With the tech tools that comprise of Industry 4.0, and with smart manufacturing becoming more standard, could the U.S. see a surge in domestic manufacturing resulting in a post-pandemic jobs boon?
This smart manufacturing movement is not going to replace the need for workers, but instead increase the appetite for both skilled and knowledge workers. While the U.S. today is seeing more than 11% unemployment, we anticipate that as factories continue to come back online, manufacturing jobs will become increasingly attractive as viable career opportunities. When we consider that food and beverage manufacturers have exceeded pre-coronavirus rates of production, and automotive manufacturers are at about 80% of pre-coronavirus rates of production, we expect the pent-up demand will create a surge of job opportunities in the U.S.
About Bill Berutti, Plex Systems Chief Executive Officer
Bill Berutti leads the Plex Systems mission of driving continuous customer value with the most innovative smart manufacturing technology. With his deep roots in the industry, Bill brings firsthand knowledge of the transformative power of technology across manufacturing – from the shop floor to top floor. Under his leadership, Plex has expanded its product portfolio, increased its international presence, and achieved double-digit growth each year.
The content & opinions in this article are the author's and do not necessarily represent the views of ManufacturingTomorrow
---
Comments (0)
This post does not have any comments. Be the first to leave a comment below.
---
Post A Comment
You must be logged in before you can post a comment. Login now.
Featured Product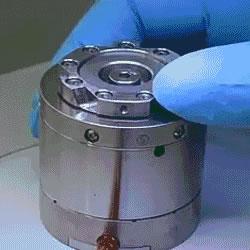 A traditional gantry system employs X-Y or X-Y-Z range of motion. Mounted on a base plate, usually granite, 2 parallel rails constitute the synchronized Y axis motion while the cross axis (bridge axis) provides the X motion. A vertical axis can be added on the bridge for the Z motion. A Split Bridge system can be less complex than a traditional gantry system because synchronization of the two parallel linear motors is not required. Both systems are used in industrial production, testing, and additive manufacturing.