Since the Great Recession rocked the world in 2007, the manufacturing industry has enjoyed a slow but steady resurgence. However, as Coronavirus wreaks havoc on the global economy, it's clear that the days of inexorable growth have come to a close.
New Tools, New Opportunities and a Commitment to Advancing Change: >> What's Driving Change in the Manufacturing Industry?
Shawn DeVries | Kin + Carta
Recent developments around the COVID-19 pandemic have exacerbated a decline in the industry's output. According to The New York Times, year-over-year factory output in China fell by nearly 14% in February. Similarly, in The UK, manufacturing began shrinking at the start of the year, as exports declined for the first time in four years. Around the world, unprecedented levels of disruption are reorienting production cycles and ushering in a new reality that leaders will have to grapple with in real-time.
While manufacturing is always an industry prone to disruption, specific changes are challenging the status quo in 2020. Increasingly unpredictable expenses, a shrinking labor pool, uncertain global policy decisions, and, most prominently, the impact of COVID-19 are posing a challenge to leaders as they strive to continue producing growth metrics.
For today's leaders, disruption always provides two diverging opportunities. Either leaders can adapt and evolve to meet the moment, or they begin to fall behind. In 2020 and beyond, new opportunities, new tools, and the priority of advancing change will transform the sector, creating a path less traveled that can successfully usher organizations into a successful future.
New Opportunities
Right now, companies are no stranger to big data. In fact, more than 2.5 quintillion bytes are created each day, a significant sum that is both hard to quantify and even more difficult to actually use. Today's companies are drinking from a proverbial firehose of data, awash in information that doesn't provide meaningful, actionable insights. That's why, in part, it's estimated that 73% of a company's data goes unused.
Now, with the emergence and maturity of new technologies like AI and Machine Learning, manufacturers can finally derive meaningful insights from the deluge of data that they already collect and store.
What's more, these technologies equip manufacturers to integrate once isolated data silos and to analyze them to determine actionable insights that improve product quality, reduce waste, and streamline efficiency. This is especially prescient for critical categories like biopharmaceuticals, those that make vaccines and other healthcare products, as global attention turns toward health and wellness initiatives. In some cases, companies can use comprehensive analytics to significantly increase production without incurring additional costs.
When coupled with notable leaps in IoT and predictive analytics, manufacturers can forecast and accurately predict precise aspects of their operations, allowing them to cut down on costs while delivering accurate, timely yields to increasingly meticulous distributors. At a time when manufacturers are working to regain their footing during tumultuous times, these new opportunities represent a real path forward.
New Tools
Technological advancement is an inevitable component of manufacturing maturation, and, right now, few are as consequential as the emergence of blockchain technology and 5G.
The distributed ledger system promulgated by blockchain technology satiates many of the most prominent priorities of brands and consumers alike. For example, today's consumers are courting brands that can guarantee authenticity, something that the blockchain can track and transparently convey.
As the California Manufacturing Network notes, "With blockchain, visibility is increased across every area of manufacturing from suppliers, strategic sourcing, and procurement to shop floor operations including machine-level monitoring and service. An effective and efficient supply chain is a critical component of manufacturing."
Whether the technology is monitoring precious materials like diamonds or is tracking critical supply chain components, the blockchain offers unparalleled insights into the entire manufacturing process. In addition, the blockchain equips companies to more explicitly capitalize on developments in IoT and predictive analytics by eliminating information silos and replacing them with accessible, decentralized ledgers. Meanwhile, and not insignificantly, it offers significant cybersecurity advantages over centralized data systems, allowing producers to align with the dominating ethos of consumers and channel partners.
This technology is rising in parallel with 5G, which will be ubiquitous by 2022. In the same way that blockchain technology will radically change data storage patterns, 5G will alter our data collections strategies and enhance our communication methodologies.
5G creates a collaborative workforce that operates at breakthrough speeds. For manufacturers relying on real-time data from supply chains, IoT devices, and other components, 5G provides lightning-fast connectivity from anywhere.

Advancing Change
Embracing change means more than just producing a new white paper and rebranding a website. It's a top-to-bottom reorientation of all applicable workflows, processes, and products. Change is a significant effort that requires real leadership.
Notably, leaders need to embrace a symbiotic development of new opportunities and new tools.
For instance, real-time, data-driven initiatives fall flat when companies don't have the tools in place to derive meaningful insights from that information.
In the process, leaders can
Measure what matters. Many initiatives fail before they even have a fighting chance to get off the ground because there are too many measures for success. Instead, identify a "North Star Metric" to rally a project around a single, valuable goal.

Don't ignore employee experience and feedback. Change is hard, and employees are on the front lines of these efforts. Putting your organization at the forefront of the latest opportunities and tools can inspire employee success, and their experiences and feedback will ensure a seamless implementation.

Work sustainably. Manufacturers must do more with less. By focusing on data-driven prioritization, leaders can pursue the priorities that matter most without wasting time, resources, or opportunities.
Along the way, it's ok to embrace change imperfectly. Two steps forward and one step back is still forward progress. Rather than hoping for holistic, immediate change, be specific about where your organization is headed and get creative in your pursuit of those ends.
The manufacturing sector is enduring another disruptive moment, but its success is critical. But identifying and pursuing the changes driving the latest trends, leaders can be sure to capitalize on this unique moment, pruning and positioning their operation to thrive now and in the years ahead.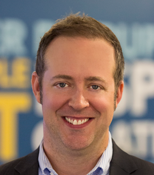 About Shawn DeVries
Shawn DeVries is the Managing Director of the B2B team at Kin + Carta, which recently published the 2020 Change Report. Kin + Carta focuses on addressing the unique challenges and opportunities across manufacturing, distribution, and agriculture clients. Combining his formal engineering background with 25 years of hands-on experience in heavy equipment manufacturing, industrial automation, B2B commerce, and emerging digital solutions, Shawn balances the "what's next" with "what's real".
The content & opinions in this article are the author's and do not necessarily represent the views of ManufacturingTomorrow
---
Comments (0)
This post does not have any comments. Be the first to leave a comment below.
---
Post A Comment
You must be logged in before you can post a comment. Login now.
Featured Product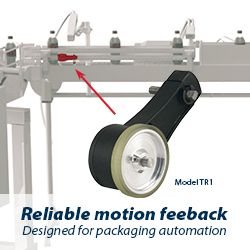 The Model TR1 Tru-Trac® linear measurement solution is a versatile option for tracking velocity, position, or distance over a wide variety of surfaces. An integrated encoder, measuring wheel, and spring-loaded torsion arm in one, compact unit, the Model TR1 is easy to install. The spring-loaded torsion arm offers adjustable torsion load, allowing the Model TR1 to be mounted in almost any orientation - even upside-down. The threaded shaft on the pivot axis is field reversible, providing mounting access from either side. With operating speeds up to 3000 feet per minute, a wide variety of configuration options - including multiple wheel material options - and a housing made from a durable, conductive composite material that minimizes static buildup, the Model TR1 Tru-Trac® is the ideal solution for countless applications.