Manufacturing for the aerospace industry faced roadblocks in 2019, which slowed the speed of innovation. This article looks at the three biggest challenges engineers in the aerospace industry faced in 2019 and anticipated solutions in 2020.
Challenges in Aerospace Innovation in 2019 and Solutions for 2020
Katie Bisson | Xometry
Challenge 1: Capacity Issues
One of the biggest challenges that face aerospace engineers is limited capacity. Aerospace traditionally relies on subtractive manufacturing processes like CNC machining and sheet metal fabrication and, in some cases, injection molding. This industry relies heavily on local manufacturing facilities who are familiar with industry standards and with which they have built lifelong relationships. As aerospace companies scale, engineers often find themselves fighting for local shop capacity, and in turn, increasing the cost as demand increases. These capacity challenges cause delays and increase cost.
2020 Solution for Certification Needs
In 2020, the aerospace industry's certification requirements will remain the same. Aerospace companies will still require manufacturers to be AS9100 certified and ITAR registered. For flight-critical components, material certifications will also be a requirement. As more industries implement more requirements—including healthcare—manufacturers will be responsible for getting the certifications to remain competitive. This will bring a necessary industry shift as innovation continues.
Xometry's online distributed manufacturing service provides greater open capacity with certified shops across the US. Xometry's Partner quality assurance program also works with qualified manufacturers to elevate their certifications, including ITAR, to grow the available market.
Challenge 3: Material Requirements and Shortage
The aerospace industry designs parts for very high-heat situations—since some of the parts are flight-critical components—that require very specific materials. Magnesium, superalloys, and high-performance plastics like Ultem are common examples. Manufacturing with these materials requires extensive machining experience. Not only does this limit the availability of capable manufacturers, but the material supply often takes longer to procure.
2020 Solution to Low Material Supply
The aerospace industry will always have very specific material requirements, especially for flight-critical components. The materials need to handle lots of pressure and heat, and each has a unique function. As new manufacturing processes are developed, the list of qualified materials will expand. This will allow the aerospace industry to diversify the materials based on parts needs instead of relying on expensive and hard-to-manufacture materials.
Manufacturing platforms like Xometry build in market considerations like supply and manufacturing skill for specialized materials, helping to provide better quotes and expectations upfront on lead time and cost.
To Innovation and Beyond
With aggressive growth in the aerospace sector, including new space systems and increased innovation from top-tier companies, 2019 posed many challenges. 2020, on the other hand, is looking up for aerospace companies. New manufacturing process adoption and the steady increase in certified manufacturing shops will address many of the delays the industry faced this year.
With the use of marketplaces like Xometry, aerospace sector leaders can leverage a supply-chain-in-a-box solution while also empowering hundreds of capable, small business manufacturers with qualified work.
The content & opinions in this article are the author's and do not necessarily represent the views of ManufacturingTomorrow

Xometry
Our instant quoting platform and nationwide network of machine shops is transforming American manufacturing. We make it easy for all customers - from startups to Fortune 500 companies - to access manufacturing on demand by providing the most efficient way to source high-quality parts.
Other Articles
Discover why this innovator in the micromobility powersport space chose Xometry to produce 50% of parts found in its flagship electric motorcycle, the Ryvid Anthem.
Machinist shortage is a tricky problem that shop owners constantly face. Here are some ways to solve it and help you attract and retain them.
A team of engineers and medical experts joined forces during the first wave of COVID-19 to rapidly prototype a medical device. Xometry manufactured 9 prototypes in under 3 weeks, providing advice and rapid production for critical decision making.
---
Comments (0)
This post does not have any comments. Be the first to leave a comment below.
---
Post A Comment
You must be logged in before you can post a comment. Login now.
Featured Product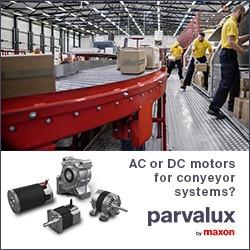 An effective, reliable and efficient drive system is essential to any material handling equipment, whether it's a motor-assisted tow truck, a barrel lifter, a robotic vehicle or a complete high-capacity parcel sorting hub; Parvalux designs and manufactures an exciting range of AC, DC brushless and brushed motors and our drives are valued for their performance and reliability.