The chemicals manufacturing sector has enjoyed positive growth and margins in the last few years. But that's no reason to believe that a slump can't hit the industry in the near future.
Top 4 Chemical Manufacturing Tech Trends to Watch for in 2019
Contributed by | BatchMaster Software India Pvt. Ltd.
They say change is the only constant. While this adage holds true for most things in life, it is particularly relevant in the chemicals manufacturing industry. The prices of raw materials used in this industry fluctuate on a frequent basis, forcing the manufacturers to adapt. The customer expectations too keep on changing, so do the regulations and compliance-related requirements, and the technological trends. However, all these changes notwithstanding, the chemicals manufacturing sector has enjoyed positive growth and margins in the last few years. But that's no reason to believe that a slump can't hit the industry in the near future. Though the next 12 months are uncertain, it is a good idea to try and understand how the business environment in the chemicals manufacturing sector might evolve during this period.
While all other things may be uncertain, one thing is for sure that a key component of this evolution is going to be technology. Most chemicals manufacturers are making conscious efforts to continuously improve and upgrade their operations by adopting different technological trends that have erupted onto the scene of late. Then they are investing in digital transformation initiatives that involve a combination of people, technology and the business processes. And driving all these initiatives within the four walls of the enterprise is an enterprise resource planning (ERP) software. Let's take a look at the top four chemical manufacturing tech trends to watch for in 2019, and also how an chemical ERP software is at the center of those trends.
Cyber security & data privacy: We've been hearing it for a while now, that data is the new oil. It indeed is, and the year 2019 will see it emerge as the biggest asset a business can have. With more data, more users, and more connected devices, the threat to data security will be at an all-time high in 2019. So, quite naturally, the businesses will look to have adequate measures in place to protect their biggest treasure, i.e. data. Chemicals manufacturing businesses are no different, and they too will have increased focus on data security in the year 2019.
Even as a good ERP for chemicals alone can't cover all the security requirements for a chemicals manufacturing business, it does offer controls to protect the data it contains. Such an ERP, which can help the manufacturers deal with the complex regulatory requirements, and can cover the data security risks among others, will be most sought after by the chemicals manufacturing businesses in the year 2019.
Smart manufacturing: With technologies such as machine learning and advanced analytics more readily available these days, manufacturers can use smart manufacturing to improve productivity and efficiency. Smart manufacturing is nothing but the practice of making information about manufacturing processes available at the right place and time in the right form, so that smart decisions can be made regarding critical business operations. This is becoming possible as more and more manufacturers are integrating their chemicals ERP software with the shop floor through interconnected machines.
The businesses are starting to create their own (Internet of Things) IoT ecosystems. Their integration with IoT technology is helping manufacturers get real-time actionable data and information. This is made possible by equipping the machines and other equipment at the shop floor with chips, sensors, and tools through which they can be connected together by using the internet. These connected devices, when combined with automated systems, gather information, analyze it, and create an action. In addition, it also makes real-time monitoring possible, which facilitates remote diagnosis, predictive and proactive maintenance, and asset optimization. The year 2019 will be the year when the chemicals manufacturers turn towards smart manufacturing in large numbers.
Intelligent ERPs: Artificial Intelligence (AI) technology has proven to be the Gamechanger in recent times, with its numerous benefits such as cost reduction and increased accuracy, among others, to the chemicals manufacturing businesses. More importantly, systems equipped with such technology are intelligent in their own right, as they can learn, read, and process Big Data, and thus analyze, forecast, improve the business processes, and allow more efficient use of the resources. What's more, such ERP for chemicals can even be integrated with voice-search applications, and take the ERP experience to a different level altogether. Rightfully so, more and more chemicals manufacturers around the world are turning to AI-enabled chemical manufacturing software – a trend which is likely to gain momentum in the year 2019.
Integrated Cloud: While most businesses that are operating on Cloud use the model — private, public, or hybrid — which suits their business needs the best, 2019 is going to be about the integrated Cloud, or interconnected Cloud. It basically refers to the strategy where a business uses a combination of two or more aforementioned Cloud computing platforms to perform various tasks. Additionally, the advent of multi-cloud which is being touted as one of the biggest enterprise technology buzzwords in 2019, is likely to improve security and data accessibility big time.
Concluding thoughts
These four chemicals manufacturing tech trends are set to change the way chemicals manufacturing businesses work in the year 2019, and even consolidate their position in the chemicals ERP landscape in the following years. It is advised that the manufacturers tap into these tech trends early, or else they must keep themselves ready to lag behind the competition.
The content & opinions in this article are the author's and do not necessarily represent the views of ManufacturingTomorrow
---
Comments (0)
This post does not have any comments. Be the first to leave a comment below.
---
Post A Comment
You must be logged in before you can post a comment. Login now.
Featured Product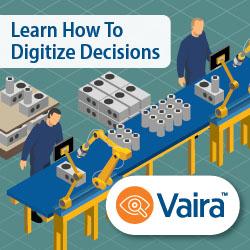 Vaira™ helps manufacturers digitize, automate, and upgrade error-prone manual processes and decisions to boost productivity and increase profits by helping humans make decisions consistent, reliable, and traceable. The camera-based solution is powered by a scalable suite of shop floor-ready apps built on proven machine vision and AI expertise for frontline manufacturing operations, with two-way integration to resource planning tools to help drive continuous analysis, insight, and improvements. Start digitizing immediately, streamlining processes customized to your unique requirements and reduce errors that lead to costs, delays, and quality concerns.