Digitizing manufacturing and the supply chain require that technologies can connect assets, collect data and extract information. Our 0G network enables this by allowing real time data access and visibility. As a result, we help customers transform information into action.

Laetitia Jay | Sigfox
Please tell us a bit about Sigfox and your role in the advanced manufacturing industry?
Sigfox is the creator of the 0G network and the world's leading Internet of Things (IoT) service provider. Our global network allows billions of devices to connect to the internet while addressing the three biggest barriers to IoT adoption—cost, energy consumption and global scalability.
While our network can be used across industries, the manufacturing and supply chain industries have been a key focus in recent years. Digitizing manufacturing and the supply chain require that technologies can connect assets, collect data and extract information. Our 0G network enables this by allowing real time data access and visibility. As a result, we help customers transform information into action.
How can IoT devices enable visibility into internal and external parts of the supply chain?
IoT solutions bring visibility to two aspects of supply chain management: Electronic Value Stream Mapping (eVSM) and flow monitoring.
eVSM involves mapping value-adding and non-value-adding time in the current supply chain. With this information, manufacturers are able to move from relying on hearsay information about their supply chain, to leveraging evidence-based information and field data that covers internal data and external partners' data. With Sigfox's solutions, this process can be automated, providing this end-to-end visibility without requiring commitment from external partners to conduct the analysis.
Flow monitoring—also referred to as automated real-time visibility—allows manufacturers to monitor the improvements enabled by eVSM, keep track of operational KPIs and diminish low-added value tasks, creating a leaner, more strategic supply chain. Further, with this type of monitoring, manufacturers can improve end-to-end performance and reliability by offering visibility into key metrics like delivery time and stock levels.
What connectivity specifications are required to ensure IoT-enabled visibility?
The type of connectivity that fits this purpose needs to be long range, infrastructure-less and global, as end to end visibility is needed across different stakeholders of the supply chain: in-bound logistics, out-band logistics and multiple transporters. The type of connectivity that fits the business case and delivers the proper ROI needs to be low power (an IoT-enabled asset will last for five-to-ten years), and the total cost of ownership needs to be at the lowest possible: cost efficient device, cost efficient connectivity. With such connectivity the essential data can be extracted at its lowest cost and only a very small amount of data is necessary.
While many IoT providers have specific connectivity specifications, Sigfox recently publicly released the specifications of its radio protocol for connected objects, allowing open source implementations and creating more opportunities for developers and manufacturers of connected objects. Now, to connect a device to the Sigfox network, all a manufacturer has to do is register the device to the network.
What is the 0G network and how is it different than other connectivity options?
The 0G network is a low-power wide-area network that can transfer small amounts of data across long ranges. It differs from other connectivity options in that it transmits data—pertaining to location or temperature, for instance—at a lower cost than traditional IoT providers, but without sacrificing quality. Additionally, the network is inherently secure, since it only allows messages to be sent from a device. The device cannot receive messages, except in very specific cases. For customers concerned with security, this is significant. The nature of the network also allows for devices on the network to have a longer battery life than those on other networks, as the devices are in less constant use. This makes them perfect for manufacturing and supply chain applications, which often require the ability to track and monitor products over long distances and periods of time and in environments where charging or changing batteries is impossible.
What are the benefits of 0G-connected IoT devices to supply chain stakeholders?
With its low power needs and wide coverage area, the network helps extend the life of devices connected to it. This is critical for the supply chain industry, where devices are often attached to containers or shipments and transmitting updates for a long period of time without an opportunity to be recharged.
Further, because the network works best with a small amount of data—12 bytes or less—the amount of bandwidth it needs is small. This is particularly beneficial in the supply chain industry where the packets of data being transferred are fairly simple—a temperature or location readout—versus other industries where more in-depth tracking is required.
How would a company go about planning and implementing an IoT enabled system for their plant?
Companies that work with Sigfox can estimate the cost of an implementation prior to launch, with one global price no matter where a device communicates. Sigfox has the unique ability to bring companies the information generated by devices through a single point of contact, the Sigfox Cloud. Sigfox also has a low total cost of ownership (TCO). From small companies of five people to major corporations, our ecosystem provides low TCO devices, vertical application and industrial expertise to deliver on the business application at hand.
Can you share some innovative use cases for IoT solutions in the supply chain today?
Sigfox recently partnered with Michelin and Argon Consulting to track sea-freight containers in real-time. By leveraging Sigfox's technology and global network, Sigfox and Argon helped Michelin increase time of arrival knowledge by 40 percent, reducing the risk of out-of-stock situations by four inventory ruptures, which are caused by unforeseen events like extreme weather. With this solution, companies can track their shipments seamlessly in all parts of the world, as the device automatically recognizes and adapts to the local radio frequency standards.
Sigfox also recently announced its work with IBM and Groupe PSA, a European automaker, to digitize industrial packaging tracking between suppliers and plants via its "Track&Trace" solution, which was developed specifically for this project. The solution is based off of IBM Watson's cloud-based IoT technologies and Sigfox's 0G network. It is a fully-scalable, all-inclusive tracking service that can be used across large numbers of industrial packaging and includes IoT trackers, tracking logistics and analytics platform access. This solution brings visibility on the operational flows of industrial packaging improving operational efficiency between suppliers and car manufacturers.
About Laetitia Jay

Laetitia Jay is Sigfox's chief marketing officer. She joined Sigfox in February 2016, following a 20 year stint in marketing at Gemalto, where she was focused on machine-to-machine (M2) solutions and services. Laetitia graduated from Polytech Clermont-Ferrand and University of California, Berkeley and is currently based in Paris.
The content & opinions in this article are the author's and do not necessarily represent the views of ManufacturingTomorrow
---
Comments (0)
This post does not have any comments. Be the first to leave a comment below.
---
Post A Comment
You must be logged in before you can post a comment. Login now.
Featured Product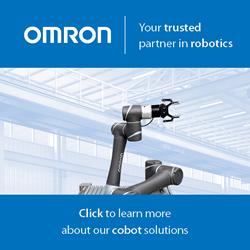 Humans and robots can now share tasks - and this new partnership is on the verge of revolutionizing the production line. Today's drivers like data-driven services, decreasing product lifetimes and the need for product differentiation are putting flexibility paramount, and no technology is better suited to meet these needs than the Omron TM Series Collaborative Robot. With force feedback, collision detection technology and an intuitive, hand-guided teaching mechanism, the TM Series cobot is designed to work in immediate proximity to a human worker and is easier than ever to train on new tasks.