Over the years, the enterprise resource planning (ERP) solutions have proved to be a crucial tool that can help transform any business by boosting its productivity and operational efficiency, and eventually improving its bottom-line.
Tips and Tricks for Selecting a Process Manufacturing ERP
Anchal Thakur | BatchMaster Software India Pvt. Ltd.
Over the years, the enterprise resource planning (ERP) solutions have proved to be a crucial tool that can help transform any business by boosting its productivity and operational efficiency, and eventually improving its bottom-line. However, even as an ERP software is increasingly becoming more and more imperative for a manufacturing business, finding the apt solution that meets your business' unique needs can be a daunting task.
Today, the market is crowded with numerous ERP software suites, which makes things all the more difficult for manufacturers. Moreover, getting an ERP system on board is a costly deal- both in terms of money as well as maintenance. Hence, more than just finding an ERP software that fills in your business gaps for the time being, it is more important to find a solution that can serve your business in the long run.
Thus, to help the manufacturing businesses ― specifically the process manufacturing businesses ― select the right process manufacturing ERP software for their business, this blog charts down some handy tips and tricks. Here are those 10 tips on how to select a process manufacturing ERP software solution:
Define your requirements: To begin with, you must define your business requirements, or the pain areas which need a fix. Problem with most businesses is that they don't have a clear understanding of their most specific needs, and this lack of awareness eventually goes on to adversely affect the ERP selection process, budget and timeline for the ERP implementation. Hence, through an extensive analysis of the internal business processes and the overall system, businesses must figure out their specific requirements.
A good way of doing it is by holding inter-departmental meetings to discuss about the exact requirements from the ERP system with the department heads. Document your requirements, and share them with any potential vendor, so they can indicate exactly how their proposed solution will deliver. Remember, the more specific you can get with your business requirements, the more detailed proposal you can expect from the vendor.
Fix a budget: As discussed above, ERP systems can be an expensive proposition, requiring a heavy investment upfront. Hence, it is advisable that the businesses reach to a budget keeping things such as their capacity to pay, their requirements, mode of payments (one-time payment, or ongoing recurring), etc. in mind, and strictly stick to it. For the same, they must have a clear understanding of the total cost of ownership (TCO) of an ERP, the contemporary price range of different ERP vendors, and their own finances. While it goes without saying that the right ERP software proves to be an invaluable asset, it is recommended that the monetary considerations should always be kept in check.
Get everyone on the same page: It is important that when a decision as big as an ERP implementation is made, the entire organization is on the same page. First things first, the involvement and support of the top management in the entire ERP selection process is a must. It is only when the upper management is involved in the process that the middle and the lower level employees will feel encouraged and engaged with the implementation project. Also, by creating an internal ERP project team that comprises of best of the employees from different rungs, you can ensure all are together in it. This team should oversee the ERP implementation project, and should be duly trained and educated for the same.

This prepares the businesses to deal with change management, as an informed and trained employee base is more likely to be receptive and adaptable to the organizational as well as work-related changes brought in by the new system.
Prepare a shortlist: As mentioned previously, there are hundreds of ERP solutions available in the market, and it is virtually impossible for businesses to have a look at them all. So, the businesses must use different criteria to narrow down their choices and prepare a shortlist of four to five ERP solutions that target their business requirements. Process manufacturing businesses can straightaway rule out the solutions for discreet manufacturers, and look for the ones that are specifically built for them. Going a step further, the process manufacturers may even look for micro-verticalized ERP solutions that meet their most specific needs. Apart from that, there can be different shortlisting criteria such as features, specific capabilities, modules, ease-of-use, third-party validation, and lastly, cost.
Vendor analysis: Once you have an ERP shortlist ready, you can carry out an in-depth vendor analysis. There are multiple ways of doing it. Gather as much information on the shortlisted vendors from outside sources, assess them thoroughly on multiple parameters, and ask them for at least two to three references. The parameters on which you may evaluate them can be their industry/technical expertise, functional knowledge, background check, project management expertise, past record on delivering the implementation on time and within the budget, post-implementation support, etc.
Demo sessions: Any ERP selection process is incomplete without demonstrations. When we are talking specifically about the process manufacturing businesses, the process gains all the more significance. Process manufacturing businesses, while evaluating process manufacturing ERP solutions, must give each vendor time for ideally two-round of reasonably long demonstrations that cover each software module like Formulation, R&D, Production, Quality Control, Compliance, MRP, MPS, etc. as per their requirement. This will give them a fair idea about the different ERP packages in contention.
Check if it's one for the future: In the context of contemporary manufacturing businesses, manufacturers need an ERP solution that can integrate the different areas of its business. For ex: a solution that can connect the shop floor from the top floor in real-time, is the need of the hour. Modern and futuristic solutions that come equipped with the technologies of tomorrow such as the Internet of Things (IoT), and Artificial Intelligence (AI), among others, connect seamlessly with other solutions from across a particular manufacturing business. This allows the businesses to bring together all of the disparate business information, and manage it all at one, central location.

Similarly, businesses also need solutions that bring in a great degree of automation to the different time-consuming processes. At the same time, businesses also need ERP software that are scalable and extensible according to future business growth. While looking for a process manufacturing ERP software, check whether it is scalable, extensible, and prioritizes integration and automation.
Test the system: All the trial accesses, and demonstrations aside, there's no substitute to testing the system. The internal team that you have formed for the ERP selection process must know the product inside out, and hence it is important for that team to test the software thoroughly. It should test different ways of doing a particular task, the unique business requirements, unique requirements of a customer or a supplier, etc., and document each and every finding so that the relevant queries can be raised to the vendor. Apart from the team, a select group of employees, who will actually use the software, should also test it.
Training & post-implementation support: This really is a no-brainer! While selecting the right process manufacturing ERP software for your business, keep in mind that the vendor you pick must impart proper training and involve in continuous and uninterrupted post-implementation support.
Upgrades & security: Most importantly, don't forget the upgrades and data security part. Make sure that with the ERP system you choose, upgrading to new versions with added functionally is a hassle-free, and painless process. Also, ensure that the vendor has proper mechanisms in place to keep your large amount of data safe and secure.
Conclusion
You now know the top 10 tips and tricks to select a process manufacturing ERP. Keep them in mind when you decide to hunt for your process manufacturing ERP software. In addition to these tips, carefully evaluate all your options and ensure that the vendor you pick has extensive experience in providing ERP solutions for the process manufacturing sector.
About Sanjay Panjwani, Managing Director, BatchMaster Software Pvt. Ltd.
I am MD at BatchMaster Software India Pvt. Ltd., a leading vendor of ERP solutions in all the 7 continents. With over 30 years of presence in the ERP market & 1500+ customers situated all over the globe, BatchMaster is a mature organization of 500 plus employees.
The content & opinions in this article are the author's and do not necessarily represent the views of ManufacturingTomorrow
---
Comments (0)
This post does not have any comments. Be the first to leave a comment below.
---
Post A Comment
You must be logged in before you can post a comment. Login now.
Featured Product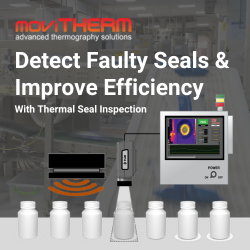 MoviTHERM's Thermal Seal Inspection (TSI) solution provides precise and reliable detection of defects in a variety of packaging types, including pouches, bags, blister packs, bottle caps, and more. By detecting defects in your packages, the TSI solution helps increase efficiency in your production line and ensures top-quality packaging is delivered to your customers every time. With state-of-the-art technology and an experienced team, MoviTHERM is dedicated to delivering accurate inspection solutions and peace of mind to its clients. Contact MoviTHERM today to learn more about their thermal seal inspection solution.