Many companies are striving to create real business value from their various streams of information, a serious data-driven approach. Measurement, monitoring and access to real-time data are extremely important to reaping the benefits of Industry 4.0
Managing the Metrics
Navdeep Sidhu | InfluxData
Please tell us briefly about InfluxData and your work within the manufacturing industry.
InfluxData offers a platform to analyze time series data, which is used widely within the manufacturing industry. Time series data is essentially any data with a timestamp. In manufacturing, sensors and instruments generate a lot of time-stamped data at regular intervals commonly known as metrics. On the other hand, actions taken at irregular intervals by users such as an operator raising the boiler temperature are known as events.
Due to increased instrumentation in manufacturing, there is an increased need to ingest, store, track and analyze time series data and as a result InfluxData's platform is being adopted by manufacturers of all sizes – from traditional manufacturing conglomerates to some of the fastest growing renewable energy startups. Our work within the manufacturing industry can be categorized into three main areas:
Operational efficiency — Large manufacturing companies are using our platform to improve automation and overall manufacturing processes by monitoring the metrics and events data generated by the machines involved in manufacturing and quality assurance (QA) processes.
Platform monitoring — New generation IoT-centric manufacturing companies that typically have a software platform for consumer interaction need visibility into both their IoT landscape and the software infrastructure.
Cloud & DevOps adoption — Manufacturers of all sizes are moving their apps to the cloud. As part of that move, InfluxData is being used to monitor the new cloud infrastructure, including containers, clusters and the DevOps toolchain used for deployments.
What are some pressing issues manufacturing companies face today in relation to sensors, instrumentation and streams of data collected?
Sensors and instruments have been around for a while but are being used for new initiatives and projects, which are bringing in a new set of challenges for manufacturers:
Data overload — Sensors have become omnipresent as companies recognize the value of making more data-driven business decisions, and their cost has dramatically decreased. As the number of sensors grows, so does the volume of data generated. Traditional database applications are not able to cope with such large volumes of data, from ingesting millions of reads to running thousands of simultaneous queries to detect patterns.
Lack of real-time analytics — Traditional analytics solutions focus on analyzing transactions that happened in the past, but this doesn't cut it anymore. Manufacturers need real-time analytics to detect anomalies and take more immediate action to improve operations. Most existing IT infrastructures don't support this kind of analytics on such huge volumes of data.
Poor cross-domain visibility — Some manufacturing applications have moved to the cloud and some have remained on-premise, making visibility into everything, from sensors to instrumentation toolchains, very difficult. So when something goes wrong, troubleshooting becomes a challenge due to false-positives and other noise. As manufacturing companies adopt cloud platforms for apps and IoT, gaining visibility across the spectrum is a pressing new challenge that needs to be solved.
Why are measurement, monitoring and access to real-time data particularly important to manufacturing companies?
Many companies are striving to create real business value from their various streams of information, a serious data-driven approach. Measurement, monitoring and access to real-time data are extremely important to reaping the benefits of Industry 4.0:
Predictive maintenance — The ability to detect patterns and execute an action helps with detecting problems early and makes it easier to perform predictive maintenance on equipment.
Operational efficiency — Manufacturers are always looking to gain operational efficiencies in production, QA, shipment, etc. InfluxData helps in this journey by providing a comprehensive set of tools and services to get metrics and events data from sensors, devices and machines. This leads to better asset monitoring and optimization that increases operational efficiencies.
Improved time to resolution — InfluxData's platform enables manufacturers to be able to store, query, analyze and visualize time series data in real-time. When things go unplanned and there is an outage, the platform makes it easier to find the root cause of the problem reducing the production downtime.
Learn and automate — Some companies are exploring using Artificial Intelligence (AI) and machine learning (ML) to automate processes learning from the past patterns. InfluxData's platform facilitates machine learning and anomaly detection algorithms by streaming data to train data models. Once the models are trained, they can automate a wide range of tasks such as finding microscopic defects in circuit boards or using a digital twin to detect and troubleshoot problems remotely.
Are there certain manufacturing companies that would not benefit from instrumentation and analysis of their data?
Every manufacturer can benefit from instrumentation and analysis of its data. Within our customer base, we see two types of manufacturing companies benefitting from this:
The establishment — the legacy manufacturing companies that have been around for decades. These manufacturers are either building their own IoT platforms or collaborating with others in their ecosystem to build shared platforms for instrumentation and operational visibility. This leads to several benefits, including better product quality, reduced downtime and lower operating costs.
The young guns — the new generation of manufacturers who use IoT as an integral part of their value chain. Startups across home automation, alternate energy, smart metering, etc. are more than manufacturing companies. They essentially deliver value to customers by complementing their hardware devices with software applications and services. The autonomous vehicle sector is another segment that is coming up strong and that relies on the combination of data and instrumentation.
Are there any barriers that manufacturing companies face with data analysis that make it more difficult than other industries?
Manufacturing companies have traditionally siloed IT for back-office, ERP, accounting, etc., and OT (Operational Technology) for plant operations. This is the biggest barrier in realizing the benefits of data analysis especially when it comes to launching new products that combine IoT data and analytics with back office accounting and billing applications. Modern manufacturers who have already designed their processes to combine IoT data and analytics do not face such issues, but this continues to be a huge impediment for legacy manufacturing companies with hundreds of IT and OT systems.
Another barrier is the lack of awareness of IoT data platforms that can handle massive volumes of data emitted by sensors. We see manufacturers trying to use legacy technologies to handle these large data volumes and realizing, over time, that there are IoT data platforms that work much better for their functionalities.
How does InfluxData plan to expand in the global manufacturing arena in 2019?
We have been impressed by the ways that manufacturers have deployed our technology, and as a result, we have major expansion plans for this sector:
Building awareness of business solutions — We are focusing on scaling our internal capabilities to reach manufacturers in more geographies. Our upcoming solutions will be extremely relevant to manufacturers of all sizes who are interested in either adopting IoT or monitoring their cloud infrastructures.
Expanding partnerships — InfluxData is partnering with large vendors in the manufacturing and PLM spaces and complementing their capabilities with our IoT data platform, enabling their apps to handle massive volumes of metrics and events.
Easy access — We are making sure that our platform is available on every major commercial cloud. We have realized manufacturers in different geographies have different preferences, and we will make sure our platform is available on every major cloud platform.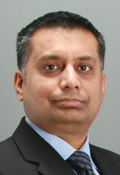 About Navdeep Sidhu
Navdeep Sidhu is Head of Product Marketing at InfluxData which provides the leading time series platform to instrument, observe, learn and automate any system, application and business process across a variety of use cases. Prior to joining InfluxData, he was VP of Product Marketing at Software AG where he focused on delivering platforms for building and integrating enterprise applications. Earlier in his career, he spent over 7 years with Deloitte Consulting building & integrating large scale mission-critical applications followed by 3 years at Sterling Commerce where he launched B2B Gateway and Partner Community Management applications.
The content & opinions in this article are the author's and do not necessarily represent the views of ManufacturingTomorrow
---
Comments (0)
This post does not have any comments. Be the first to leave a comment below.
---
Post A Comment
You must be logged in before you can post a comment. Login now.
Featured Product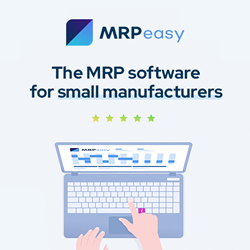 Always know what you have in stock and what you'll need to fulfill orders. Never forget to order parts on time or fail to notice a late delivery from your vendor. Easily create manufacturing orders and schedule them automatically according to resource availability or delivery deadline. Generate accurate cost and lead time estimates and provide customers with quick quotes. Receive notifications when orders are late or inventory levels reach a critical point. Ensure seamless communication between sales, production, warehousing, procurement, administration, and finance. Integrate with popular accounting, CRM, and e-commerce apps. MRPeasy is an ERP software for small manufacturers that gives you all that and more. Our users report a 54% average improvement in the overall performance of their business and a 42% increase in on-time deliveries. Try for free, no credit card needed.