Using the robots built-in Wi-Fi interface, operators will use tablets installed at each press to call the robot to pick up finished products and take them directly to the quality department, optimizing the robots use.
MiR200 Improves Safety, Quality, and Competitiveness at Metro Plastics
Contributed by | MiR
Reprinted with permission from the MiR blog:
At Indianapolis-based Metro Plastics, a MiR200 robot from Mobile Industrial Robots has nearly eliminated fork truck traffic on the production floor, improving worker safety and ergonomics. By automating the transport of finished goods to quality assurance while jobs are in process, the company is also able to immediately identify and address quality issues, which helps reduce waste and drive competitiveness.
Metro Plastics is an Indianapolis-based family-owned business that has produced custom plastic injection molded parts and inject mold tooling since 1974. The company faces competition overseas and in North America, and is dealing with rising costs in healthcare and raw materials as well as challenges in finding and keeping skilled labor. In its constant search for new, more efficient ways to do business, Metro Plastics needs to automate wherever it can. Typical jobs only run for about 2.4 days, however, so the company has to look at automating other processes. Material transport is an ideal target.
With as many as 20 jobs running at a time, boxes of finished products used to stack up at each press until a quality inspector could make her way around the floor to inspect parts and have them delivered to the warehouse. During busy periods, boxes and pallets were tripping hazards for workers, and the constant fork truck traffic added to the safety risks. And for press operators and quality inspectors, the ergonomics of examining and moving boxes at floor level added to job stress.
Autonomous mobile robot easier and much more cost-effective than AGVs
President Ken Hahn explains that his father, the company's founder, had investigated automated guided vehicles (AGVs) since the 1990s, when the company was located in a previous building. He was never able to act on that goal, however, because of the cost and impact of installing the permanent infrastructure required for AGVs. When Ken Hahn built a brand-new building for the company, he continued to research AGVs, thinking this was his opportunity to build the capability in from scratch. But he says, "We just couldn't land on a solution that fit for us due to the cost and the different things that we would have to do to the building to make it work." That's when MiR distributor Neff Engineering introduced the MiR robot. Hahn explains, "It didn't need any wires in the concrete. It didn't need magnet pills or anything else to guide it. It was autonomous and it was basically about half the cost of the other solutions. It was a no-brainer for us to get it."
Continuous material transport improves product quality and worker ergonomics
Metro Plastics initially set up the MiR200 robot to loop the production floor, stopping at each press for 30 seconds to allow operators to load finished products as soon as they fill a box. The robot then continues to the quality department in the warehouse where it automatically docks at its charging station until its next round through the production floor. The robot runs around the clock, Monday through Friday, for four six-hour shifts a day.
Quality Inspector Falicia Roudebush explains that in the past, it could be several hours before she could inspect all the boxes on the production floor. But now, "the MiR robot brings them back to us every 30 minutes, so once a box is done, we're getting a visual of it right then and there, so if there is a problem, we can fix it right then and there." Hahn notes that product quality improvement is an unexpected benefit of the mobile robot. By delivering products continuously, quality inspectors are able to inspect every box, not just a sampling. If a problem is found, it can be identified and addressed while the parts are being produced, which helps reduce waste. Ergonomics is another advantage. Metro Plastics created a counter-height top module that eliminates the back pain Roudebush used to experience while bending over boxes on the production floor.
Fast and easy set-up, including integration with in-house software
Project Coordinator Emma Morris was impressed with how fast and easy the MiR robot was to set up. "The implementation and the programming process of the robot was actually surprisingly straightforward," she says. "A lot of it was self-taught, as well. When we first received the robot, we had to map the floor, which was as simple as actually driving it." The process of mapping the floor and programming the robot's first missions took only a couple of hours. Morris has had to change the robot's programming occasionally to adapt to changes on the production floor, and says, "It's really straightforward: it honestly only takes about three clicks and it's done."
Soon after receiving the mobile robot, Metro Plastics is already updating its processes by integrating it into the company's in-house web-based software called Metro Connect. Using the robot's built-in Wi-Fi interface, operators will use tablets installed at each press to call the robot to pick up finished products and take them directly to the quality department, optimizing the robot's use. Large monitors on the production floor show operators where the robot is and its next scheduled stops so they can anticipate when it will be nearby.
Mobile robot improves safety and reduces transportation costs
With the MiR200 robot, the clutter and traffic on the production floor is nearly eliminated. Hahn notes that he used to worry about the safety of workers moving around the floor listening to music or looking at their phones while fork trucks drove around pallets and boxes. The collaborative MiR robot senses and automatically maneuvers around obstacles and workers, and has nearly eliminated fork truck traffic, making the production floor safer and cleaner. He anticipates savings in propane, maintenance, and labor costs for fork truck drivers, as well. With the risks and inspections involved with fork trucks, he says, "I actually think we might get an insurance reduction by having a MiR robot moving product."
Future plans already in the works
The company is already planning the next stage for the MiR robot, which will reduce the need for operator interaction. Powered conveyor belts at each press will allow the robot to pull up to the press and let product roll directly onto the robot, even if an operator isn't available.
"We don't want to invest in a solution that is not going to be part of the future," Hahn states. "Even before we finished completely moving in, my team had the MiR robot going and I had some customers come in and their reaction is: they're stunned. They can't believe that they are integrating with us, using all these new processes and new technology, and integrating all this into making their product."
The content & opinions in this article are the author's and do not necessarily represent the views of ManufacturingTomorrow
---
Comments (0)
This post does not have any comments. Be the first to leave a comment below.
---
Post A Comment
You must be logged in before you can post a comment. Login now.
Featured Product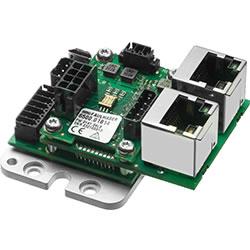 MOTION CONTROLLERS FOR MINIATURE DRIVES AND MICRODRIVES. FAULHABER has added another extremely compact Motion Controller without housing to its product range. The new Motion Controller is ideal for integration in equipment manufacturing and medical technology applications. With 36 V and 3 A (peak current 9 A), it covers the power range up to approx. 100 W and is suitable for DC-motors with encoder, brushless drives or linear motors.