A vibration isolator functions as a harmonic oscillator. The wire rope acts as a damping element to dissipate vibrational energy. While it is not possible to eliminate vibrations entirely, an isolator diminishes transmissibility to a large extent.
How to Curb the Effects of Vibration on Mechanical Components
Ed Jones | John Evans' Sons
You have probably heard stories about a room or a person possessing a certain vibration — positive or negative — and the impact it had on everyone around. In the case of various mechanical and electrical devices of all sizes, the effects of vibrations on mechanical components are also powerful, and they decrease efficiency, performance quality and lifespan of a machine. Vibrations can vary in degree and impact from being simply noisy and bothersome to producing high-level frequencies that cause individual parts of an equipment to shift, rotate or even dislodge from their designated positions and functions. This not only creates loud, unhealthy surroundings to people, but it also leads to overall structural degradation and potentially the eventual breakdown of a machine.
Causes and Effects of Vibrations on Mechanical Components
Vibration can be inherent in a system or produced through an external source. It can be caused by a primary device or auxiliary. It can be triggered by a loose mechanical component, misaligned shafts, expected wear and tear, abrupt machine starts and stops, imbalance created by a heavy load, or unexpected wind, turbulence or movement caused by accidents.
Besides producing unpleasant auditory conditions, unwelcome vibration deteriorates individual mechanical parts and the host systems, speeding up rates of energy consumption and aging. Continuous vibration and shock can damage an instrument or halt operations altogether, resulting in repairs, replacement costs, or worse, an accident.
Equipment used across all industries and spheres of life is vulnerable to the effects of vibrations on mechanical components. Here are a few examples:
Computers

Electronics

Centrifuge, dryers and pumps

Patient-care mechanical equipment

Computer controls, missile launcher and tank artillery in ordnance equipment

Electronics, navigation systems and machinery aboard ships

Instruments, missiles and optics in shipping containers

Electronics, instrumentation and generators in vehicles traveling through rugged terrains
Ways to Reduce or Prevent Vibration
The most efficient way to curb the effects of vibrations on mechanical components, like many other problems in life, is at the source — the stage of design and construction. By employing protection from vibration at the engineering stage, shock, vibration and friction can be absorbed economically. Typically, protection from shock comes from a metallic supporting frame and a resilient material such as a metal mesh, elastomer, cork, foam or steel spring. However, helical isolators provide a greater level isolation than traditional forms of vibration protection.
Ready for a surface mount, the helical isolator — alternately termed the cable mount, helical mount or spring vibration isolator — is constructed by weaving steel cable into retaining metal bars. The wire rope mimics a helix structure and can be offered in various diameters. The helical isolators offer a greater degree of vibration and shock absorption than other isolators due to the following attributes:
Aircraft-quality stainless steel is used for cables. The retaining bars are offered in iridited aluminum, with an option to choose other finishes or stainless steel, if needed. The helical isolators provide resistance to many corrosive elements and environments due to an all-metal construction.

The isolator secures protection across all axes by offering flexibility during extension, compression, roll and shear.

They can cover a range of loads — from several pounds to thousands of pounds.

They are effective across a wide gamut of shock input frequencies.

Almost no maintenance is required.

The superior deflection ability of helical vibration isolators prove them to be a much better choice than other types of isolators. Wire rope isolators also offer increased resistance to extreme heat and corrosion, boosting overall protection from the effects of vibrations on mechanical components. They are also offered with alterations in cable configuration if the standard version is not appropriate.
Mechanics of Vibration Isolators
A vibration isolator functions as a harmonic oscillator. The wire rope acts as a damping element to dissipate vibrational energy. While it is not possible to eliminate vibrations entirely, an isolator diminishes transmissibility to a large extent. It is important, however, to understand the difference between damping and isolation, and their relationships to and effects on the natural frequency of the device, so you can design an isolator for your systems to most effectively minimize the effects of vibrations on mechanical components.
The Comprehensive List of Benefits
Helical isolators offer the following advantages:
Lightweight

Protection across all axes

No need for maintenance

High performance over multiple uses

Ability to withstand extreme heat, in the range of 500F

Sterilization options available and no outgassing in medical equipment

Resistance to moisture, extreme temperatures and altitudes

Protection from UV radiation, ozone and radioactivity

Corrosion resistance

Operability near explosions

Longevity
Industrial Applications of Vibration Isolators
Helical isolators provide protection for a broad spectrum of devices and day-to-day conditions in transportation, military, aerospace and other industries, from delicate apparatus such as optical devices, electronic machinery and computer hardware to heavy machinery and engines during operation in fast-moving vehicles. Here are some areas of usability in which shock and vibration caused during the following scenarios, in which helical isolators provide protection:
Computers and electronics in aircraft

Air turbulence, hard landings and high-G maneuvers in fixed wing aviation

Inherent multi-axis vibration present in all rotary wing airframes

Medical equipment: Patient-care mechanical equipment

Moving parts in medical equipment and mobile carts

Ordnance equipment: Computer controls, electronics, missile launcher and tank artillery

Shipboard: Computers, electronics and machinery

Internal vibrations, storms and explosive blasts on vessels on sea

Shipping containers: Electronics, instruments, missiles and optics

Loading, unloading and transit wear and tear in shipping containers

Rough terrain vehicles: Electronics, instrumentation and generators

Bad road conditions, extreme terrains and collision in vehicles during transit
With all of these benefits, helical isolators can improve performance and increase the lifespan of industrial electronic equipment.
About Ed Jones
Ed Jones is the Marketing Manager of John Evans' Sons, the international leader in design and manufacturing of constant force springs, spring reels, helical isolators, and other mechanical components. John Evans' Sons has been committed to innovation, outstanding product quality and exceptional customer service since 1850.
Sources
The content & opinions in this article are the author's and do not necessarily represent the views of ManufacturingTomorrow
---
Comments (0)
This post does not have any comments. Be the first to leave a comment below.
---
Post A Comment
You must be logged in before you can post a comment. Login now.
Featured Product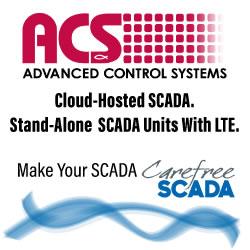 SCADA Edge Connection Devices. Monitor and control your remote assets from anywhere. Simple and self-contained units. Cellular telemetry with the best service plans in the industry. Welcome to the future of SCADA Edge Connection.