Energy equals money and if it is not being used optimally, it is money that you are losing every minute. So, follow these tips for improving your heat exchanger efficiency and save fuel in almost any application.
5 Tips for Improving and Maintaining Heat Exchanger Efficiency
Jigar Patel | Oriental Manufacturers
Given the ever-increasing focus on improving heat exchanger performance and maximizing energy efficiency, energy-intensive industries are looking for ways to achieve these goals while reducing their material usage and cutting costs wherever possible.
Here are 5 proven industry practices to boost heat exchanger performance and maintain process efficiency:
Online and Offline Cleaning
Online cleaning helps prevent fouling and scaling without having to shut down the heat exchanger or interrupting operations. Online cleaning can be used as a standalone approach or in conjunction with chemical treatment to prevent any reduction in the heat exchanger performance and to extend the service life of the tube. Online cleaning techniques include the re-circulating ball type system and the brush and basket system.
Another effective cleaning technique that efficiently improves heat exchanger efficiency and reduces operational expenses is offline cleaning. Also knows as pigging, this technique employs a bullet like equipment that is placed in each tube and pushed down the tube using high-air pressure. Other commonly used offline cleaning methods include chemical cleaning, hydro-blasting and hydro-lancing.
When used periodically, both these methods restore the exchanger to its optimal efficiency before the scaling and fouling start creeping in slowly and adversely impact the heat exchanger efficiency.
Maintaining Heat Exchanger
The best way to boost heat exchanger efficiency and increase output is to implement good maintaining practices that avoid fouling, blockages and leakages in the plate heat exchanger. The absence of periodic maintenance is bound to impact heat exchanger efficiency leading to reduced heat transfer, potentially higher energy costs, cross contamination of fluids and erosion issues. So, it can be safely concluded that all heat exchanger performance problems can be easily avoided by enforcing an appropriate maintenance program.
Periodic Cleaning
Periodic cleaning-in-place is the most effective technique to flush out all the dirt and debris that decline heat exchanger efficiency over time. This approach requires the draining of both the sides of the PHE followed by its isolation from the system fluid. Water should be flushed out from both the sides until it runs completely clear. For best results the flushing should be performed in the opposite direction of regular operations. Once this is done, it's time to pass a cleaning agent using a solution tank and a circular pump while ensuring that the agent is compatible with the gaskets and plates of the PHE. Finally, the system should be flushed with water again until the discharge stream runs clear.
Cleaning the PHE Manually
Manual cleaning requires you to follow the manufacturer's instructions. It is preferred to do the cleaning of the plates without separating them from the frame so when installing a PHE, it is essential to ensure there is adequate space to facilitate maneuvering for manual cleanings.
The next step is the application of cleaning agent for eliminating any accumulated dirt and debris followed by rinsing with a soft bristle and pressurized water. The use of metal pads or brushes is not recommended as they may sore the plates or dislodge them.
Minimizing the Fouling Factor
Heat exchanger efficiency is highly affected by the velocity of the operating fluid so it is recommended that the flow rate should be increased from time to time. The increased turbulence works to retard fouling tendencies that otherwise impact heat exchanger performance and impede the flow of fluids. However, the duration and frequency of preventive maintenance and periodic cleaning will vary depending on the velocity of the fluids being processed and the founding tendencies of the medium.
Analyzing and Addressing Issues in Heat Exchanger Efficiency
Heat exchanger efficiency issues may not always be evident in the form of leaks, fouling or blockages. Certain problems are minor but if they go unchecked, are capable of causing irreparable damage to expensive equipment, inviting unexpected downtime and emergency repairs. The process data documented around maintaining heat exchangers offers invaluable insights into various important factors including flow rate, pressure and channel inlet and outlet temperatures. This data serves to signal impending issues that can become uncontrollable if not addressed in time.
Energy equals money and if it is not being used optimally, it is money that you are losing every minute. So, follow these tips for improving your heat exchanger efficiency and save fuel in almost any application.
About Jigar Patel
Jigar Patel is the director of Oriental Manufacturers. He believes in the power of good functional designs and its ability to boost productivity and drive growth. Fuelled by his passion for innovative designs and all things EPC, Jigar took to blogging about all the information and technical know-how he has amassed over the years. He writes on topics related to process machinery production, turnkey solutions, best industry practices and his personal insights!‌
The content & opinions in this article are the author's and do not necessarily represent the views of ManufacturingTomorrow
---
Comments (0)
This post does not have any comments. Be the first to leave a comment below.
---
Post A Comment
You must be logged in before you can post a comment. Login now.
Featured Product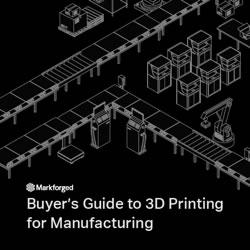 3D printing has become a powerful force in today's manufacturing industry from prototyping to tooling and fixtures to custom, end-use parts. Many businesses struggle to find the right solutions to fit their needs and provide ROI. Selecting the right platform to prevent manufacturing roadblocks is vital to optimizing your manufacturing line productivity. Download the all new buyer's guide to help you evaluate the benefits of 3D printing and dispel misconceptions, understand the pros/cons of various 3D printing processes and materials, and assess the key considerations in selecting a 3D printer.