Quality of machining and quality control differentiates "standard" toolholders from precision.
A Deeper Look at "Precision" Toolholders
Jeff Elliott | Collis Toolholder Corporation
Although toolholders are known to be critical components in the precision machining process, the unique details that differentiate a "standard" toolholder from one that is designed for more precise, high speed work can be subtle.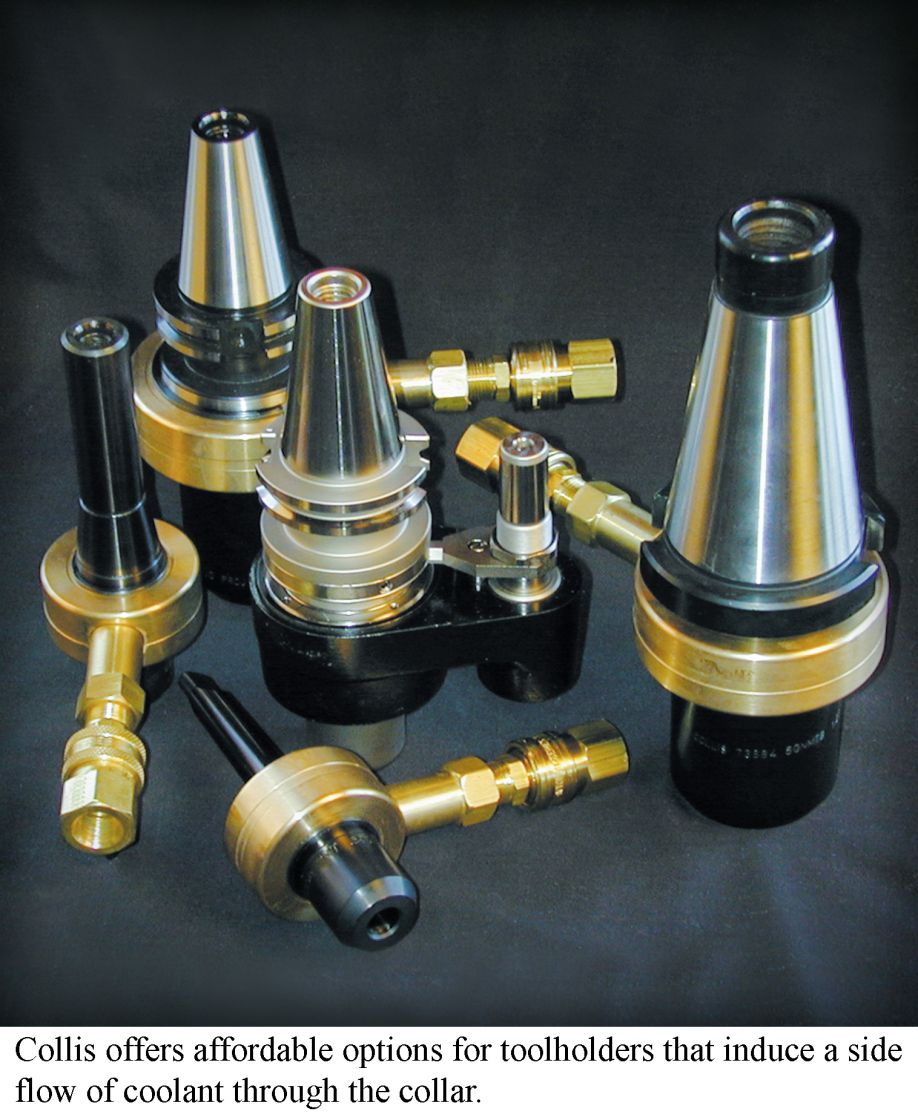 Like the parts they are used to create, precision toolholders are machined to exacting tolerances to create the optimum fit within the spindle, concentricity and balance. The more precise the work, the more these factors come into play.
If not properly machined, a toolholder that doesn't fit securely in the spindle or is improperly balanced can vibrate, wobble or fret, leading to out-of-tolerance parts, oversized, tapped holes and inconsistent, unrepeatable results.
As such, there is value in taking a deeper look at the elements of fit, balance, application of coolant, and other aspects of precision toolholders. For many, doing so may be the key to maximizing the speed and accuracy potential of their machining centers.
AT3 Certified Tapers
The toolholder is the essential connection between the machining center and the cutting tool. The toolholder fits into and is secured by the machining center's spindle, and in turn, secures the cutting tool such as a drill or end mill by clamping onto its shank.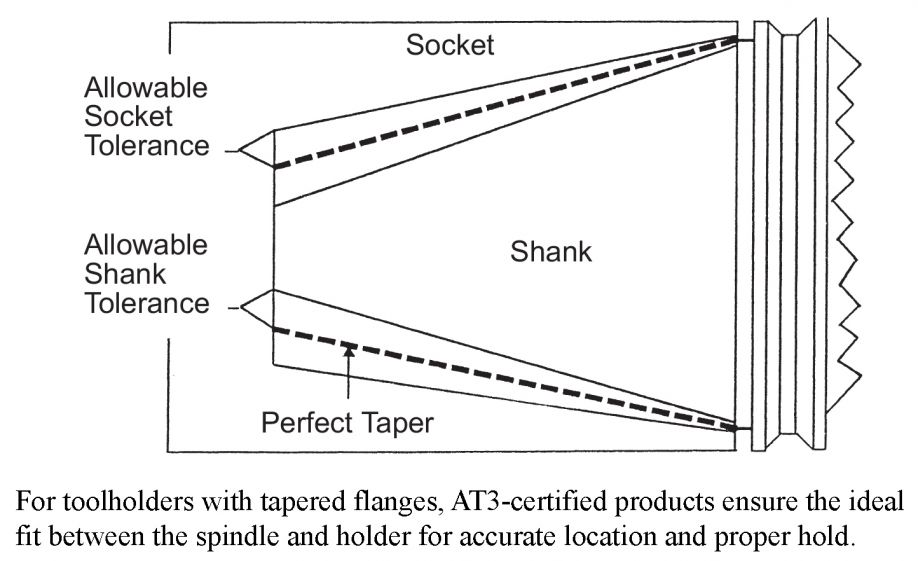 Toolholder tapers are often conical, including CAT and BT taper specifications. A different kind of taper, HSK, is not tapered at all, but instead includes a variety of flanges for securely locking the toolholder in place.
For free-releasing toolholders with tapered flanges, the quality of the fit between the spindle and the holder is critical for accurate location and proper hold.
Unlike those that require a drawbar, free-releasing varieties must maintain firm contact over the entire conical surface so the forces of drilling can be resisted and the tool remains in the spindle when idle.
A holder that is too loose causes the tool to wobble or fret, creating imperfections in the end product and reducing tool life.
"If the toolholders don't seat in the machine properly…you can't make a good product," says Ron Fulks, tool room manager for National Oil Varco. The company manufactures reciprocating pumps used in midstream oil and gas transportation.
According to Fulks, he began purchasing precision toolholders for several CNC boring mills after switching from tension compression tapping to a more rigid approach.
"The tapping procedure is very important, because if there is runout it will make the tap cut bigger, so your hole won't gauge," says Fulks.
The items he purchased included tapered toolholders for the taps as well as straight ID shank toolholders for end mills for several CNC boring mills.
To ensure the toolholders would fit optimally, Fulks says he selected Collis Toolholder. Founded in 1901, the company manufactures and distributes over 4500 tools and toolholders.
For its tapered toolholders, Collis is known for exceeding the industry "AT" standards for precise fit in the spindle. These standards are a specification of ANSI/ASME standard (ASME B5.50-2009) and indicate the tolerances that must be met in relation to the taper angle.
Since most CNC machine spindles are manufactured to an AT2 tolerance, toolholder manufacturers often provide tapered products that are "AT3 or better."
However, while some providers claim to offer AT3 toolholders, Collis is the only manufacturer that goes through a process of quality control testing to certify and document its products actually meet the specification.
Precision balancing for high speed machining
When RPMs increase to 20,000 to 30,000 or higher in high speed machining, the toolholder must be balanced more precisely.
Starting at about 8,000 RPM, the spindle begins to expand and can diminish the contact with the toolholder taper. This can result in vibration that leads to out-of-tolerance parts. The generated "whipping effect" can stress spindle bearings and ultimately reduce tool life.
To prevent this from occurring, manufacturers often specify the level of unbalance by a G number with units in millimeters per second (mm/sec). For these reasons, machine-tool spindles and machine-tool parts usually are specified with vibration levels of G2.5 and G6.3.
According to Waylan Deen, President of Erosion Technologies, concentricity along the centerline is the most critical characteristic of a toolholder. Otherwise, runout can alter the size or width of drilled holes or slots, ruining the cut.
Imperfections such as these can be particularly costly when working with titanium or other exotic metals, often used in the aircraft industry. Since the defects cannot be repaired, the entire piece must be scrapped.
Since 2005, Erosion Technologies has added three high-speed vertical machining centers to complement its wire EDM services. Deen also turned to Collis for tapered and standard end mill holders and quick-change toolholders for taps, which are balanced to the higher G2.5 standards.
"I purchase from Collis because the toolholder are always spot-on in terms of balance and concentricity," says Deen.
Coolant-induced toolholders
Machining centers designed for through-spindle coolant application have been standard for years. When used in boring or tapping operations with hollow cutting tools, excess metal scrap and shavings must be flushed from holes and bores.
However, when there is no provision for feeding coolant through the machine spindle, there are alternatives where coolant can be introduced through the collar of the toolholder. This not only minimizes overheating and distortion of the workpiece but also greatly extends tool life.
Although coolant-induced toolholders are available on the market, they can be quite expensive. Fortunately, there are options that cost much less – in the several hundred dollar range – from manufacturers such as Collis for Cat V-Flange, BT, NMTB, Morse Taper and R8 style shanks.
Difficult-to-Find Toolholders
For machining operations that have been around for a long time there is a high likelihood that equipment purchased decades ago is still being used – even if newer CNCs have been added to the mix. This can include drill presses, manual milling machines, and automotive transfer line equipment.
If this is the case, the necessary toolholder may be otherwise difficult to obtain except from a provider that offers a broad catalogue of options. Collis, for example, continues to offer hard-to-find toolholders for automotive transfer lines, Bridgeport R8 milling machines, a Rapid Switch line interchangeable with Universal's Kwik Switch, and others.
If the correct toolholder cannot be located, a replacement can be machined by those with the in-house capability.
Custom toolholders for those with special requests or proprietary dimensions can also be produced, in just about any combination of shank, collar, and collet in a variety of lengths can be created – often using information already on file.
Another option is for the customer to purchase "blanks" and then machine them to the requirement specifications themselves.
"When I need a specialty toolholder, I purchase a blank from Collis and I can modify it to suit our needs," explains Fulks of National Oil Varco.
Although there are a myriad of other considerations when selecting a toolholder, by utilizing options with superior fit and better balance, more accurate work and better surface finishes can be achieved while extending the life of the equipment itself.
For more information about Collis Toolholder Corporation 41 23rd Avenue North, Clinton, IA 52732, call 800-334-6045; e-mail info@collistoolholder.com; or visit web site: www.collistoolholder.com.
The content & opinions in this article are the author's and do not necessarily represent the views of ManufacturingTomorrow
---
Comments (0)
This post does not have any comments. Be the first to leave a comment below.
---
Post A Comment
You must be logged in before you can post a comment. Login now.
Featured Product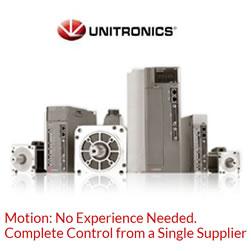 Unitronics' line of AC Servo Drives & Motors changes the traditional approach to motion control. They are simple to set up and painless to program. Unitronics Servos simplify implementation of motion applications while minimizing complexity and reducing development time. Some of the easy-to-use features in this new line include implementing motion control easily with ready-made motion code, embedded diagnostic tools, and automatic communication setup.