Hybrid Manufacturing Technologies has developed a unique CNC-based hybrid tool control solution that enables virtually any CNC machine or robotic platform to deploy both metal-cutting and metal-adding heads in the spindle and conveniently change between them.
Unique Hybrid Cnc Tool Solution Uses Beckhoff Controls To Integrate Additive Manufacturing With Standard CNC Machining
Contributed by | Beckhoff Automation Ltd.
The new AMBIT multi-task system is set to be a game-changing technology in the world of metal fabrication. Hybrid Technologies turned to Beckhoff Automation Ltd. to supply a state-of-the-art control solution that would allow users to effectively leverage and exploit the full capabilities of this new machining approach.
Founded as a commercial entity in 2012 by Dr. Jason Jones and Peter Coates, Hybrid Manufacturing Technologies actually began life in 2007 when the active use of a high-speed milling machine was initiated at De Montfort University's Additive Manufacturing (AM) and 3D printing research laboratory. The cross-pollination of additive and subtractive technologies led to a four year, UK-based research project named RECLAIM (REmanufacture of high-value products using a Combined LAser cladding, Inspection and Machining system) with support from the Technology Strategy Board and a number of industrial collaborators.
Key to the technology is its ability to provide both metal adding and metal removal tools on the same spindle; operations normally undertaken by discrete machines and requiring lengthy additional changeovers and programming steps. This also means that the majority of metal parts made by additive manufacturing can have post-processing operations, such as polishing, milling and surface blasting, performed without having to locate to another manufacturing cell, resulting in fabrication and surface finishing being achieved in a single setup. The hybrid approach also allows different compositions of materials to be used in the same component, while in-process inspection can assure quality levels otherwise impractical or impossible to evaluate.
The company initially had issues – relating to both the Ethernet communications and the HMI – with its original control solution, which lead to the first contact with Beckhoff Automation in 2014. The result of this collaboration was a control solution that not only addressed the communication and HMI issues, but also facilitated easier connection at customer sites and offered greater capability to expand the solution as the technology and the customers' needs evolve.
The technology is compatible with most CNC machine configurations and robotic platforms and can be supplied in collaboration with an OEM as an option on a new machine or added as a retrofit to new or used machines already in the field. A machine tool builder adopting Hybrid's system can use it to add additive manufacturing to the capabilities of a standard machine. Hamuel, for example, first introduced an additive-capable model to a line of their machine tools in 2013 and several other machine tool builders have followed suit.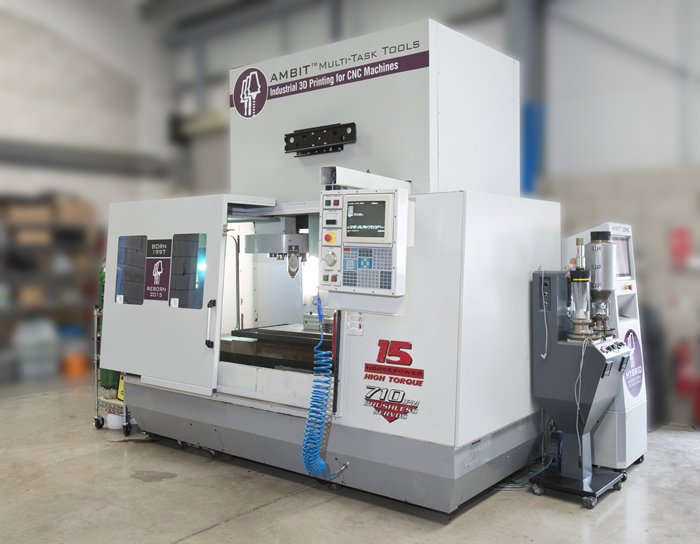 Hybrids system uses Beckhoff controls to integrate additive manufacturing with standard CNC machining
The current Hybrid system supports a range of AMBIT™ processing heads with different geometries, laser profiles, powder delivery configurations and de-focused energy beams to support tasks including 3D deposition, cladding, marking, cutting, drilling, pre-heating, annealing/stress relieving, surface re-melting and cleaning among others. The default setup accommodates up to 15 processing heads, but it can be expanded indefinitely, subject to space in the tool changer and controller capacity.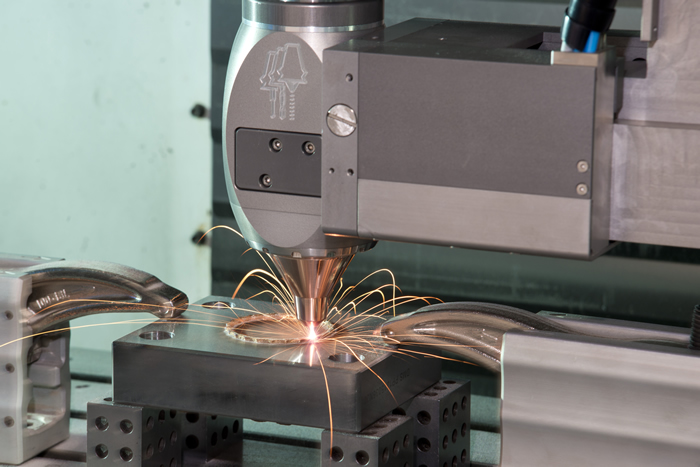 The unique head is controlled using Beckhoff's motion control solution
Beckhoff's motion control solution comprised a number of elements from its industry-leading portfolio. These included the EK1100 EtherCAT Coupler and other EtherCAT terminals and a Beckhoff CP2218 panel PC running Microsoft Windows 7 and TwinCAT 3 software for programming and control. Hybrid Manufacturing Technologies were particularly impressed by the Beckhoff HMI solution and the ability to deploy EtherCAT in the machine head.
Beckhoff's CP2218 running Microsoft Windows 7 & TwinCAT 3 software
Peter Coates, Co-founder of Hybrid Manufacturing Technologies elaborates on the technology and its capabilities: "We can make bespoke heads for customers, depending on their precise application needs, and these heads can be attached to virtually any machine tool. Looking beyond the machine, Beckhoff's use of EtherCAT means that connection to other cells is straightforward, and being based on a Window platform makes interfacing with Enterprise Systems far simpler from a protocol perspective and can leverage existing communication backbones. We will be looking to deploy Beckhoff systems in our standard product offerings as we expand worldwide, in step with the granting of foundational patents and intellectual property rights around the globe."
Commenting on the move to a new control solution, Peter Coates, explains: "It was a bit of a culture shock, as we were used to working with software and hardware from another supplier, but we were able to do all the programming using the TwinCAT 3 software with minimal training. We found it incredibly easy to use and will exploit further training opportunities to improve our knowledge of the system's capabilities. The beauty of the structured text programming is that we don't have to change the platform, this also allows us to expand it seamlessly by simply adding new PLC code and all of the controls run the same code, which is unbelievably useful. The connectivity will also allow us to license the software in a way that allows users to deploy it on a pay-per-use basis."
According to Stephen Hayes, Managing Director at Beckhoff Automation Ltd.: "Beckhoff worked really well with Hybrid, forming a strong relationship. The project itself was very smooth, with very few issues encountered during the development phases. We were chosen because our technology is easy to use, is much more open than other industrial solutions and, as a result, is easier to integrate. Other suppliers were also unable to meet required specifications."
By offering an open architecture running on off-the-shelf software solutions, Beckhoff products can be used as separate components or integrated into a complete and seamless control system. This open approach also facilitates integration into customer sites, especially in relation to the deployment of Ethernet-based control and ERP solutions, which have establishing an incredibly strong foothold in a wide variety of industries.
Hybrid Manufacturing Technologies, named as the inaugural winner of the International Additive Manufacturing Award, the largest 3D printing award in history, is already looking to the future and is considering the next steps in the development process. These include the possibility of migrating machine tools into the office space to help with development and research efforts and the development of a user interface that is intended to form the basis of a future industry standard.
The content & opinions in this article are the author's and do not necessarily represent the views of ManufacturingTomorrow
---
Comments (0)
This post does not have any comments. Be the first to leave a comment below.
---
Post A Comment
You must be logged in before you can post a comment. Login now.
Featured Product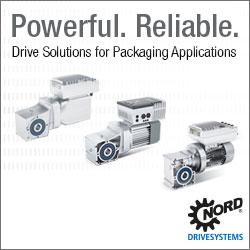 NORD's redesigned line of small CLINCHER parallel gear units showcase increased power and torque capacity for a variety of applications. These re-engineered versions will be replacing the existing SK0182NB, 0282NB, and 1382NB units. They are lightweight, have improved heat dissipation, are more cost-effective, and are available with NORD nsd tupHTM sealed surface conversion for wash-down and extreme environments.