Thanks to advanced automation technology from Beckhoff Automation, Shyre Ltd., a new company based in an enterprise centre in Shropshire, UK, is set to take on the giants of the worlds optical market, thanks to a machine and process it has developed that uses dip coating to achieve the photochromic effect seen in top-end personal eyewear.
Innovative And Compact Automation System Helps Lens Coating Company Put Others In The Shade
Contributed by | Beckhoff Automation Ltd.
Traditionally the reserve of much larger companies – with the majority of the photochromic base lens market dominated by one company– the new process will allow larger opticians and smaller labs to deploy their own coating solutions to any type of stock lens. Instead of relying on huge stocks of expensive, ready-prepared lenses, the new coating can simply be applied once the prescription has been created prior to the lens being cut to the correct size for the eyeglasses.
According to Lee Gough and Dan Hancu, the two-man team behind the breakthrough and directors of the company: "Finding a consistent process was the first major challenge, as we had to get the chemical formulation right. The second challenge was then the actual design of the Umbra machine."
In operation, a lens is purchased as a finished article (with prescription) and it is then prepared for coating. The first step involves loading batches onto a conveyor belt that leads into the machine. The lenses then go through a five-stage cleaning process with a chemical wash, before being dried. They then are passed onto the dipping station, which applies the coating. The lab then sends the coated lens to the shop where they are cut to the correct size for the glasses frame.
Shyre can provide labs with complete systems that make photochromic lenses at a tenth of the cost of typical transition-type lenses. The lab can then make their own photochromic coatings in all colours – grey, blue… or indeed any colour choice which differentiates them using different toners, which can be changed onsite for specific colour shades. Mass produced lenses typically come in grey and brown but Shyre can provide bespoke colours, such as a special pink, providing greater choice to customers. Its process can also produce a gradient lens. After the coating process an anti-scratchcoat is applied to protect both the lens and the coating.
Shyre Ltd. first saw Beckhoff at the UK's Drives & Controls Show in 2013 and colloborate closely with Optotech, a global Beckhoff customer. What impressed Shyre initially was the Beckhoff servomotor technology that used single cables for all power and signals, Beckhoff's One Cable Technology (OCT).
Shyre had originally been using a servo solution from another supplier, but compactness was a big issue as they had to get the drives into the machines and quickly saw that by using Beckhoff servo drives it could reduce the depth of the electrical cabinet. Indeed, with Beckhoff technology on board, Shyre can now deploy a 200 mm-deep box whereas before the minimum depth was 300 mm; this has significantly reduced the footprint of the machine in an industry where lab real estate is often at a premium. According to Lee Gough, at Shyre: "We were impressed with the Beckhoff solution as a whole. The Beckhoff technology was more flexible with more possibilities. During the design process, we upgraded from TwinCAT 2 to TwinCAT 3, which looks great on screen and gives us a real, genuine HMI product. Connectivity is also great on the Beckhoff PC platform and we can connect straight to our VPN."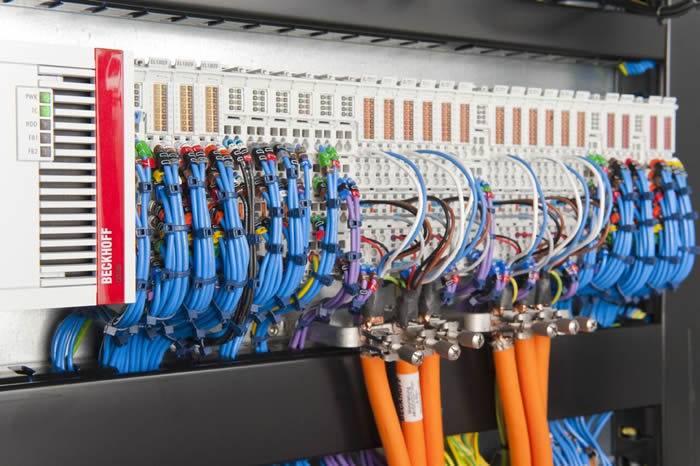 Shyre deployed a number of products from the Beckhoff range, including AM8100 series servomotors, equipped with the One Cable Technology (OCT). Thanks to an integrated absolute encoder, the motor's positional data can be transferred fully digitally to the servo terminal via the single motor cable, allowing the encoder cable to be dispensed with. Shyre also used a DIN rail-mountable CX5120 Embedded PC, which uses the latest generation Intel® Atom™ processor. CP2912 multi-touch panels are used for operator interactions and "recipe" control. With IP 65 protection at the front and IP 20 at the rear it is ideal for this application. Completing the system is the Beckhoff TWINCAT 3 software. TwinCAT 3 automation software forms the core of the control system and turns almost any PC-based system into a real-time control with multiple PLC, NC, CNC and/or robotics runtime systems.
According to Lee: "The technical support from Beckhoff UK has been fantastic. A strong partnership has been built between us and we have worked really well together through any issues thanks to the high level of support."
As a result of this partnership, cutting-edge process and machine design from Shyre and advanced automation technology from Beckhoff, the new Umbra machine is set to have a profound impact on the eyewear market thanks to its ability to supply labs with a process enabling them to produce their own photochromic lens at a fraction of existing market prices. The net result will be an increase in overall demand for this type of lens as they become more affordable to more people.
Lee Gough concludes: "The system is also connected through a secure, dedicated internet interface to Shyre HQ. This enables fast and stress­ free support and troubleshooting. The fast connection between the machine and the supplier allows software updates, new processes and features to be available hassle-free to all systems in the field. The machine includes devices such as solid-state switches and sensors, LED lighting, brushless motors and lubrication-free bearings to keep maintenance and downtime to an absolute minimum. And by using the data stored on the system our process experts can quickly identify the root of any issues, or recommend improvements from afar; there is no need to wait for a site visit."
Shyre and its machine has also been recognised with a number of awards and shortlists, including the 'Technology Enterprise & Innovation' award at the 2015 Shropshire Business Awards and the 'Young business of the year' award in the 'Shropshire Star' excellence in business awards.
The content & opinions in this article are the authorā€™s and do not necessarily represent the views of ManufacturingTomorrow
---
Comments (0)
This post does not have any comments. Be the first to leave a comment below.
---
Post A Comment
You must be logged in before you can post a comment. Login now.
Featured Product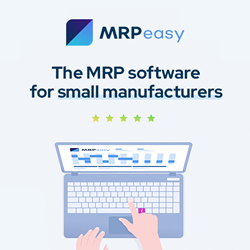 Always know what you have in stock and what you'll need to fulfill orders. Never forget to order parts on time or fail to notice a late delivery from your vendor. Easily create manufacturing orders and schedule them automatically according to resource availability or delivery deadline. Generate accurate cost and lead time estimates and provide customers with quick quotes. Receive notifications when orders are late or inventory levels reach a critical point. Ensure seamless communication between sales, production, warehousing, procurement, administration, and finance. Integrate with popular accounting, CRM, and e-commerce apps. MRPeasy is an ERP software for small manufacturers that gives you all that and more. Our users report a 54% average improvement in the overall performance of their business and a 42% increase in on-time deliveries. Try for free, no credit card needed.