Automation plays a crucial role in increasing the production and profit for the company.

Contributed by | SK Robotics LLP
Every company requires automation. It may be the chemical company or manufacturing company or fabrication Company. Automation plays a crucial role in increasing the production and profit for the company. SK robotics is planning of automation in companies of any sector using robots and various latest technologies. SK robotics feels, Germany is the number one leading nation in automation. In Germany each and everything is automated, and zero error policy which makes them No.1 in technology. If Germany can be so established, then why can't India be? India has full caliber of being the Top leading nations robotics and automation.
Applications:
Below mentioned are some examples of factory automation
1. Pick place and sort
In pharmaceutical companies which requires pick up of tablets and accurately placing of tablets in right containers. We can program sorting of goods on the basis of colour, shape, and size based on digital image processing through camera.
2. In food and beverages
In manufacturing packet food products process such as cutting, peeling, heating roasting, sealing etc can be operated using automation.
3. Car manufacturing assembly line
Robots such as welding robot, pick and place robot, conveyor system can be implemented on assembly line. Without human interaction, robots will help in manufacturing the car or any vehicle as programmed.
4. Automatic storage and retrieval system
Removing and placing of goods from distinct areas of warehouses. Robot will be designed such that, Robot will enable it to pick up the material from specified location and bring it back to the customer. This system is very helpful in big storage sections.
5. Carrying out dangerous chemical process
In chemical companies, handling of dangerous chemicals can be injurious for health. Robots can help in processing the desired chemical reactions.
6. Chip manufacturing process
In growing age of data processing, manufacturing the semiconductor chips such as (silicon wafer) is very tough job. Minute presence of dust can spoil the entire circuitry. Robot will help in manufacturing the chip to avoid the human interaction.
7. Voice directing warehouse
Mostly in warehouse due to disorganization, workers can find it difficult to find of goods at right time. With the single vocal instruction; Robot will direct the workers to reach the specified section of good.
8. Conveyor mechanism
Conveyor belts are very essential in material processing. During assembly line manufacturing process, material is passed through conveyor belt and mounting and placing of components takes place.
9. Welding and painting
In creating big structures, to fix two joints requires welding such as Mig or Tig welding. The human interaction process can be eliminated using robots. Painting of huge structures can be easily painted with the help of air gun spray connected on the robot arm.
10. Laser cleaning robot
This robot is used in cleaning the burned, greasy patches with the help of laser beam. The beam of specific intensity will be passed through the metal sheet and cleaning process takes place.
Benefits of factory automation
1. Reduction in production time – Having a machine that is automated definitely speeds up the production time since no thinking is needed by the machine; there is better repeatability, and less human error.
2. Increase in accuracy and repeatability – When an automated machine is programmed to perform a task over and over again, the accuracy and repeatability compared to an employee is far greater.
3. Less human error – No one is perfect, and we are all prone to making mistakes. Machine that performs repeated tasks is less likely to make mistakes than an employee.
4. Less employee costs – By adding automated machines to an operation, means less employees are needed to get the job done. It also indicates less safety issues, which leads to financial savings. With having fewer employees, there are numerous costs that are diminished or reduced such as payroll, benefits, sick days, and etcetera.
5. Increased safety – Having automated machines means having less employees who perform tasks that can be dangerous and prone to injury, which can make the work environment safer.
6. Higher volume production – Investing in automated equipment creates a valuable resource for large production volumes, which in turn, will increase profitability.
The content & opinions in this article are the author's and do not necessarily represent the views of ManufacturingTomorrow
---
Comments (0)
This post does not have any comments. Be the first to leave a comment below.
---
Post A Comment
You must be logged in before you can post a comment. Login now.
Featured Product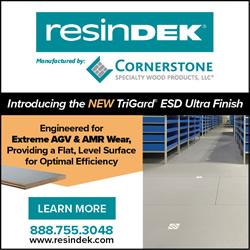 ResinDek flooring panels are designed for elevated platforms such as mezzanines, pick modules, and work platforms. They have the proven structural integrity to support dynamic and static rolling limits from 2,000 to 8,000 lbs. ResinDek flooring panels are available in a multitude of options that are customized for load capacities, required finish type, volume and type of traffic including heavy rolling pallet jack loads and robotic traffic with AGVs and AMRs.