New modular AM 'smart factory' from Concept Laser decouples pre-production and production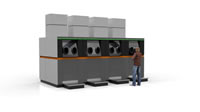 Benedict for 3Ders.org:  German metal 3D printing specialist Concept Laser has unveiled its new "smart factory" approach to additive manufacturing. The idea behind the Industry 4.0 "smart factory" is to decouple process stages, allowing tasks to be carried out in parallel and physically separate from one another.
The AM Factory of Tomorrow, Concept Laser's modular additive manufacturing factory-building kit, has been designed to allow manufacturers to seamlessly incorporate additive manufacturing technologies into existing production lines or to develop new and efficient AM production spaces. The Lichtenfels-based company has now revealed new aspects of its advanced manufacturing concept, detailing how a move from the sequential to the parallel could maximize production speed, cost-efficiency, and scalability.  Cont'd...
 
Comments (0)
This post does not have any comments. Be the first to leave a comment below.
---
Post A Comment
You must be logged in before you can post a comment. Login now.
Featured Product
The patented Chip Trapper offers a fast, easy way to clean chips, swarf and shavings out of used coolants and other liquids. The Chip Trapper vacuums the coolant or liquid that is filled with debris and traps all the solids in a reusable filter bag. Only the liquid pumps back out. It is ideal for use on machines with sumps, parts washers, tanks and storage containers of contaminated liquids. The Chip Trapper uses EXAIR's compressed air powered Reversible Drum Vac (included) that can fill or empty a 55 gallon drum in less than two minutes. Simply set the Reversible Drum Vac pump and directional flow control valve on top of the drum to "fill" for it to quickly vacuum the liquid with solids. Once the sump, pit or tank is empty, set the pump and directional valve to "empty" for it to pump out clean coolant/liquid. All the chips and other solids are trapped inside the reusable filter bag of the Chip Trapper. Learn more here